Are Justin Bieber And Hailey Bieber Having Kids?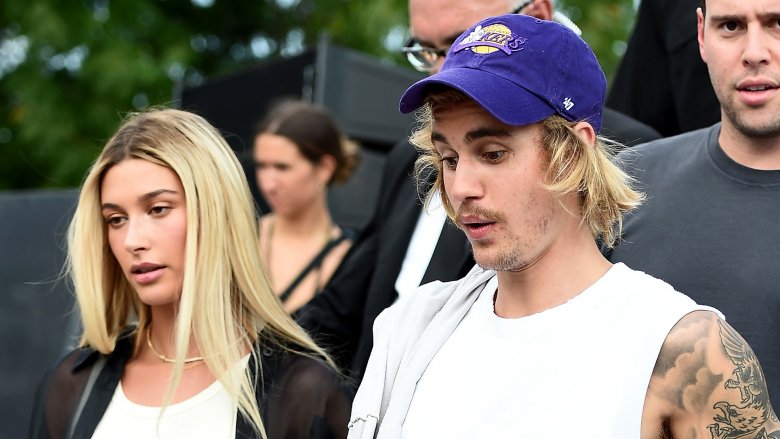 Theo Wargo/Getty Images
Pop superstar Justin Bieber and model Hailey Bieber surprised everyone when the "What Do You Mean?" singer casually dropped that the pair got married in 2018. "Happy late thanksgiving to everyone," the Biebs wrote in an Instagram post. "First thanksgiving as a married man, first time hosting thanksgiving. First time both sides of the family has come together."
In a 2019 profile in Vogue, the couple opened up about their shared Christian faith, so we have to assume having children is in their future.
"I love kids and I can't wait to have my own," Hailey told Vogue Arabia in 2018 (via People). "I would say now that's a closer reality." She admitted bringing a baby Bieber into the world isn't going to happen "any time soon," but she feels her upbringing will make her a responsible mother. "I got to have a normal childhood and teenage years. I didn't start getting recognition on my own until I was around 19," Hailey explained. "There are some 'normal' things I never did — like go to college — but I do think I was able to learn how to have a schedule, be on time, and be responsible, all because I started working at 17."
Hailey told Harper's Bazaar that when she has kids, we'll know by her tattoos. "I want more, but I'm keeping space for my kids' names, and certain sentimental things, and I don't want to fill all the cute spots before...I get there," she said. We'll also know by the more obvious signs of pregnancy, of course.
Justin Bieber also looks forward to having a baby on board, but he agrees with his wife on the timetable. "Love dates with you baby," Justin wrote on Instagram, captioning a shot of the couple in Disneyland. "One day I'll be doing daddy daughter dates..... not hinting at anything soon I'm not in a rush. I just wanna enjoy you by yourself for a while!'