Are Tana Mongeau And Jake Paul Actually Married?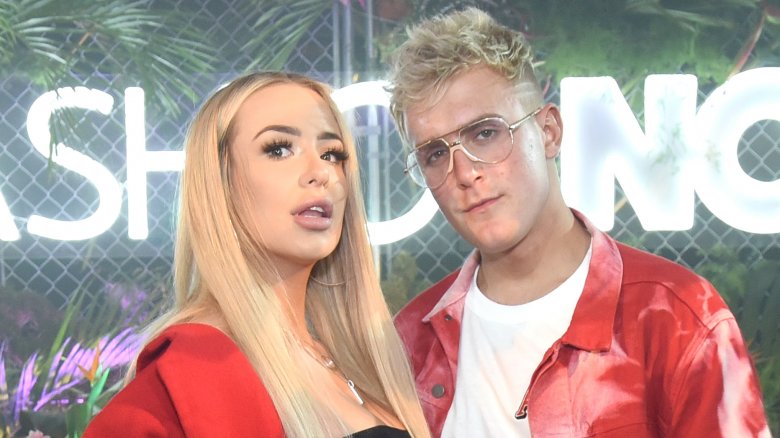 Presley Ann/Getty Images
On July 28, 2019, controversial YouTube stars Jake Paul and Tana Mongeau got married in Las Vegas. With reports of a fistfight and an appropriately cynical prediction from Jake's brother Logan Paul that the marriage would last " month, a month and a half," it seemed like exactly what you'd expect when click-hungry YouTubers make a spectacle out of their sudden marriage. As such, it's fitting that allegations have arisen that claim the marriage might not have even happened in the first place. 
According to a report in ET, the popular influencers' vows don't appear to be legally binding. The publication confirmed that "no marriage license or certificate" exists under the newlyweds' names in Nevada nor was their officiant, Arman Izadi, "registered with Clark County" to perform legal marriages.
Jake Paul and Tana Mongeau are no strangers to controversy. So it's no surprise that the pair are facing accusations of faking their marriage from another source: the latest episode of MTV No Filter: Tana Turns 21. During the episode, Mongeau claimed that she knew Paul's proposal was coming during her birthday party in Vegas and wanted "to get all the clout in one sweep." Yikes. She later described the nuptials as "something fun and lighthearted that we are obviously doing for fun and for content."
Naturally, Mongeau faced an online backlash from fans. She took to social media in an attempt to explain. You be the judge.
"i understand ppls frustration with this sound bite from the show & it's the last thing i wanna talk about right now but obviously i just uploaded an 8 minute youtube video on how much i love Jake & am not tryna look like that much of a sociopath hahahahahaha,"  Mongeau wrote in a multi-tweet thread. "I filmed those confessionals for the show A LONG TIME AGO! the 'for fun and content' sound bite was from a very long sentence lmao and was a little salty to see it pulled out of context."
In a follow-up tweet, the YouTube influencer admitted that their relationship "moved fast" and might look "confusing" to their fans, but she claims to "truly" love Paul. She added that the scrutiny surrounding the wedding will always come with "owing people some explanation," but she understands that the spotlight on the pair is "the life we signed up for."