These Celebs' Old Interviews Are Really Awkward Now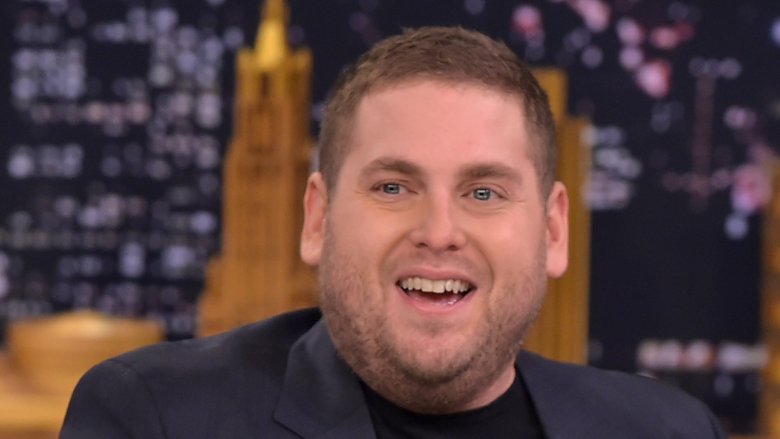 Theo Wargo/Getty Images
Having a lasting career in Tinseltown can certainly come with a few hiccups. It's hard maturing in front of countless cameras and paps when any sort of old slip-up can come back to haunt our fave celebs forever on the world wide web. Saying one wrong thing can label a star a certain way that sticks, making them seem disinterested, cold, or just plain shady. 
Who can forget actor Shia LaBeouf's rant about how much he hated his second Transformers flick? How about model Cara Delevigne's attempt at sarcasm that just didn't fly with these CBS Sacramento reporters? Although some A-listers have been in the spotlight for years and know how to handle the spotlight's glare, others may just be starting off as newbies in the cutthroat world that is Hollywood. From having your entire family be labeled "talentless" and turning it into a lucrative business, to one actor who made a dicey statement that resurfaced decades later, let's take a trip down memory lane and look at some old celeb interviews that are seriously mega awkward now.
Ben Affleck's two naughty noughties disasters
Ben Affleck is a staple in the world of Hollywood. The actor-turned-director is known for his high-budget movies, but in 2017, fans became aware of two very awkward interviews from the early noughties that had resurfaced into the mainstream spotlight. 
At the height of the Harvey Weinstein scandal, Affleck spoke out against the disgraced movie mogul on his Facebook page, writing how "saddened and angry" he was. It's then that fellow A-lister Rose McGowan called out Affleck on Twitter, claiming he was lying about being unaware of the allegations made against Weinstein over the years. Around the same time, One Tree Hill alum Hilarie Burton shared her own Affleck horror story from 2003, explaining that the actor groped her breast during a TRL interview. Burton recalled: "I had to laugh back then so I wouldn't cry." 
Things went from bad to worse for Affleck when another video snowballed into the limelight, this time with Canadian interviewer Anne-Marie Losique of Box Office. During a 2004 press tour for Jersey Girl, Affleck asks Losique to sit on his lap and remarks that viewers would like the show more if she did it topless. Although Losique spoke to The Hollywood Reporter after the video resurfaced and told the mag it was all a set-up, the whole situation is still completely cringe-worthy to watch.
Paris Hilton claims she 'created' the Kardashians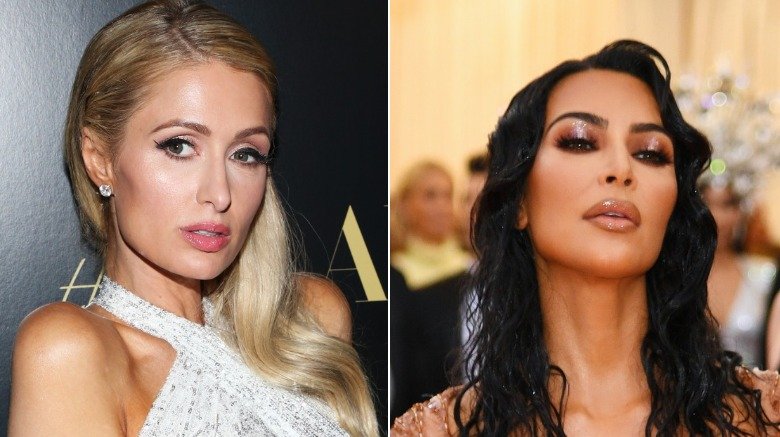 Phillip Faraone, Dimitrios Kambouris/Getty Images
There was a time when Kim Kardashian didn't rule our TV screens — Paris Hilton did. As The Telegraph put it, the heiress is "arguably the Godmother of reality television," thanks to The Simple Life – among the first of its ilk. It was during this series that the world got to know Kardashian, too, as she was working as Hilton's closet organizer. The girls' friendship grew closer in 2006, after Hilton's long-term friendship with Simple Life co-star Nicole Richie came to an end. Kardashian would tell Rolling Stone years later, "We'd go anywhere and everywhere just to be seen."
As Kim K surpassed Hilton as the queen of reality TV, the celebutante made the following shocking claim to Entertainment Tonight (via the Evening Standard): "I created Kim Kardashian. Her whole family owes me life." Bold, no? It's funny that Hilton would make such a daring statement when her own star was slowly declining and Kardashian was busy breaking the internet. Years later, in 2018, Andy Cohen brought the whole thing up his SiriusXM radio show, and Hilton awkwardly avoided answering. That same year, Kardashian even got Hilton to dress up as her "clone" for a Yeezy campaign – a testament to her signature look and worldwide domination.
Jesse Eisenberg's 'self-esteem butchering'
This interview between actor Jesse Eisenberg and blogger Romina Puga will forever be awkward, no matter how much time passes. On a promo tour for 2013's Now You See Me, Eisenberg must have decided to channel another one of his movie characters — the notoriously ruthless Facebook founder Mark Zuckerberg — because the interview turns sour before Puga even finished asking her first question.
Eisenberg mocks her for referring to his costar, Morgan Freeman, just by his last name, and the tension in the room balloons from there. Seemingly feeding off Puga's nervousness, he calls her "the Carrot Top of interviewers." After the sitdown, Puga wrote that she was "humiliated" by Eisenberg and describes their conversation as "self-esteem butchering." 
Years later, Eisenberg sat down with Business Insider and admitted that he simply doesn't like the press side of his job. "Ninety percent of it is concern that I'm going to misspeak, because I have in the past, and that seems to be the overriding narrative regardless of the intention or relevance. So that's a lot of what this is. [As an actor] you're looking to crawl into an anonymous fictional person's skin, but then you have the ironic obligation to [promote] the movie in such a public way that it almost undermines the initial intention of going under the radar." 
Tom Cruise and that iconic couch jump
Who can forget Tom Cruise's declaration of love for Katie Holmes in the form of jumping up and down on Oprah Winfrey's couch? The epic talk show moment has spawned countless memes – much to our sheer delight. Need a refresher on the original moment? We got you. 
Back in 2005, an extremely elated Cruise appeared on The Oprah Winfrey Show, quite literally jumping for joy at the sheer mention of his then-girlfriend, actress Katie Holmes. With every leap on the couch, Winfrey declares, "He's gone. The boy is gone." The action hero finally gushes, "I'm gone and I don't care!" The War of the Worlds star married the Dawson's Creek alum in 2006, but it's the years that followed that made Cruise's outpouring of affection look even more uncomfortable in hindsight. 
Holmes filed for divorce in 2012, asking for "primary residential custody" of their daughter, Suri. The awkward part about the entire separation? Cruise's reaction. Speaking to German TV network ProSieben (via CBS), the actor admitted that he "didn't expect it." Cringe! 
Don't ask Gene Simmons how his back is doing
It must be hard to be in a committed relationship to KISS bassist Gene Simmons. The man has found himself in multiple misogynistic situations, including sexual assault rumors and declaring that he's been with around 5,000 women.
We have to give it to actress Shannon Tweed, Simmons' then-girlfriend and mother of his children, for remaining as cool as she did during a 2011 interview the couple gave on The Joy Behar Show. Amidst cheating allegations, Tweed didn't hold back from showing her anger toward her longtime boyfriend. "He's a pig, and I don't like it," she says, bluntly announcing that she's "done" with the rocker. When Behar drills him about the number of women he's slept with, she quips: "How's your back, Gene?" Simmons retorts, "My back is good, my schmeckle not so much." And with that, Tweed gets up and leaves the interview. 
In a bizarre twist of fate, Simmons and Tweed actually got married months later! Years later, Simmons seemingly admitted that he was in the wrong, telling Us Weekly, "The astonishing thing about women is ... I don't know why, but you forgive our trespasses over and over, every single day. Guys wouldn't do that."
The time Madonna let Courtney Love express herself
In a showbiz career spanning multiple decades, Madonna sure has perfected the art of throwing shade at her fellow pop stars. Who can forget the time in 2012 when she called Lady Gaga "reductive," before telling her interviewer to look up what that meant and proceeding to take a literal sip of her tea. Talk about savage! In the early '90s, however, the Queen of Pop was much more reserved, perhaps still sharpening her claws while learning the art of verbal annihilation. The shade she threw back then was so subtle, it can only be described as awkward to watch now. 
In the now-cult-like interview at the 1995 MTV Video Music Awards, Madge was busy answering questions — when suddenly a makeup compact goes hurling across the screen. Both the interviewer and the starlet look down below and spot Hole frontwoman Courtney Love. The host asks Love to join the chat. Madonna mutters, "No, don't, please," but Love is already on her way up. A helpless Madge mumbles, "Courtney Love is in dire need of attention right now." Yikes! As Love sits next to the "Like a Virgin" starlet, sheer awkwardness ensues, with Love even calling Madonna out for saying something "mean" about her in a recent interview. This is iconic to look back at now, but totally cringe-worthy nonetheless.
Jonah Hill, the not-so-serious actor
Jonah Hill is pleased with who he's become amongst Tinseltown's elite. "I've done one of the biggest challenges you can do in Hollywood, which is transition from being a comedic actor to being a serious actor, and I'm really prideful of that," he mused in a 2013 interview with Rolling Stone (via Yahoo!) 
Perhaps his statement has something to do with a prior Moviefone interview with his Moneyball co-star, Brad Pitt. Posing a fan question, Hill asks, "If you could adopt a personality trait or mannerism from one of your Moneyball costars, who would it be?" He then quips that Pitt can pick any co-star — including Hill. Pitt's response? "Yeah, no, I gotta go with a serious actor." Ouch! Hill visibly winces, making the whole thing ridiculously awkward.
Hill can certainly laugh about it these days, considering he landed an Oscar nom for Moneyball, starred in the Netflix drama Maniac, and made his directorial debut with Mid90s. As Hill would tell The Guardian in 2019: "All actors are typecast, but I tried to change whatever pigeonhole I was in because I didn't want to get stuck there."
Seinfeld wasn't joking when he lit into Larry King
Plenty of folks are familiar with Jerry Seinfeld's exceptionally uncomfortable 2017 red carpet run-in with Kesha – the one where he denies her a hug not once, but three times! Fans were horrified, Kesha included, who later told radio station Hits1: "He's not a huggy guy, that's fine. I shoulda known better, I've seen the hugging episode!"
Another person who should know better? Larry King, who had his own painfully awkward encounter with the comedian in 2007 on CNN's Larry King Live. The talk show legend made the mistake of asking if Seinfeld's eponymous series had been canceled. Granted, King probably should have known that the funnyman chose to end the series while he still had the "number one show in television," reportedly turning down an offer of $5 million per episode from NBC, but Seinfeld was downright appalled that King wasn't up to speed. "You're not aware of this? ... You think I got canceled?" Seinfeld exclaims. King asks if he's upset him, and Seinfeld's signature sarcasm makes it clear that he has. 
Years later, King talked about that awkward situation on The Young Turks. "[Seinfeld] later said he wasn't mad, but he was mad ... I should have known that, but I was stupid."
Kanye West loves to go off-script
Rapper Kanye West was a totally different guy back in 2006 — one that certainly wasn't fond of the person residing in the White House. Years before the rapper would march into Donald Trump's offices for a meeting while sporting a "Make America Great Again" hat, West decided to make a controversial political statement ... on national television.
Taking part in a live TV fundraiser for victims of Hurricane Katrina, along with co-host Mike Myers, West goes off-script, rambling on about the situation and declaring that "George Bush doesn't care about black people." The Canadian comedian next to him looks totally stunned as the screen suddenly cuts to the next presenter. 
This televised outburst is still awkward, but West now has a reputation for spontaneous rants. In 2018, he stopped by TMZ headquarters and told the entire office, on camera, that "400 years" of slavery "sounds like a choice." That entire spectacle left a sour taste in the mouths of many fans and his peers.
Sean Connery has to have the last word
The '60s were undeniably a different time in the world, with the concept of modern feminism only slowly creeping its way into the mainstream. Meanwhile, the epitome of masculinity on the silver screen was James Bond, played by Sean Connery at the peak of his 007 fame. In a 1965 interview with Playboy (via Sean Connery: A Biography), the Scottish actor was asked, "How do you feel about roughing up a woman, as Bond sometimes has to do?" Connery's response is jaw-dropping. "I don't think there's anything particularly wrong about hitting a woman," he said. "If a woman is a b***h, or hysterical, or bloody-minded continually, then I'd do it." 
As much as we might want to chalk this up to awkward 1960s-style chauvinism, the star sealed his fate in 1987 during an interview with Barbara Walters. Bringing up his statement from so many years ago, the famed journalist tells the Goldfinger celeb she "didn't love that." An unphased Connery responds: "I haven't changed my opinion ... I don't think it's that bad." Uh, what? He goes on: "I think that it depends on the circumstances  ... they want to have the last word and you give them the last word, but they're not happy with the last word. They want to say it again and get into a really provocative situation. Then I think it's absolutely right."  
Charlie Sheen's 'higher calling'
Charlie Sheen had a rough 2011. According to the BBC, "the highest-paid actor on US television" was suddenly sacked from his starring role on CBS sitcom Two and a Half Men. Sheen's subsequent meltdown was blamed on his worrisome drug addiction, but an awkward interview shed more light on that awkward termination.
In February 2011, after months of erratic behavior, the Platoon star found himself in an interview with ABC. When the interviewer told him that some fans think he's bipolar, Sheen responded: "I'm bi-winning. I win here, and I win there." After discussing drug use, Sheen claimed he was clean. "I've just answered to a higher calling, and it happened in a blink of an eye." 
Looking back at the interview now, what's awkward (and heartbreaking) is that we can conclusively understand the cause of Sheen's troubles. In 2015, it was revealed that Sheen is positive for HIV — something he found out about in 2011. Speaking to USA Today, the actor explained, "I thought I had a brain tumor. After a battery of tests ... It's a hard three letters to absorb. It's a turning point in one's life." Finally, it's easier to understand the life-changing situation he was referring to all those years ago. 
Barbara Walters calls the Kardashians 'talentless'
When Keeping up with the Kardashians launched in 2007 on the E! Network, the world instantly becoming mesmerized with the clan that's now casually referred to as America's royal family. Around Season 4, famed journalist Barbara Walters put the entire family on ABC's 18th annual "10 Most Fascinating People" special. Clearly, the KarJenners had already garnered some haters at this point because Walters opened her segment with: "I have never heard more anger or dismay then when we announced that the people you're about to see were on our list." Yikes.
Sitting down with Kim, Kourtney, and Khloe Kardashian and momager Kris Jenner, Walters starts her interview with the following blunt statement: "You don't really act; you don't sing; you don't dance. You don't have any — forgive me — any talent." Seemingly unphased by the statement, Khloe declares, "But we're still entertaining people." After some back and forth, the youngest Kardashian sibling actually ends up agreeing with the host! "None of us think we have talents," she says. Oh, okay. 
Fast forward a few years and the KarJenners are more famous than ever. Kylie Jenner and Kim K have their makeup empires; Kendall was the highest-paid model in 2018; and Khloe launched Revenge Body, her own fitness reality TV show. As for Kourtney? In 2019, she debuted Poosh, a Gwyneth Paltrow-style lifestyle blog. Not bad for a "talentless" family.