The Actor Who Plays Korg In Avengers: Endgame Is Gorgeous In Real Life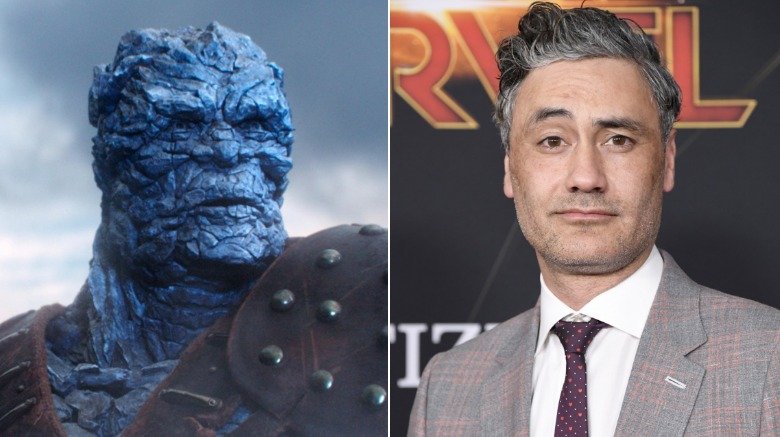 Frazer Harrison/Getty Images
After making his live-action debut in Thor: Ragnarok, Marvel character Korg once again brought his comedic stylings to what is now the biggest movie of all time, Avengers: Endgame. Voiced by Thor: Ragnarok director Taika Waititi, Korg quickly became a crowd favorite.
If Waititi looks familiar without all the CGI rocks covering his face, that's because there's a good bet you've actually seen him before. The New Zealand comedian co-directed and starred in the hilarious horror comedy film What We Do in the Shadows. The mockumentary about vampires living together was so popular, FX turned it into a series.
Casting yourself in your first major studio directing gig might seem like too much to bite off for some, but Waititi joked that he had no choice. Speaking at a press event at Marvel Studios (per LA Times), Waititi said that since the character was "made of rock," he wanted Dwayne "The Rock" Johnson to voice the character. But he quipped that "there wasn't enough chicken or salmon in Australia to sustain both him and Chris [Hemsworth]." 
He added: "So we got the next best thing, which is we got this super hot young actor from New Zealand. This super hot young character actor named Taika Waititi."
During an appearance on the British talk show The Last Leg, Waititi explained that Korg was inspired by Polynesian nightclub bouncers in New Zealand. He described them as "giant hulking dudes" with "delicate souls." He claimed their voices "betray who they are," so they "end up breaking a lot of arms and legs" of people who mistake the gentle voice for the man.
Waititi also joked that if Korg ran for Prime Minister of New Zealand, his signature platforms would be to "stamp out all the paper that's plaguing our country at the moment" and to "be a bit more lenient on the scissor immigration." That's right — that's a sick rock-paper-scissors joke. Probably didn't expect that today, did you?
However, Taika Waititi didn't know everything about his Fortnite-playing character in Avengers: Endgame. Replying to a tweet that showed Korg wearing Waititi's pineapple shirt, which the director wore on set, Waititi noticed something for the first time. "No jokes, I had no idea Korg only has 3 fingers. #AnActorPrepares," he tweeted.