Denise Richards Recalls Charlie Sheen's Sex Worker Thanksgiving Date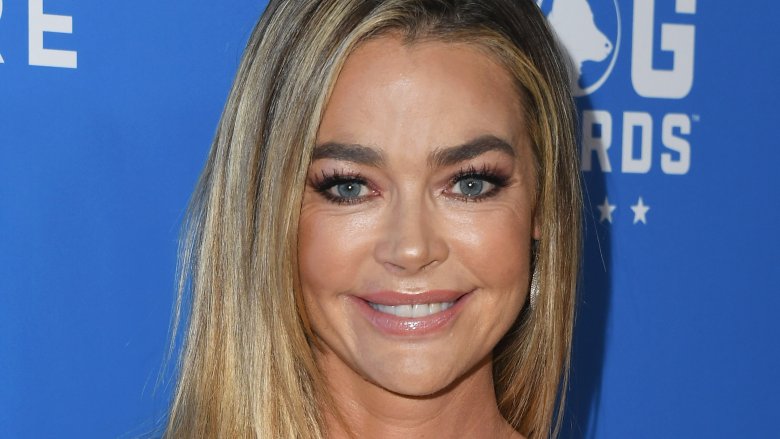 Jon Kopaloff/Getty Images
Actor Charlie Sheen's love of sex workers is almost mythological at this point — he reportedly spent $1.6 million on them in 2013 alone. So it should come as no surprise that he invited one to a family Thanksgiving dinner once hosted by his ex-wife Denise Richards.
During an appearance on the Daddy Issues podcast that dropped on Aug. 7, 2019 (via People), the Wild Things star recalled that fateful holiday and how she explained the entire ordeal to her father, Irv Richards.
According to Richards, Charlie Sheen called her and said, "Hey, I want you to know so and so is here, but don't worry, she's going to be in the car in the driveway while we eat dinner." Richards replied, "Oh my God, I cannot have her just sitting in the driveway." She then invited the woman in to sit "at the other end" of their "long table" and told the kids that the woman was Sheen's "assistant."
In a scene out of a sitcom, the sex worker was seated near Irv who attempted to strike up a conversation. "My dad was seated next to her sort of-ish and he came up to me while we were all talking and stuff and he goes, 'I think there's something not right with that woman.' I go, 'Oh, okay. Why do you say that?' He goes, 'Well, I keep trying to talk to her and she just doesn't say anything and I'm just being friendly, making conversation,'" Richards said.
The Real Housewives of Beverly Hills star then broke the news to her dad. "I said, 'Dad, dad, she's a hooker, so don't ask her any questions,'" Richards told him. Needless to say, Irv replied with a shocked, "What?!" Richards continued, "He's like, 'She's a hooker?' And I said, 'Yeah, what do you think? They don't always dress in fishnets and lingerie, dad." 
"And then he was just like, 'That Charlie,'" Richards said with a laugh. "And then he goes, 'Well, that was nice of you to invite her in for dinner.'" 
So let this be a lesson — if you have nowhere to go on Thanksgiving, there is a better than average chance that you can find a spot at Denise Richards' table. Talk about holiday spirit.