The Truth Behind Todd Chrisley's Alleged Crimes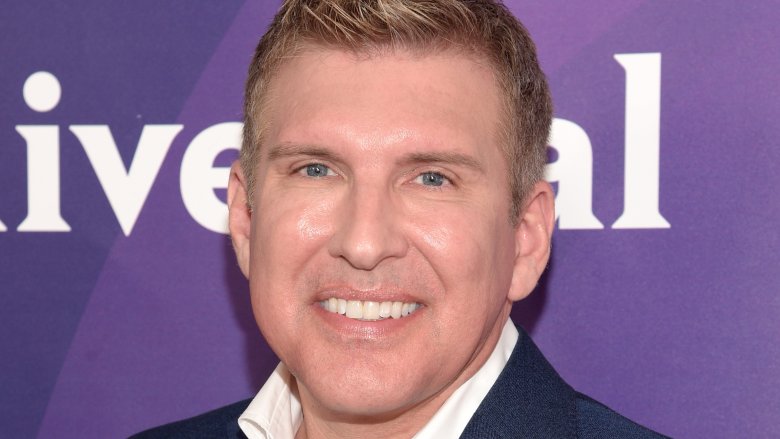 Jason Kempin/Getty Images
The Hollywood Reporter reports that Chrisley Knows Best stars Todd and Julie Chrisley have been indicted by a federal grand jury in Atlanta for "tax evasion and other charges." The 12-count indictment includes "charges of wire fraud, conspiracy to commit bank fraud and conspiracy to defraud the United States."
In a lengthy Instagram post denying the charges, Todd Chrisley claims this issue stems from unnamed employee who Todd and Julie fired after allegedly discovering he was stealing from them in 2012. Todd Chrisley says the employee in question created "phony documents," forged their signatures, and threatened other employees with violence if they talked. "We even discovered that he illegally bugged our home," he wrote. "Needless to say, we fired the guy and took him to court — and that's when the real trouble started."
This dispute, Chrisley alleges, made the employee seek "revenge" by taking falsified documents to the U.S. Attorney and being granted immunity for his cooperation. "I'm telling you all this now because we have nothing to hide and have done nothing to be ashamed of," he continued. "Not only do we know we've done nothing wrong, but we've got a ton of hard evidence and a bunch of corroborating witnesses that proves it."
According to Fox News, a rep for the U.S. attorney's office confirmed that the Chrisleys surrendered to the authorities on Aug. 14, 2019. However, in a statement to the publication, the Chrisleys' attorneys, Bruce H. Morris and Stephen Friedberg, called the allegations "complete falsehoods" and claimed their clients are "innocent of all charges."
A week before the charges were made public, Todd Chrisley published a post on Instagram that seemed to hint at his fate. "The older I got, the more I realize the value of privacy, of cultivating your inner circle and only letting certain people," the post read, along with the caption, "No one is promised tomorrow so make the days you have with the ones you love and trust matter."
According to reports in Atlanta's WSB-TV, Todd Chrisley's persistent claims of innocence might not be that strong. The publication states that although he declared himself a Georgia resident "on numerous court filings," he failed to file his income taxes with the state of Georgia during those years, and instead filed his taxes with the state of Florida. Why Florida? Because Florida has no state income tax. The report further asserts that Chrisley hadn't filed Georgia state tax returns from 2004-2011.
Kevin Ward, an attorney for one of the Chrisleys' creditors, compared Todd and Julie Chrisley's lavish lifestyle on their reality show to Todd Chrisley's claims in a sworn deposition. "I thought it was like bizarro world," said Ward. "Granted, the show is not under oath, but the person I had under oath was just the opposite. He claimed to be destitute, incapable of paying anything."
During the deposition, Ward said he got Todd Chrisley to admit he lived in Georgia full time and not Florida. "His kids went to school in Georgia. His wife, his business, everything was here in Georgia," Ward continued. However, during Chrisley's bankruptcy case, he told the IRS he lived in Florida. 
"I think that's something the Georgia Department of Revenue may be interested in," said Jason Pettie, who oversaw one of Todd Chrisley's bankruptcy filings.
The Georgia Department of Revenue declined to comment to WSB-TV, but IRS tax fraud investigator Jack Fishman claims Chrisley's use of the homestead tax exemption on his 20,000 square foot mansion in Roswell, Georgia between the years of 2006 through 2014 is the best piece of evidence the U.S. Attorney has right now. Fishman explained that filing the homestead exemption on a particular home is basically a legal oath that the house is your primary legal residence. 
"It means that you're a citizen of the state of Georgia and have to file a Georgia income tax return," said Fishman. "It's that simple."
When asked if Chrisley's attorney's were arguing there is some "secret way" he's been a Florida resident all this time. Fishman's answer was not much of a surprise: "I started with the IRS in December of '71. I currently do tax controversy law. I've yet to see that 'secret way' you're talking about."
In short, when it comes to filing taxes and staying out of trouble with the IRS, Chrisley may not really know best.