Celeb Marriages Secretly On The Rocks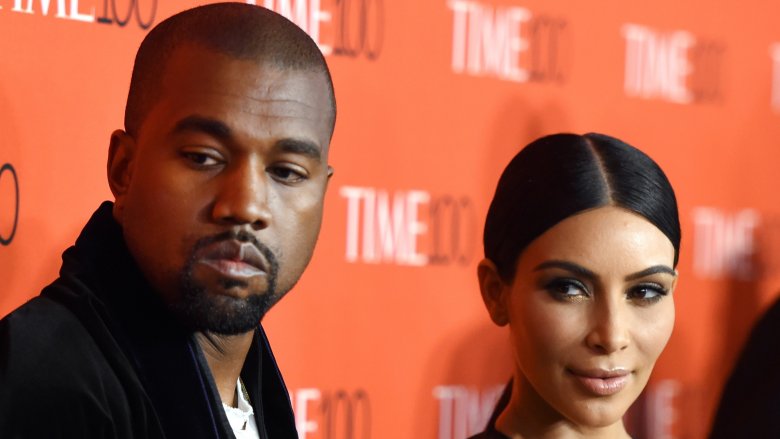 Getty Images
The celebrity couples who put on the happiest fronts are often the ones with the shadiest stuff going on behind closed doors. Why? A lot of couples that face problems go out of their way to put on a united front to fight split rumors, only to have them proven true later. Here are some couples who may have a lot to hide beneath their sunny smiles and shiny wedding rings.
Kevin Hart and Eniko Parrish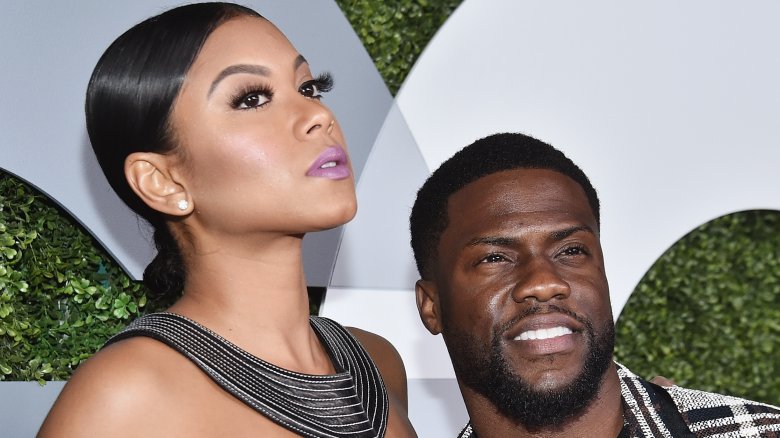 Getty Images
Kevin Hart adores Eniko Parrish and gushes about her at almost every opportunity, but it's unclear if his pregnant wife was on his mind when he was photographed getting very close to another woman in a car in July 2017. 
"It was obvious they were up to no good," a witness told Radar Online. "She kept looking over her shoulder, and Kevin was pop-eyed when another guest walked by." A rep for Hart denied any wrongdoing, but an insider claims the comedian's friends are "shocked" by his behavior, adding, "Even though Kevin has a history of cheating, it's still shocking that he seems more interested in chasing women than spending time with his wife. A pregnant woman needs to know she can trust her baby daddy—not see photos of him taking girls back to his Miami Beach hotel at 5 a.m.!"
In Sept. 2017, Hart was reportedly busted on video cheating on Parrish—and someone allegedly tried to extort him to keep it quiet. 
"I'm at a point in my life where I feel like I have a target on my back, and because of that, I should make smart decisions, and recently, I didn't," Hart admitted on a video posted to his Instagram. "I put myself in an environment where only bad things can happen, and they did... But I'm also not going to also allow a person to have financial gain over my mistakes, and in this particular situation, that's what was attempted. I said, 'I'd rather fess up to my mistakes.'"
Channing Tatum and Jenna Dewan-Tatum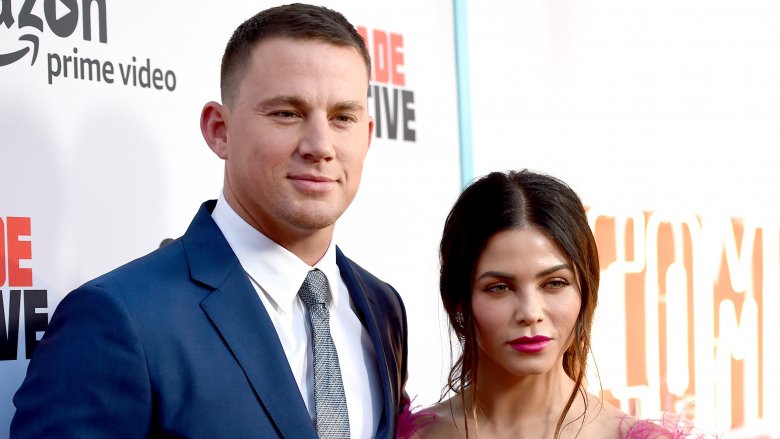 Getty Images
Channing Tatum is one of the hottest tickets in Hollywood, in part because of his star turns in Magic Mike (2012) and Magic Mike XXL (2015)...you know, those movies where he plays a stripper grinding on all sorts of girls? Meanwhile, Jenna Dewan-Tatum has basically been relegated to a housewife role outside of her hosting gig on World of Dance. Disparities in success are damaging to the ego, and damage to one's ego can lead to damage in one's relationship. Rumor has it these two are at odds over Tatum's success.
A source told Star (via Hollywood Life), "Channing needs to scale back, but he has yet to turn down a single role. He just finished filming Kingsman 2 (2017) in London and now he's shooting Logan Lucky (2017) on the East Coast. If Jenna could drop everything and join him, that'd be one thing, but Supergirl films in California... There's no point in pulling [Everly] out of preschool just to sit around on set. Channing should be the one making the effort to stick closer to home."
Nicole Richie and Joel Madden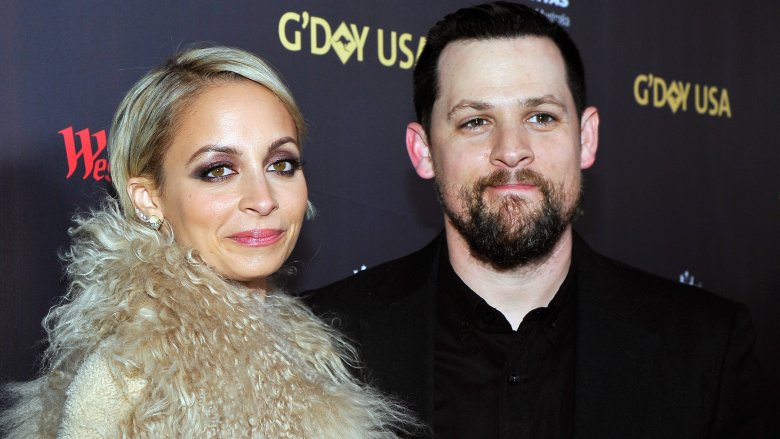 Getty Images
When moving vans were spotted outside Nicole Richie and Joel Madden's home, the world thought they were divorcing, but they were reportedly just renovating. Still, that doesn't mean it's all sunshine and rainbows for the couple, especially when Madden is taping The Voice Australia. 
"When he's here, he checks out on his life in the U.S.," a source told Star (via the Daily Mail). "Joel prefers to be away because he can avoid Nicole much more easily there... He can't stand to be at home with her because she constantly picks at him. If she's not accusing him of cheating, she's complaining about the way he parents the kids or what he eats or what he wears... It's just never-ending."
Both Richie and Madden have been spotted out and about sans wedding rings, and sources close to the couple say there's trouble in paradise. "Nicole and Joel are basically living as co-parents right now," a source told Radar Online in 2016. "They had a super rough year and are really trying everything imaginable to salvage what is left of their marriage... Neither Nicole nor Joel seems to know what to do to make their marriage work. Nicole told her friends the romance between her and her husband is dead."
Gisele Bundchen and Tom Brady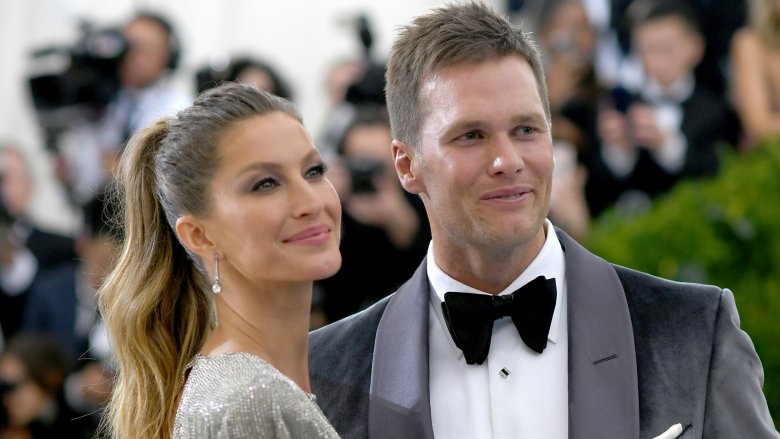 Getty Images
"Deflategate" wasn't Tom Brady's only big problem in 2015. Rumor has it the football pro's marriage to model Gisele Bundchen was also in trouble. When the NFL cheating controversy came to light, Bundchen hired a divorce lawyer, reporated Us Weekly. "Tom's become very irritable and has started acting out on her," a source said.
According to Us Weekly (via the Daily Mail), Bundchen threatened to walk on the quarterback after Ben Affleck's alleged nanny and mistress, Christine Ouzounian, was photographed wearing Brady's Super Bowl rings on a private jet. A source told In Touch, "[Tom] can be cold and angry, and when he's in that sort of mood, nothing Gisele says will help. They fought about everything and eventually stopped talking completely. They were just coexisting for the sake of the children... Neither of them is happy."
Another insider told People, "There have been a lot of stresses in their marriage in the last year, especially during football season... Tom is singularly focused on his career and sometimes Gisele feels left out. There have been arguments." The source noted that while Brady can be "nasty and cold" when stressed over his professional issues, Bundchen dealt by "ramping up the social media activity because her marriage is breaking down." Or deflating, as it were.
Sarah Jessica Parker and Matthew Broderick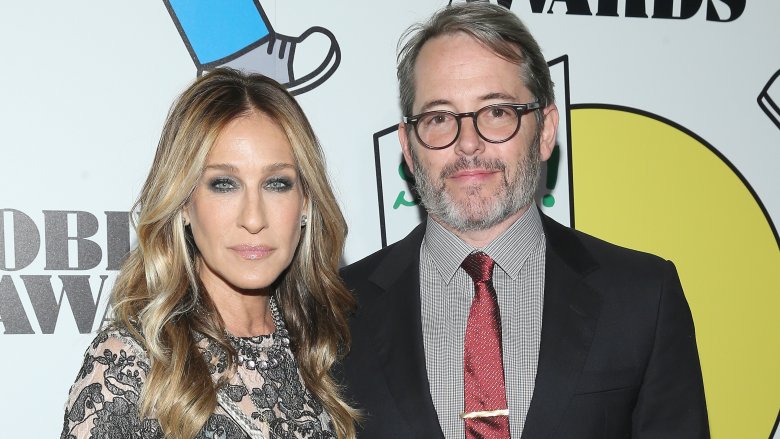 Getty Images
Sarah Jessica Parker and Matthew Broderick have been going strong for about two decades, or so it seems. Radar Online reported that Parker and Broderick had to resort to an unconventional arrangement to salvage their union, mostly for the sake of their three kids. They purchased two adjacent townhomes to make for separate "his" and "hers" spaces.
"They've had some ups and downs and they decided that separate living areas were crucial to keep them together," a source said. "They'll be tearing down a wall between the townhouses to make a mega mansion, but it's definitely one side for her and the other for him, with the kids having access to both... He's incredibly untidy whereas she needs a meticulously organized dressing room suite for her clothes." The insider added, "They still have dinner together and if the mood's right they'll have a 'sleepover,' so it's not really that they're living separate lives, more that they're treating an almost-20-year marriage with the care and respect it deserves."
Donald and Melania Trump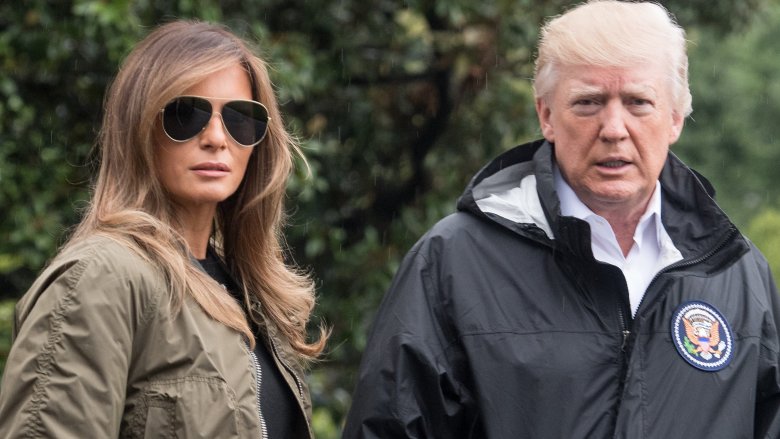 Getty Images
In March 2017, Us Weekly alleged that First Lady Melania Trump—President Donald Trump's third wife, to whom he's been married since 2005—was deeply unhappy with her marriage and with her role in the White House.
"Melania does not keep hidden from everyone around her how miserable she is," a source close to the family said, adding, "Melania wants as little to do with Donald as possible. She is not interested in Donald, the presidency, or anything involving him." Another source claimed they never sleep in the same room, while a third claimed that they do, in fact, share a bedroom—but that they sleep in separate beds: "It's very 'royal' of them!" 
The Trumps denied the claims, but where there's smoke (and super-awkward, highly-analyzed body language), there might be fire.
Beyoncé and Jay Z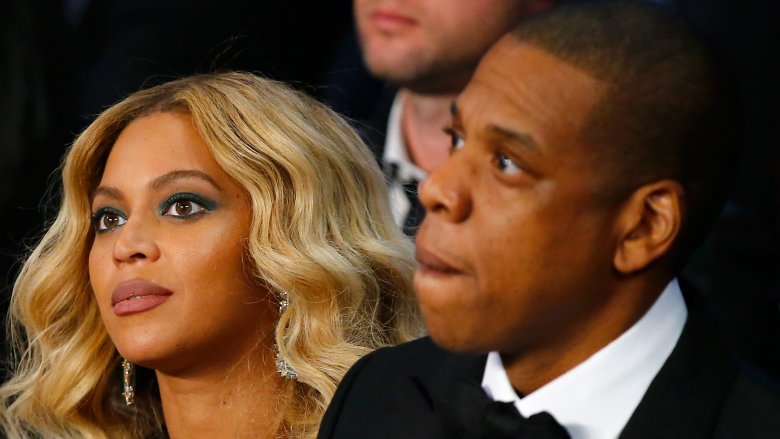 Getty Images
Beyoncé and Jay Z seemed unbreakable until the infamous elevator fight between Hov and Bey's sister, Solange Knowles. Rumors flew that the altercation was over Jay allegedly flirting with other women, and fashion designer Rachel Roy's name was alluded to frequently following the incident.
Just when the world forgot about that fight (and after the couple toured together and touted PDA at every awards show), out came Beyoncé's Lemonade, an album saturated in innuendo about Jay Z cheating. Jay reportedly admitted to cheating (though he didn't reveal with whom) in his 4:44 album. "I apologize, often womanize / Took for my child to be born / See through a woman's eyes / Took for these natural twins to believe in miracles / Took me too long for this song / I don't deserve you," he rapped on the title track.
That's all fine and good, as are their newborn twins, but we'll see how long this lasts (and what their next albums sound like).
Larry King and Shawn King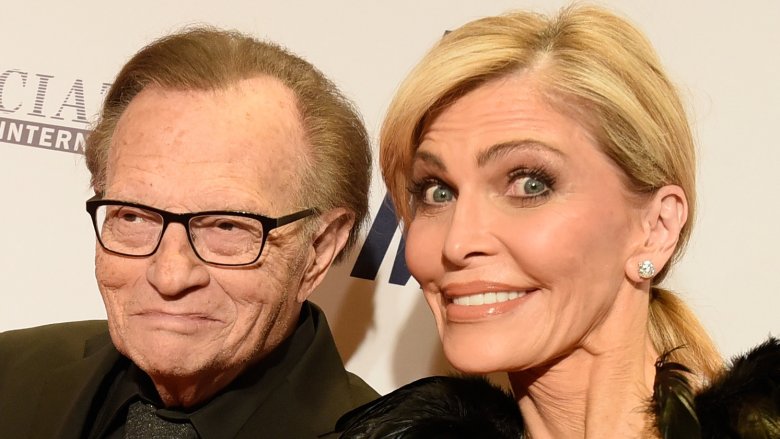 Getty Images
Larry King's eighth wife, Shawn, allegedly had an affair behind the legendary newsman's back for more than a year. 
Page Six reported that Shawn was enjoying steamy afternoons with public speaking coach Richard Greene and even prepared to divorce Larry for him, but Greene was supposedly hesitant. A source told the tabloid, "[Larry is] very emotional, and depending on the time of day or how he's feeling, the answer changes [as to whether he will divorce Shawn]. Sometimes he's ready to pull the trigger, sometimes he wants to stick it out... He's miserable. It's hard to see someone that old that unhappy. He's clearly being manipulated and yet somehow paralyzed by indecision and fear. It's very difficult to watch."
Both Shawn and Larry denied the cheating claims, yet an insider insisted their marriage has been effectively over since about 2010. "They just show up for appearances. She loves being Mrs. Larry King and the travel. She stays with him for the kids' sake."
Will Smith and Jada Pinkett Smith
Getty Images
Despite seemingly happy appearances (and TMI about their sex lives), Will and Jada Pinkett Smith have been plagued by divorce rumors for years. 
In August 2015, a source told Radar Online, "For Will and Jada, holding it together these past few years has been tough because their marriage has been on life support for a long time. They're exhausted from trying to maintain the façade of a happy union. They've decided to pull the plug in a carefully choreographed manner, [and] agree announcing their split at the end of the summer is the right move." The couple denied the rumors, just like they did in 2011, in 2012, and seemingly every year before or since.
Even so, it's not all roses and sunshine for this pair. In 2016, Will admitted to The Sun that he and his wife required "grueling therapy" to keep their marriage going.
Julia Roberts and Danny Moder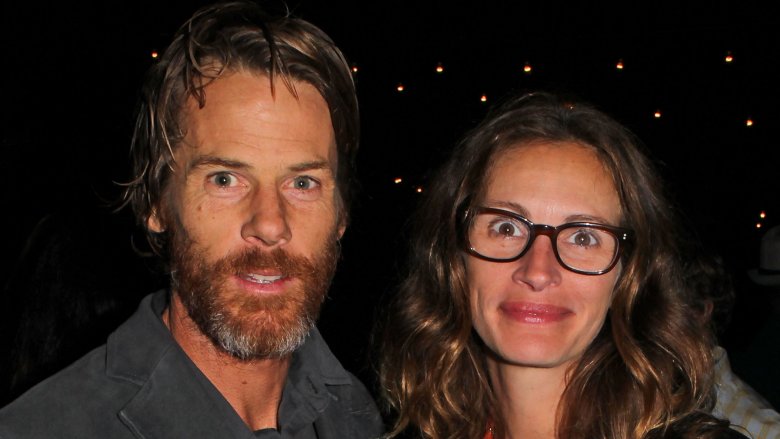 Getty Images
Julia Roberts and Danny Moder are fiercely private, so it's not surprising that they're rarely seen together publicly. Still, a source told Radar Online there's more to flying under the radar than just avoiding paparazzi; insiders claim the couple is having real problems. "He's sick of her controlling ways and petty insecurities and refuses to come home," a source said. "Julia doesn't want a divorce and is holding on."
A source told Star (via Radar Online) that Moder and Roberts even live separately. "Word is that he's moving out to see if they'll miss each other, if having space can fix the problems." 
Another source also told Radar Online that Moder keeps working as a cameraman despite Roberts obviously making major bank in Hollywood. "Danny does it not only to make a name for himself and feel like a provider for the family, but also to get out from under her thumb. Julia hates it because she likes having all the power."
Roberts denied the rumors of marital tumult.
Kim Kardashian and Kanye West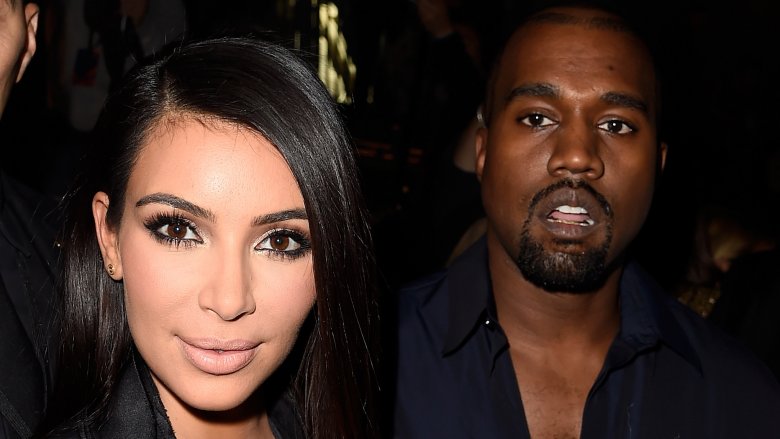 Getty Images
Kim Kardashian and Kanye West are obsessed with themselves, but that doesn't mean they're enamored with one another. 
Now that she's a baby mama twice over, Kardashian is allegedly terrified that West is done with her. A source told Radar Online, "Kim is totally stressing out that with a perfect daughter and now a son that Kanye isn't going to need her anymore." The source added that Kardashian's weight gain from her pregnancy may pose a problem for West, because "looking really hot is important to Kanye."
Their most recent issues extend beyond the superficial. West's November 2016 breakdown was the result of many factors that reportedly include Kardashian's armed robbery in Paris and marriage troubles compounded by his condition. A source told Us Weekly that Kardashian and West were living apart during his recovery, and insiders claimed their relationship dynamic has changed dramatically.
A source told Radar Online in March 2017, "Kim is having a really, really difficult time holding it together right now. She seems absolutely miserable and would like nothing more than to turn this around, but at this point it seems like she is just hopeless... it is like Kanye has the mentality of a five year old and Kim is more like his mother than his wife. The two of them are constantly fighting behind closed doors and she just seems tired of playing this charade with him."
Todd and Julie Chrisley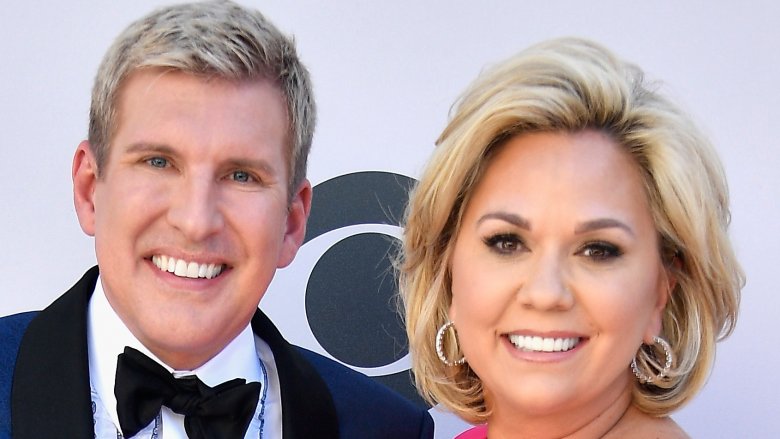 Getty Images
Sources told Radar Online that Todd and Julie Chrisley of reality show Chrisley Knows Best are faking their marriage to keep their fame.
"Things are very different between the two of them when the cameras are not rolling. It's like night and day," an insider said, adding that even their bedtime scenes are scripted. "They are actually shot back-to-back with several outfit changes. No one goes to bed in full hair and make-up! [In real life, they] can barely even tolerate each other." However, the source said, "Todd and Julie will never split. They both need each other to keep up this image that they have the perfect family."
Another insider concurred: "It is hard for anyone who works with Todd or Julie to believe that their marriage is authentic. It's made for TV. They do not display the same level of affection and love towards each other off-camera as they do when they are filming... [Todd] is always running around trying to be Mr. Hollywood, while Julie is the one at home with the kids making sure everything with the family goes smoothly, and even that is fake. They have a team of people underneath them at this point so in reality neither one of them have to lift a finger when it comes to housekeeping." 
Adding fuel to the fire: In 2014, Todd's estranged son, Kyle, claimed Todd is gay, and Radar Online reported that Todd was sued for allegedly sexually harassing male employees.
Daniel Craig and Rachel Weisz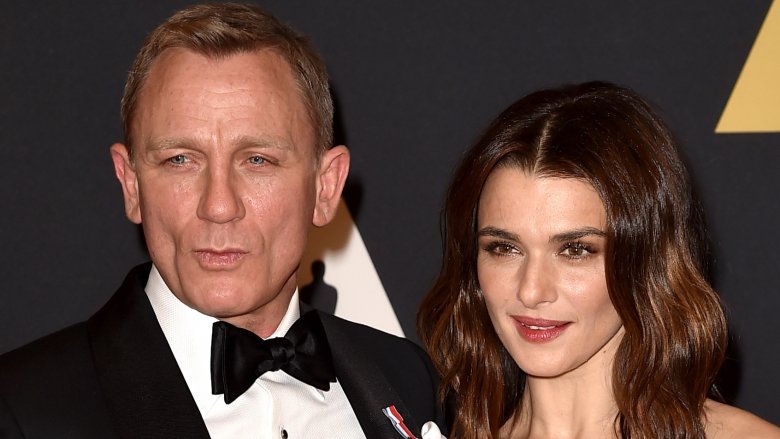 Getty Images
Rachel Weisz and Daniel Craig keep their private lives very private—the only people at their wedding were their kids! Consequently, the fact that they reportedly had not been photographed together in two years up until July 2017 isn't too shocking. Even so, Radar Online reported that there is trouble in the couple's marriage due to the difference in the quality of their careers and the time they spend apart filming.
"Rachel and Daniel haven't been happy for a while, and nearly called it quits last year," a source told Radar Online. "With the time difference and their focus on work commitments, no one would be surprised to learn they've split... Rachel wants to reignite her career this year, and Daniel's heartbroken."
Craig's frustrations about playing James Bond allegedly played a role in their marital discord. "Rachel's given first pass on the best Hollywood projects, while Daniel complains that he's conscripted to mindless action schlock," a source told Radar Online. "Unfortunately, he's started to take out his frustrations on Rachel."
What's more, Weisz allegedly isn't too keen on collaborating with Craig professionally. "Daniel has been needling Rachel to do another project with him, but Rachel is of the mindset that they shouldn't mix work and pleasure," a source claimed. "Rachel is fed up with Daniel's competitiveness and grumpiness over his career. She doesn't feel like she should have to apologize for being so successful."
Jessica Biel and Justin Timberlake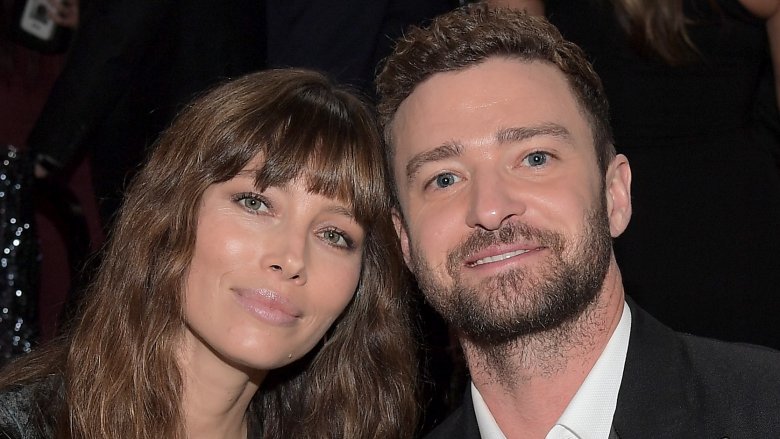 Getty Images
Jessica Biel and Justin Timberlake and broke up and made up so many times before they finally tied the knot that it's notable they made it down the aisle. Timberlake was rumored to have a wandering eye for years before they wed (remember those Olivia Munn and Mila Kunis cheating rumors?)
Recent rumors have painted both parties as controlling. In Touch reported that Timberlake is dying for baby No. 2, but Biel, who's earning major kudos for her 2017 role in The Sinner, is eager to get back to work. "Since becoming a mom, Jessica has gained confidence. She's eager to act more," a source said. "If he had it his way, she'd be pregnant again."
Meanwhile, an insider told OK! magazine that Biel put Timberlake on a curfew after his former fling, actress Scarlett Johansson, announced her divorce from husband Romain Dauriac. "This is a set-in-stone rule, that Justin has to be home by midnight or call with a damn good excuse if he isn't," a source said. "Their marriage is in a good place again now, but Jessica will never forget those years when he'd flirt behind her back and disrespect her in public. He's a kept man now, and she's the one wearing the pants."