Will And Jada Pinkett Smith's Feelings About Monogamy Within Their Relationship Explained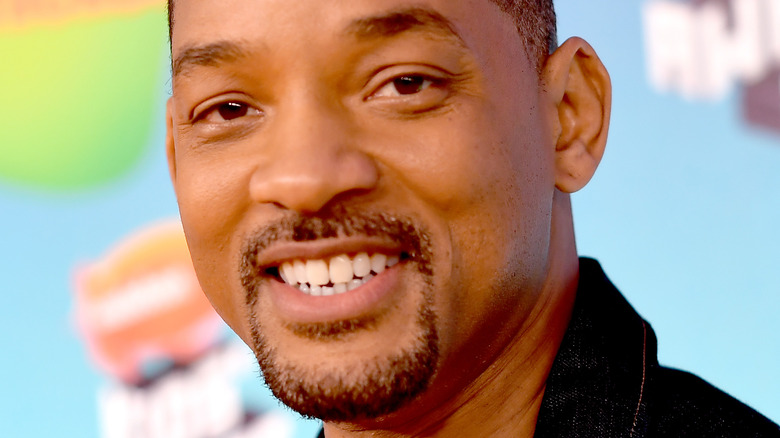 Matt Winkelmeyer/Getty Images
Alongside the constant headlines of famous couples like Brad Pitt and Angelina Jolie or Kanye West and Kim Kardashian, one of the most talked about marriages in Hollywood seems to be that of Will Smith and Jada Pinkett Smith. The couple wed back in 1997, and over two decades later and two kids later, their relationship remains in the spotlight just as it did on day one.
In a September 27 cover interview with GQ, Smith opened up about his marriage and how the couple agreed that "authenticity was the release from the shackles of fame and public scrutiny." In the wildly revealing interview, the actor got real about his unconventional relationship, revealing snippets from his upcoming memoir that documented how Jada made "many compromises" during their marriage that "painfully negated her own values." The actor wrote, "Nothing good comes from spending your hard-earned money on a 'family home' that your wife doesn't want," referring to the couple's multi-acre mansion (must be nice!) in Los Angeles. "Our marriage wasn't working," he added, according to the outlet. "We could no longer pretend. We were both miserable and clearly something had to change."
Something did change, and that was their view on marriage. Even though the Hollywood couple shot down rumors they were swingers, Will and Jada Pinkett Smith are still clearing the air on how they view monogamy, not that it's anyone's business. Now, Will has addressed their relationship and what it means. This is what he had to say.
Jada Pinkett Smith 'never believed in conventional marriage'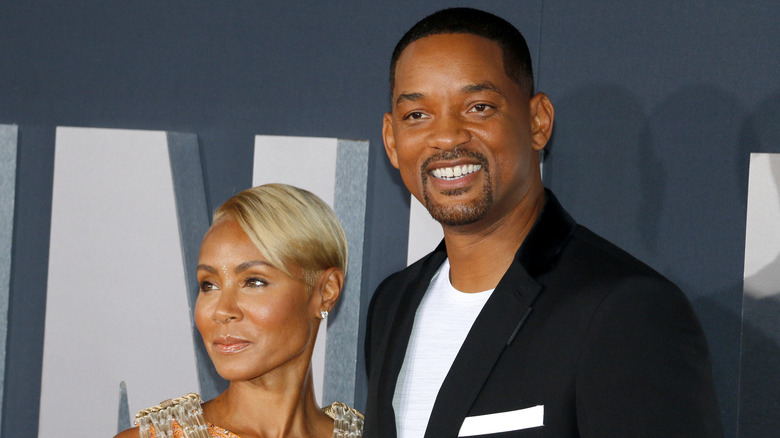 Tinseltown/Shutterstock
Without going into every single detail of his marriage, Will Smith opened up to GQ about his and wife Jada Pinkett Smith's views on monogamy, and how they transformed their over 20 year marriage with their own rules.
"Jada never believed in conventional marriage," Will candidly admitted. "There were significant endless discussions about, what is relational perfection? What is the perfect way to interact as a couple? And for the large part of our relationship, monogamy was what we chose, not thinking of monogamy as the only relational perfection." As for their solution? The "Pursuit of Happiness" actor added that he and Jada have "given each other trust and freedom, with the belief that everybody has to find their own way." He also warned that he is not suggesting this "road for anybody." 
The sentiment reaffirms what Jada herself told the HuffPost back in 2013. "I've always told Will, 'You can do whatever you want as long as you can look at yourself in the mirror and be okay,'" Jada said. "Because at the end of the day, Will is his own man. I'm here as his partner, but he is his own man. He has to decide who he wants to be and that's not for me to do for him. Or vice versa." The Smith's untraditional marriage became a heightened topic of conversation (seriously, it had every tongue wagging) back in 2020, when a past relationship came back into the spotlight.
Jada Pinkett Smith had another relationship while separated from Will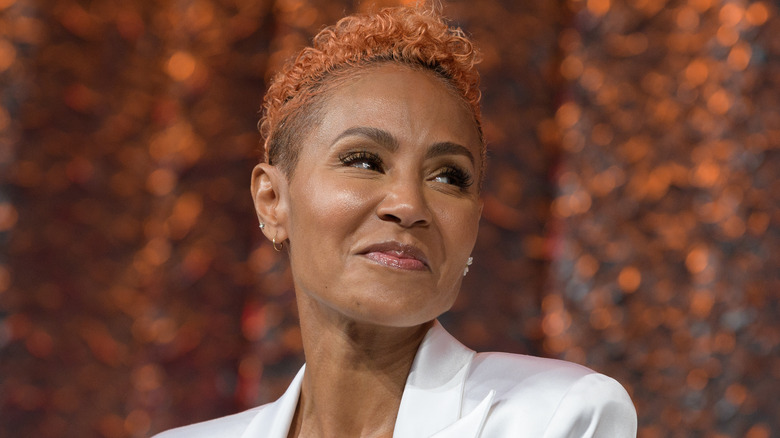 Jason Koerner/Getty Images
Jada Pinkett Smith decided to bring herself to the table of her popular Facebook show, "Red Table Talk," in the summer of 2020 after tabloids picked up singer August Alsina's statement that he and Jada had a romantic relationship with the blessing of Will Smith.
"Four and a half years ago ... I started a friendship with August. We actually became really, really good friends," Jada explained in the episode (via Yahoo! Life). At the time, Jada and Will had separated (but remained legally married), and Jada "got into a different kind of entanglement with August," which she said was "absolutely" a relationship. (Yeah, we don't really get the entanglement descriptor either.) The actor claimed the relationship with August ended once she and Will decided to work things out. They both agreed that they were able to make their relationship stronger than ever by openly discussing these extramarital affairs and their inner feelings about love with each other. "It's not for the weak of heart. There are just certain things you have to go through," Will stated. Fair enough!
A year later, Smith recounted the event to GQ and explained why the situation may be so difficult for the public to understand. "The public has a narrative that is impenetrable," Smith explained. "Once the public decides something, it's difficult to impossible to dislodge the pictures and ideas and perceptions." Hey — if it works for the couple, that's all that matters!