Will Smith And Jada Pinkett Smith Have Stopped Calling Each Other Husband And Wife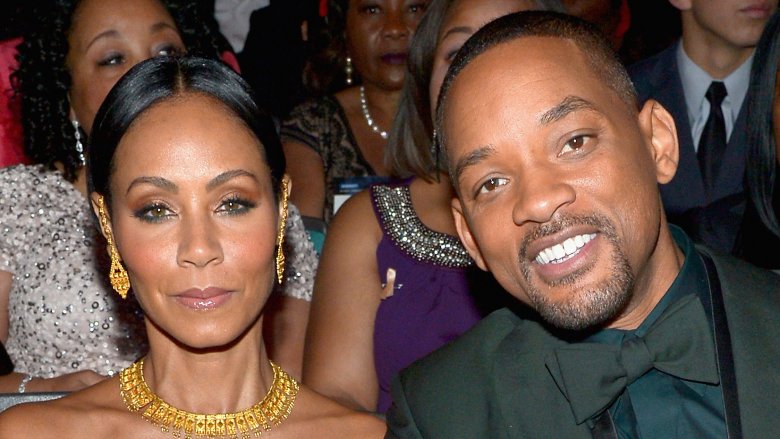 Getty Images
Rapper-turned-actor Will Smith and his wife, Gotham's Jada Pinkett Smith, apparently don't consider themselves to be married anymore.
Will Smith and Jada Pinkett Smith have been married since New Year's Eve 1997 (via The Sun), but, despite their over two decades together as husband and wife, the celebrity couple now no longer see one another as spouses — in the traditional sense, that is. Speaking to People magazine, Jada revealed that she had to reevaluate the way she looked at her relationship with the former Fresh Prince of Bel-Air star.
"I needed a different form to dissolve all the expectations that I had of a marriage," the 47-year-old actress explained to the magazine. "I needed to do that to see Will outside of husband and see him as a human being."
Apparently, according to Jada, assigning labels to people — especially, it'd seem, to people we love — can warp how we view them and how we believe they should act. "We have all these expectations," Jada stated. "'Oh, this is what a husband is. This is what a wife is.' I started dissolving all the ideas and expectations and labels."
And it'd appear that Jada wants the world to truly understand her experience in her marriage to Will, as she announced that he would appear as a guest on her Facebook Watch show, Red Table Talk, to discuss what they've learned in their relationship. "Will comes on the show for two episodes, and we talk about redefining our relationship, going from calling ourselves married to becoming life partners," Jada noted. "I felt like there was a way to speak about that that was open and transparent. But there are still aspects that are private!"
Jada hosts Red Table Talk with her mother, Adrienne Banfield-Jones, and her and Will's daughter, Willow Smith. The show's new season premieres on Monday, Oct. 22, 2018.
In a preview of Will's episode of the show, the 50-year-old Men in Black star, who also shares son Jaden with his wife, revealed that there was a point during his relationship with Jada when she cried every morning for "45 days straight" — though, according to Jada, he missed a few days in his count. "I think that's the worst I've ever felt in our marriage," he admitted. "I was failing miserably."
So, clearly, the two will really get into the dirty details of their relationship in his episode of the show.
Will Smith had previously talked about his romance with his wife in an episode of Tidal's Rap Radar podcast back in July 2018. "We don't even say we're married anymore," Will shared, after noting how he and Jada had overcome a difficult time in their marriage. "We refer to ourselves as 'life partners.'"
Continuing on, he stated, "Where you get into that space, where you realize you are literally with somebody for the rest of your life, there's no deal breakers." He added that there was nothing that Jada could ever do that would cause their marriage to end, noting that she will forever have his support.
Just a month earlier, Jada had opened up in a similar way to Sway in the Morning. "Take out all that whole marriage, relationship crap, at the end of the day, what Will and I are [is] family," she stated bluntly. Regardless of any expectations people may have about what a husband should be or how a spouse should act, Jada said, "At the end of the day, that is a man that can rely on me for the rest of his life ― period."
It's hard to imagine a time when Will and Jada weren't together, but, obviously, they each have a past. Will was previously married to Sheree Zampino Fletcher, with whom he shares son Trey. But, not long after they split, Jada entered the picture, starting a relationship with Will before he'd even finalized his divorce. Fortunately — despite a messy beginning, as Jada discussed on her Facebook show — Will and Jada were able to make things work with one another, with Trey, and with Trey's mother.
These two are obviously in it for the long haul — and we'll take any advice they'll dish out on how to keep a relationship going strong.