Weird Things Everyone Ignores About Will And Jada's Marriage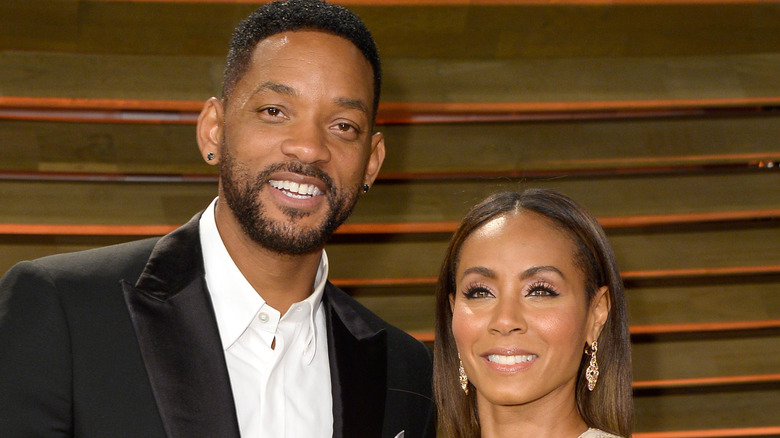 Pascal Le Segretain/Getty Images
Will Smith is a multi-faceted entertainer who's full of talent. Throughout his career, he has released some chart-topping musical hits, such as the catchy jam "Gettin' Jiggy With It," and he was also the star of the cult classic sitcom, "The Fresh Prince of Bel-Air," as well as several blockbuster movies. On New Year's Eve 1997, he married Jada Pinkett — an actress who received critical acclaim for her roles in films, such as "The Nutty Professor" and "Gotham."
Since then, Will and Jada have proven they have a bond that can't be broken. But their willingness to speak candidly about their relationship — particularly on Jada's Facebook Watch series, "Red Table Talk" – has revealed some questionable things about their unconventional union. One reason for their honesty about marital life? "[It] was really to kind of get rid of the idea that people in the public eye have perfect relationships," Jada revealed on "The Late Show with Stephen Colbert" in 2019. "We were kind of sick of living up to that." 
That's certainly fair enough ... but here are the weird things everyone ignores about Will Smith and Jada Pinkett Smith's marriage. 
Jada Pinkett Smith enjoys watching her husband's sex scenes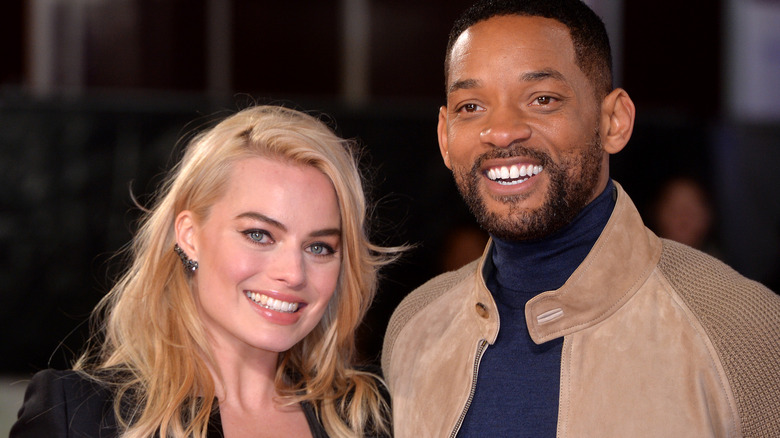 Anthony Harvey/Getty Images
At the premiere of Will Smith's 2015 film "Focus," Jada Pinkett Smith was asked how she felt about watching her husband's steamy sex scenes he filmed with his co-star, Margot Robbie. Unsurprisingly, Jada was completely unbothered by it all, and she revealed that she actually enjoyed watching all the action! 
While speaking to Extra, Jada struggled to find the words to express her enjoyment of the sex scenes when Will jumped in and stated, "She a little freaky like that." Jada confirmed his statement by bashfully saying, "Unfortunately, he's right. It's kind of a nice voyeuristic way to see your man, but I am kind of weird in that way. That's a whole other conversation."
In fact, Jada practically served Will to Robbie on a silver platter once she learned he would be starring alongside the "young and hot and in shape" Aussie actress. Will told E! News that his wife jokingly told him, "Boy don't embarrass me. Get in shape now.'"
She doesn't care if Will Smith's attracted to other women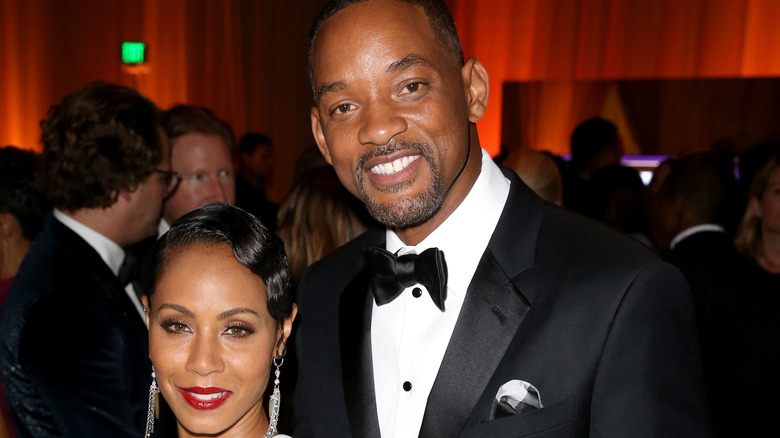 Joe Scarnici/Getty Images
Some wives may freak out over the mere thought of their spouse being attracted to someone else. But Jada Pinkett Smith is not your typical wife. During a 2015 interview with Howard Stern's SiriusXM radio show (via The Hollywood Reporter), the actress revealed that she and Will freely talk about their crushes in the industry. "I'm not the kind of woman that believes that a man is not gonna be attracted to other women. I'm just not that girl. It's just not realistic," Jada said. "Just because your man is attracted to another woman does not mean he doesn't love you."
She went on to explain that if a man can't see the beauty in another woman, how would it be possible for him to see the beauty in the woman in his life? Kudos to Jada for being secure in her marriage and not feeling threatened by Will's bevy of gorgeous co-stars.
The Smiths had a top secret wedding ceremony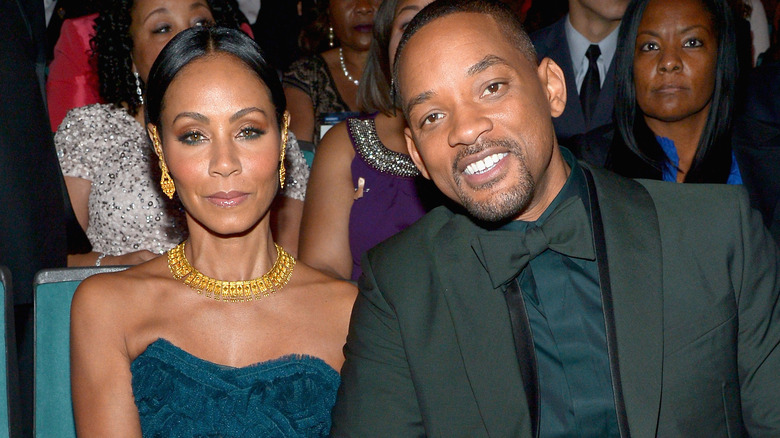 Charley Gallay/Getty Images
Some celebs are all about having grandiose public weddings that later end up on the cover of tabloid magazines. But Jada Pinkett Smith and Will Smith took a different approach for their 1997 nuptials. After constantly telling her, "Let's get married," Jada finally agreed to Will's proposal, and the two went into overdrive to plan their special day. Once they got engaged, the couple found out they were expecting their first child together, Jaden. The happy news about their bundle of joy, along with wedding planning, made things even more "hectic" for the pair, according to People. However, they moved forward at lightning speed to make sure their wedding day went off without a hitch. 
To avoid the wedding being leaked to the media, the Smiths decided against sending out formal invitations. Instead, guests were told to fly to Baltimore, Maryland, where they were holed up in posh hotel rooms at the Harbor Court and Tremont Plaza hotels. On the day of the ceremony, guests were handed envelopes with directions. They were told to give the envelopes to one of the 35 assigned limo drivers who then whisked them away to the secret wedding venue — The Cloisters, a gorgeous medieval-style castle near Baltimore.
Will Smith and Jada Pinkett Smith love talking about their sex life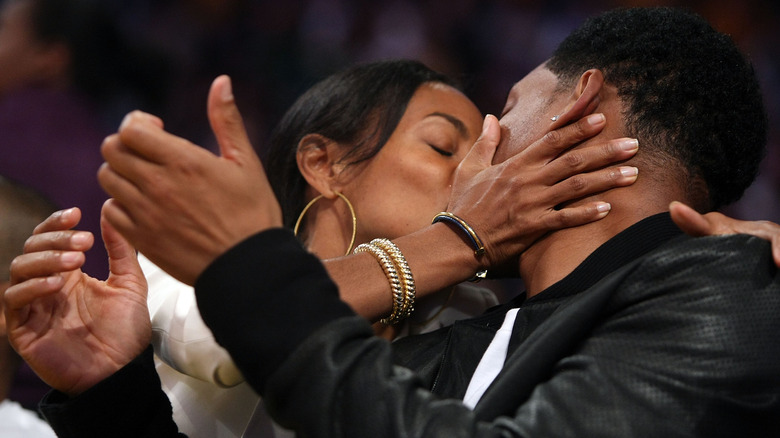 Stephen Dunn/Getty Images
In case you ever wondered what went down in Will Smith and Jada Pinkett Smith's bedroom — or the backseat of their limo — all you have to do is watch one of their interviews to get all the deets. These two are never too shy to lay it all out. No pun intended.
In an interview with Shape magazine (via HuffPost), Jada gushed about the time she and Will hooked up in a limo on their way to the Academy Awards. "Will started looking at me in this way that drives me wild," she said. "We started kissing passionately, and the next thing I knew, well, let's just say we missed the red carpet and I ended up with almost no makeup on." Their frisky sex life was also the topic of discussion during a 2008 interview with Extra (via HuffPost). When asked about her favorite beauty secret, Jada gleefully answered, "Lots of sex!" Well, that explains the eternal glow on her skin!
When asked how things between her and Will stay so hot, the actress revealed that "nice outfits and high heels" were the key to a happy marriage when speaking to Redbook. Jada also said that she and Will spend a lot of time talking to one another and going for walks at night. Oh yeah, she also threw in going to "places outside that are comfortable to have sex" for good measure, because it wouldn't be a Jada Pinkett Smith interview without some sex talk!
The Smiths have date night in their backyard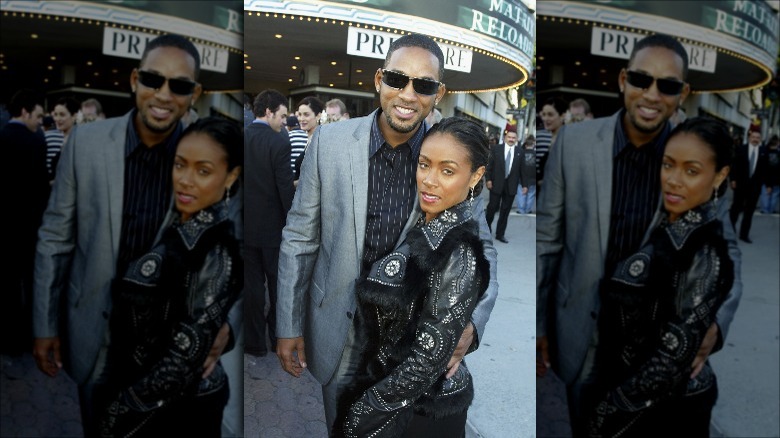 Kevin Winter/Getty Images
When you're big-time celebs like Will Smith and Jada Pinkett Smith, it's difficult to head out on the town without getting mauled by fans. So, when these two want to have a quiet, romantic evening, they turn their home into the perfect date night setting.
While speaking to Health in 2014, Jada said their $42 million estate is designed with "different places" in their yard where they can create a memorable experience. The actress explained that she once pitched an "Arabian tent," covered it with pillows, broke out with the wine, cheese, and candlelight, and turned their backyard into a beautiful date night venue. Sounds pretty romantic to us, and Will reportedly likes all of his wife's "really thought-out productions."
Will Smith and Jada Pinkett Smith met on The Fresh Prince of Bel-Air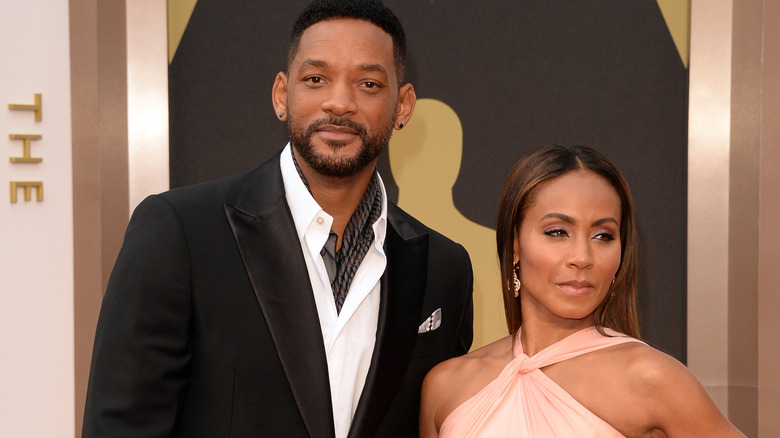 Jason Merritt/Getty Images
Not only was Will Smith the star of one of the most popular shows in the '90s, but the set of "The Fresh Prince of Bel-Air" is where he met the love of his life, too.
The year was 1990 when Jada Pinkett Smith moved from Baltimore to Hollywood and auditioned for the role of Smith's character's girlfriend. Sadly, she didn't get the part, because producers thought her 5'0" frame was a bit too short for 6'2" Smith, according to an interview with People. While leaving the audition, Will greeted Jada, but she was reportedly too "ticked off" that she didn't land the gig. They later realized they had a bunch of mutual friends. Their friendship blossomed throughout the years, and we all know how this happy story ended. Soon enough, the good pals became husband and wife!
Jada Pinkett Smith helped Will Smith get through his first divorce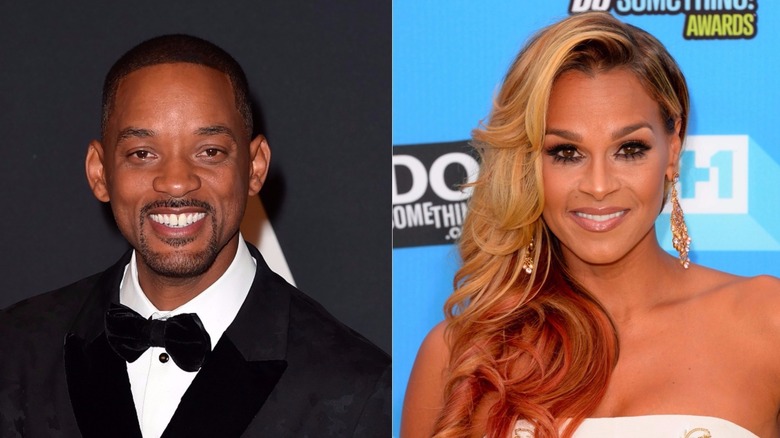 Getty Images
Two years after they met on the set of "The Fresh Prince of Bel-Air," Will Smith tied the knot with his first wife, Sheree Fletcher. Smith and Fletcher's marriage was short-lived, but the former couple did have their son, Will III (a.k.a. Trey), before parting ways.
While dealing with the aftermath of his divorce, Will and Jada Pinkett Smith became even closer. While speaking to People, Jada said she "helped him understand what happened in his marriage," and soon thereafter, she realized Will was her soulmate.
She called him her "safety net," and no matter what they went through together, he never turned his back on her. "No matter what, he'd be willing to work things out," Jada said, and the feeling of intense love was mutual. Will said Jada was the first person, outside of his mother, whom he could share his thoughts with "so freely." These two are clearly a perfect match!
The Smiths live in a 25,000-square-foot compound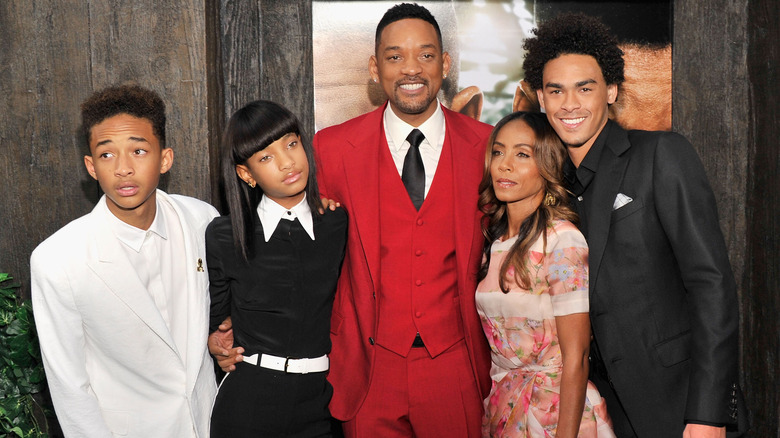 Stephen Lovekin/Getty Images
In true superstar fashion, Jada Pinkett Smith and Will Smith are living it up "big Willie style" in their 25,000-square-foot compound. It took them seven years to have the compound built from the ground up, according to The Hollywood Reporter, and the entire building process was "done by hand," Will said in an interview with Architectural Digest. 
The actor was inspired to design the home after visiting his "Enemy of the State" co-star, Gene Hackman's, home in Santa Fe. He fell in love with the home's design so much that he hired the same architect, Stephen Samuelson, to build the Smith family's Calabasas compound. After purchasing a string of plots, workers began constructing the home on 150 acres of land. To this day, the Smiths call it "a work in progress." As they grow and mature, the home "keeps on changing" to fit their needs.
In 2013, there were rumors the family had listed the $42 million home for sale, but the reports turned out to be bogus, according to E! News. After all the work they put into their labor of love, we doubt they'll be ditching it anytime soon.
Jada Pinkett Smith admits they never agree on anything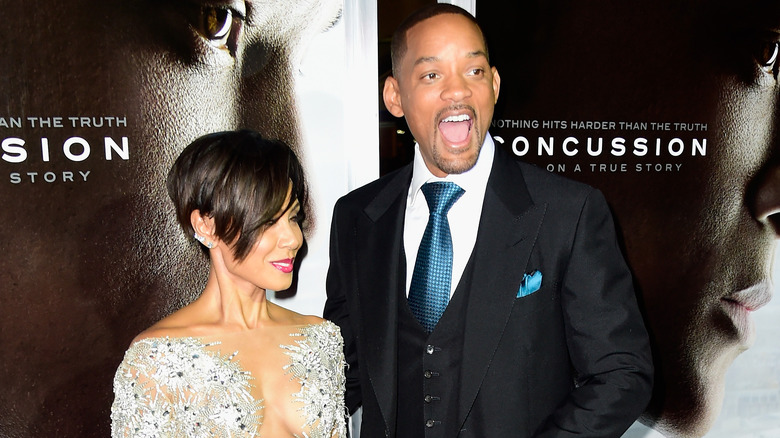 Frazer Harrison/Getty Images
One of the reasons these two have been going strong for so long is because they never agree on anything, according to Jada Pinkett Smith. The actress told Redbook if she says "black," Will Smith says "white," but their disagreements are what make them work. "No matter what side of the scale one is on, the other will switch to keep the balance," she revealed. "We crack up about it all the time. We hardly ever agree on anything, and we've learned to really respect that in our relationship."
They say opposites attract, and Will and Jada's weird marriage is a true testament to that.
August Alsina sent Will Smith and Jada Pinkett Smith into denial mode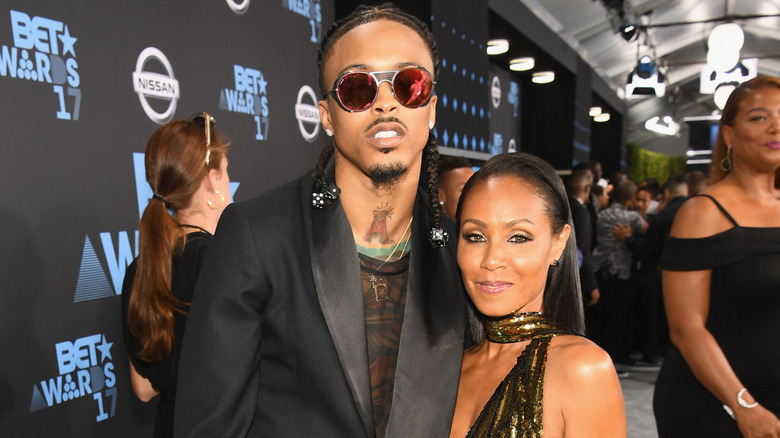 Paras Griffin/Getty Images
In late June 2020, singer August Alsina alleged that he had an affair with Jada Pinkett Smith with the okay from Will Smith. Alsina told Angela Yee, "I actually sat down with Will and had a conversation. Due to the transformation from their marriage to [a] life partnership that they've spoken on several times, and not involving romanticism, he gave me his blessing."
August said Jaden Smith introduced him to Jada in 2015, and that he even went on vacation with the Smith family in 2016, before attending the BET Awards with them the following year. It's been speculated that August's 2019 song, "Nunya," is about his relationship with Jada; the video features text messages between August and a woman named "Koren" — which is Jada's middle name.
"I totally gave myself to that relationship for years of my life. I truly and really, really deeply loved, and have a ton of love for her," August said. "I devoted myself to it, I gave my full self to it. So much so to the point that I can die right now and be okay with knowing that I truly gave myself to somebody." Though they met in 2015, it's unclear when August and Jada first allegedly became romantic.
Jada's rep told Page Six that August's story was "absolutely not true," and a rep for Will told The Sun that August's version of events was "wrong."
What really went down with Jada Pinkett Smith and August Alsina?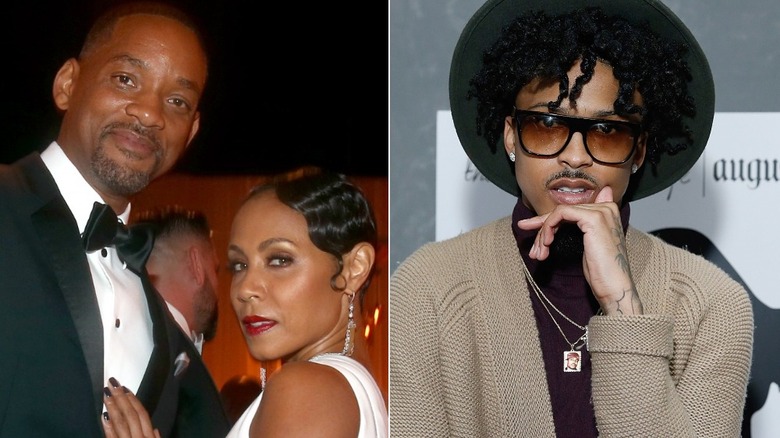 Christopher Polk, John Lamparski/GettyImages
After her and Will Smith's reps told the press that August Alsina's claims of an affair with Jada Pinkett Smith were false, Jada confessed to having a full-blown relationship with August in a July 2020 episode of "Red Table Talk." She said she and Will were separated, and that August approached her to help him with his mental health. From there, she said she had a relationship with August that became romantic. She explained, "I just wanted to feel good, it had been so long since I felt good. And it was really a joy to just help heal someone. I think that has a lot to do with my co-dependency."
Both Will and Jada denied August's claim that Will granted his "permission" for the relationship. And Jada also said that she doesn't view the relationship as a "transgression," because it was a learning experience, and noted that after she and Will reconciled that August cut off "all communication" with her — adding that August's actions were "totally understandable."
"We came together young and we were both broken in our own ways, and to be able to make mistakes without the fear of losing your family is so critical," Will said of their unconventional ways. As part of their closing, the couple said in unison, through laughs, "We ride together, we die together — bad marriage for life."
Will Smith and Jada Pinkett Smith lived separate lives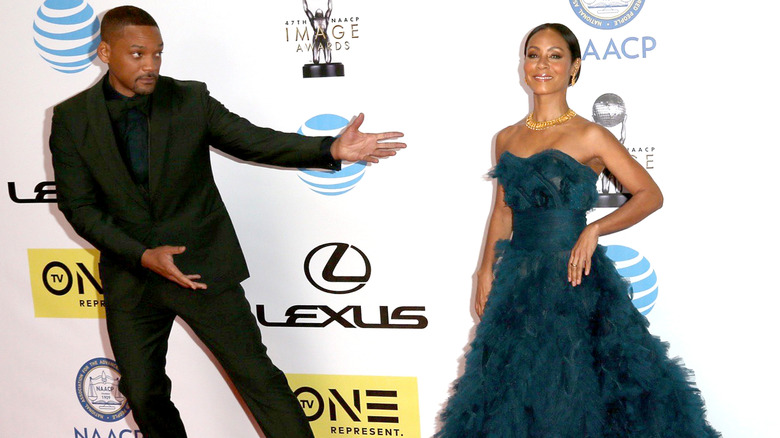 David Livingston/Getty Images
There were rumors for years that Will Smith and Jada Pinkett Smith had an open marriage, but they both denied it. In 2013, Radar Online (via the Mirror) revealed that the couple had allegedly begun a "trial separation" and were living separately: Jada at her brother's home, Will in New Orleans near the set of his movie, Focus. Will co-starred with Margot Robbie in the flick and rumors were rampant that they may have been hooking up, especially after some racy photo booth snaps leaked to the press.
In terms of their open marriage rumors, Will has said they don't consider themselves spouses but instead "life partners," while Jada once joked on "Watch What Happens Live with Andy Cohen" that she wished they were actually "swingers." In 2014, Jada outright denied having an open marriage, explaining that she and Will trusted one another to do whatever they wanted and that it meant their marriage was instead "a grown one."
After August Alsina's revelations, however, Will and Jada admitted on "Red Table Talk" in July 2020 that they did, in fact, have a trial separation when Alsina and Jada were hooking up. "I was done with your a**," Will said to Jada, adding, "We decided that we were going to separate for a period of time, and you go figure out how to make yourself happy, and I'll figure out how to make myself happy."
Will and Jada have an unusual parenting style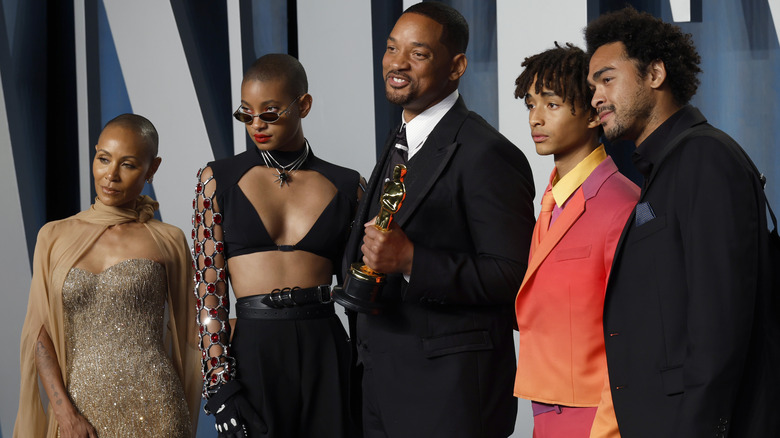 Frazer Harrison/Getty Images
For Will Smith and Jada Pinkett Smith, conventional just won't cut it. Over the years, the famous couple has faced scrutiny for their parenting style, which many have deemed irresponsible. In 2014, Will and Jada faced backlash after a picture of their 13-year-old daughter, Willow Smith, posing with a topless 20-year-old Moises Arias surfaced online. Though neither Will nor Jada immediately commented on the backlash, a source explained to TMZ that the couple deemed their daughter "mature" enough to handle her own friendships and photos. Jada later commented on the photo, confirming that she thought it was appropriate. "You guys are projecting your trash onto it, and you're acting like covert pedophiles and that's not cool," she told TMZ at LAX. 
Jada's words, however, didn't seem to hold weight, as the Los Angeles Department of Children & Family Services opened an investigation to determine Willow's safety. The couple was eventually cleared, as it was soon determined that Willow was in no danger at the time the controversial photo was taken, according to Radar Online. 
A year prior, Will opened up about his and Jada's parenting style, revealing that they didn't believe in punishments. "Our concept is, as young as possible, give them as much control over their lives as possible and the concept of punishment, our experience has been — it has a little too much of a negative quality," the actor told Metro in his 2013 interview.
Divorce isn't an option for the Smiths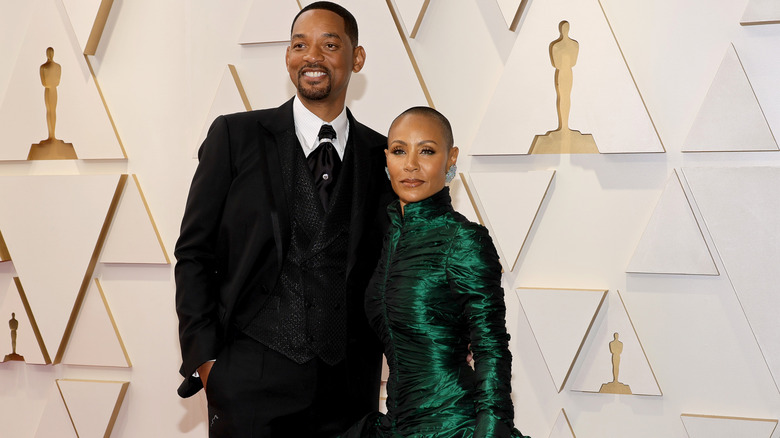 Mike Coppola/Getty Images
Divorce may be prevalent in Hollywood, but for Will Smith and Jada Pinkett Smith, quitting isn't an option. Back in 2006, the "Collateral Beauty" actor opened up about his marriage to Jada, noting that they never considered divorce in their marriage. "Divorce can't be an option. With Jada, I stood up in front of God and said, 'Til death do us part.' So there are two possible outcomes. One, we are going to be together till death, or two, I am dead," he told MTV (via Billboard). 
In a different interview with Ebony, Jada shared similar sentiments, revealing that it was one of the conditions she gave Smith before agreeing to marry him (via Billboard). She told Ebony, "When Will asked me to get married, I said, 'Understand this, there will be no divorce. So, you might be in one bedroom and I might be in another, but we're gonna be under the same roof and we're gonna be married.'"
Despite their strong convictions, however, the famous couple has hit rough bumps in their marriage through the years. Still, Will and Jada never gave up on trying to make their relationship work. "Because I had been divorced before I wasn't getting divorced again. Divorce wasn't an option," Will once admitted on "Red Table Talk," referencing his first marriage to Sheree Zampino (via People).
Will and Jada don't call themselves married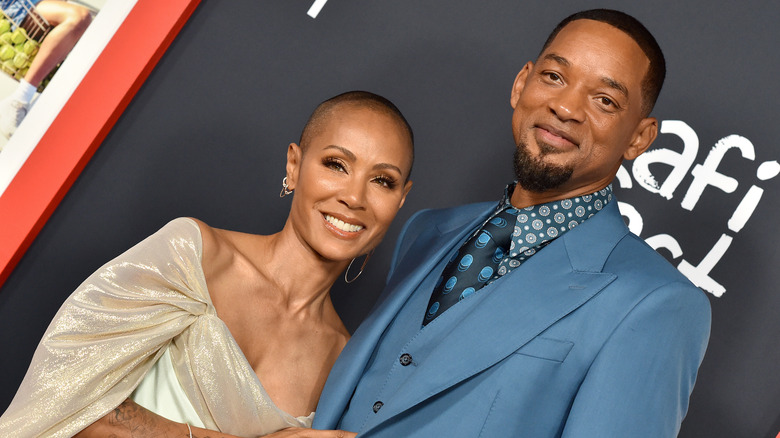 Axelle/bauer-griffin/Getty Images
Amidst their unconventional approach to romance, Will Smith and Jada Pinkett Smith have also decided that the word "married" is not for them. During a 2018 appearance on the "Rap Radar" podcast, Will shared the couple's decision to refer to themselves as married, as well as the reason behind it. "We don't even say we're married anymore. We refer to ourselves as life partners, where you get into that space where you realize you are literally with somebody for the rest of your life," he explained (via Insider).
Jada seemingly doubled down on Will's comment during an episode of "Red Table Talk" in which she opened up about the need to redefine their relationship and her aversion to labels. "We talk about redefining our relationship, going from calling ourselves married to becoming life partners. We have all these expectations. 'Oh, this is what a husband is. This is what a wife is.' I started dissolving all the ideas and expectations and labels," she said (via USA Today). This might be an unusual approach, but if it works for these two stars, who are we to knock it?
Will famously got into an altercation to defend Jada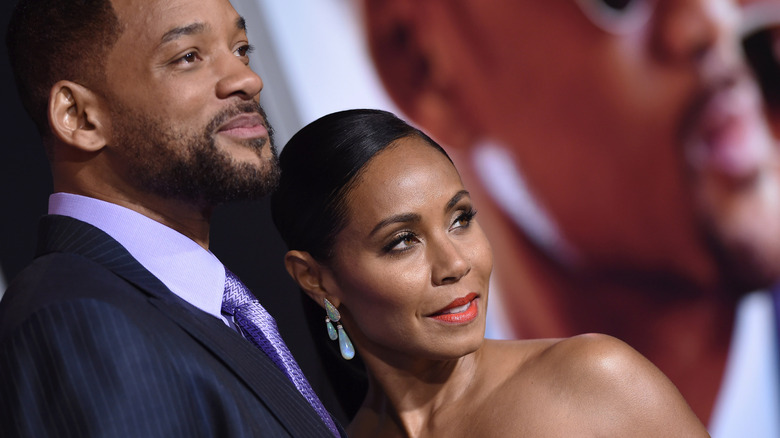 Axelle/bauer-griffin/Getty Images
All's fair in love and war, or so Will Smith might tell you. The "Gemini Man" actor made headlines in 2022 after hitting Chris Rock during the 94th Academy Awards. Rock, who was on stage to present the award for best documentary feature, performed a short monologue that included a joke about Jada Pinkett Smith's shaved head due to her years-long struggle with alopecia. Reacting to the joke, Will walked onto the stage to strike Rock across the face, after which he yelled, "Keep my wife's name out your fuc**** mouth!" (via HuffPost).
Now, both Will and Jada have opened up about the infamous incident. In a public apology posted on Instagram shortly after the incident, Will described his actions as "unacceptable," adding that there was no excuse for the assault. "Jokes at my expense are a part of the job, but a joke about Jada's medical condition was too much for me to bear and I reacted emotionally," he added. 
And while he might have been defending her, Jada was apparently just as shocked as the rest of the world. "I thought, 'This is a skit.' I was like, 'There's no way that Will hit him.' It wasn't until Will started to walk back to his chair that I even realized it wasn't a skit," she later told People.