Will Smith's Strange Family Secrets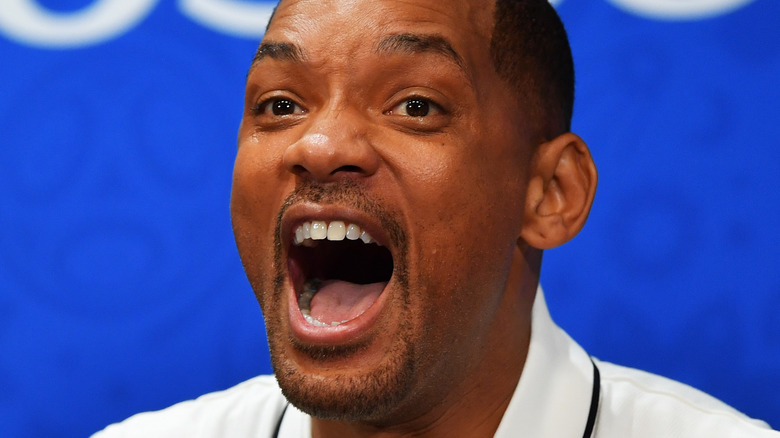 Getty Images
This feature discusses domestic violence and addiction.
Will Smith was Hollywood's highest earner in 2008, but his influence waned steadily in the following years. After realizing he wasn't the big box office draw he used to be, the Philly native acknowledged he was the architect of his own downfall, limiting himself to big, tentpole blockbusters regardless of artistic merit. When 2013's "After Earth," an ill-conceived sci-fi film starring himself and his son, Jaden Smith, became a critical and commercial flop, the actor floundered. "A thing got broken in my mind," he told The Daily Beast. 
Jaden's performance was one of the main sticking points for critics, though in many ways his life to date has been one big act. He and his sister Willow Smith have grown up in Hollywood, raised in the spotlight by an A-list dad and an actor mother, Jada Pinkett Smith. She may not have reached the same levels of fame as her husband at his peak, but she's certainly had an equal influence on their children — in fact, she's just as, if not more, outspoken than they are.
As such, the Smiths are tabloid staples. As Will and Jada have been accused of sliding not-so-gracefully into middle age, and their kids have become young adults, they've become all the more fascinating. Every family has its secrets — and rumor has it that if you shake the Smith family closet, more than a few skeletons will come rolling out.
There have been a lot of cheating rumors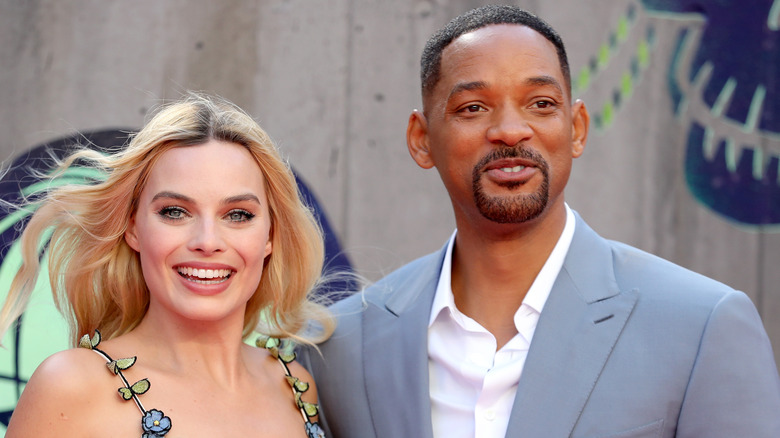 Getty Images
Try as they might, Will and Jada Pinkett Smith can't put persistent infidelity rumors to bed. Both have been accused of playing away at different points over the years, with Will making unwanted headlines as recently as 2013. The actor was accused of going there with his "Focus" co-star Margot Robbie after photos of him and the Australian stunner looking more than a little cozy circulated online. However, sources close to the production claimed the pictures were taken in an on-set photo booth.
"The entire cast and crew saw them taken," an insider told E! News. "Will and Margot are absolutely just friends, that is all." Interestingly, a few months before that story broke, Jada shared her thoughts on cheaters to Facebook. "Should I stay with a mate after she or he has cheated on me?" the actor asked. "This is a very personal choice, and there is no right or wrong answer." She did not, however, name her husband in the post, and any claims that he did the dirty on her have never been substantiated.
Jada herself was at the center of a cheating scandal just a few years earlier when InTouch magazine (via Daily Mail) alleged that she got jiggy with her "HawthoRNe" co-star, Marc Anthony. Sources claimed that Will was reduced to tears after he walked in on Jada and Anthony — freshly divorced from Jennifer Lopez — doing the deed, but all parties denied it happened.
Jada Pinkett Smith and August Alsina's 'entanglement'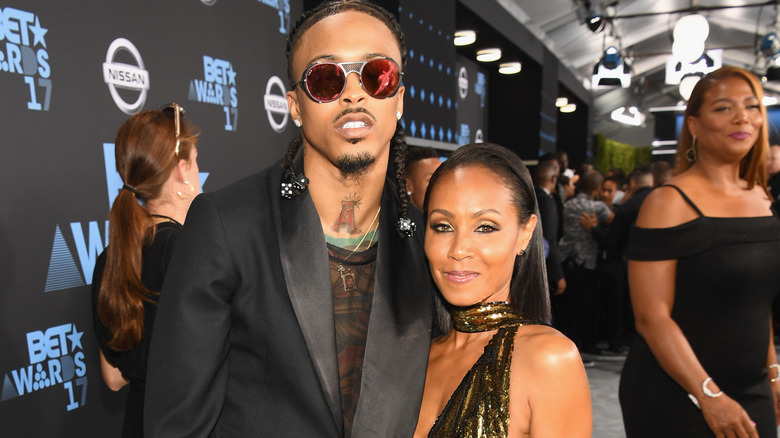 Paras Griffin/Getty Images
Of course, those cheating rumors came to a head in 2020 when Jada Pinkett Smith revealed shocking details about her and Will Smith's relationship during an episode of her Facebook talk show "Red Table Talk." The star took to the platform to clear up speculation after singer August Alsina made claims during an appearance on "The Breakfast Club," suggesting that he'd received approval from Will regarding his affair with his wife. "I actually sat down with Will and had a conversation due to the transformation from their marriage to life partnership that they've spoken on several times," Alsina said during the interview. "... He gave me his blessing."
Meanwhile, Jada explained her situation after she and Will briefly parted ways. "I got into an entanglement with August ... yes, it was a relationship, absolutely," she shared. "I was in a lot of pain, and I was very broken. Now in the process of that relationship, I definitely realized that you can't find happiness outside of yourself." At the table, Will also shared his side of the story, revealing his concerns that he and Jada were done for good after they agreed to a separation. Their approach to the temporary breakup? "You go figure out how to make yourself happy and I'll figure out how to make myself happy," he said. After the secret fling got out, Alsina capitalized on the story by releasing a song titled "Entanglements" about the affair.
Will and Jada have been accused of 'bearding'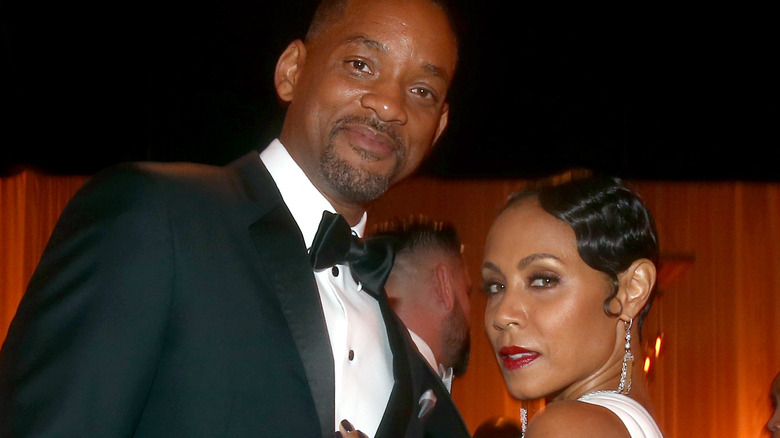 Getty Images
In 2012, Star magazine (via Hollywood Life) published a sensational story that somehow stuck around for years. The outlet alleged that the "Wild Wild West" star and his wife were headed for divorce because his bromance with actor Duane Martin had developed into a genuine romance. Will Smith and his Hollywood pal were spotted having lunch at a restaurant in Trinidad, one of many outings they had reportedly been on together in a short span of time.
"Will and Duane definitely looked very close," a source said. "It was clear Will and Duane both arrived and left together." Martin (whose wife Tisha Campbell-Martin filed for divorce in 2018) had already faced questions over his sexuality, and getting close to Will sent the rumor mill into overdrive. "[Jada] can't stand Will's relationship with Duane," the insider added. "She feels like Will flaunts it in her face, hanging out with him every day and taking him on exotic vacations while she's sitting home alone."
In 2016, the late actor Alexis Arquette also shaded Will's sexuality, claiming his first marriage to Sheree Zampino ended when she walked in on him with another man. In an explosive Facebook rant (via the Daily Mail), Arquette alleged that Jada was also gay and the marriage was one of convenience. However, Zampino quickly denied Arquette's claims in a Facebook video, stating rather definitively, "Will was straight in 1992 and he's straight in 2016." 
Was Jaden secretly dating Tyler, the Creator?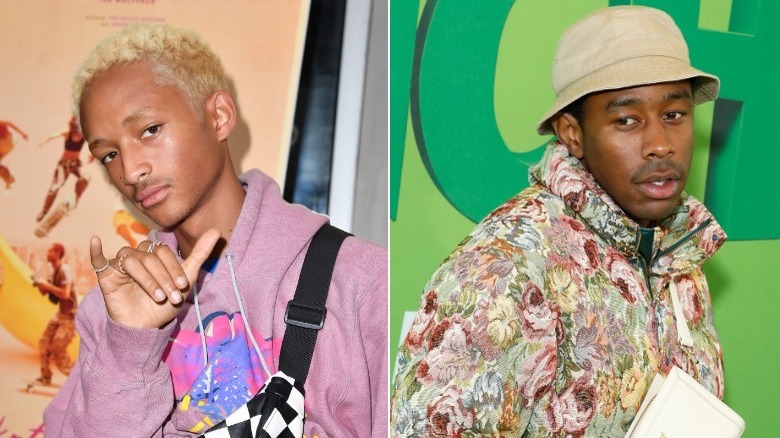 Getty Images
Unlike his old man, Jaden Smith doesn't shy away from rumors that he's gay — in fact, he started them himself. In 2018, the 20-year-old musician and actor shocked fans at the Camp Flog Gnaw Carnival when he announced that he and the event's founder Tyler, the Creator (who was in the front row at the time) had been in a romantic relationship for many years.
"I just want to say Tyler, the Creator is the best friend in the world and I love him so f***ing much," an emotional Smith confessed during his set at the California festival. "And I want to tell you guys something ... Tyler doesn't want to say, but Tyler's my mother f***ing boyfriend, and he's been my mother f***ing boyfriend my whole f***ing life. Tyler, the Creator is my f***ing boyfriend. It's true."
Tyler reacted by laughing and shaking his head, but Smith later took to Twitter and a radio interview to restate his claim. "I told everyone you can't deny it now," Smith declared in a quickly deleted tweet. Tyler responded by writing, "Hahaha, you crazy." The rapper's sexuality has been the subject of much speculation since the release of his 2017 album "Flower Boy." Whether Smith was simply playing on the rumors surrounding the musician or making a heartfelt confession still remains unclear as of this writing.
Jada is 'biased' against blonde white women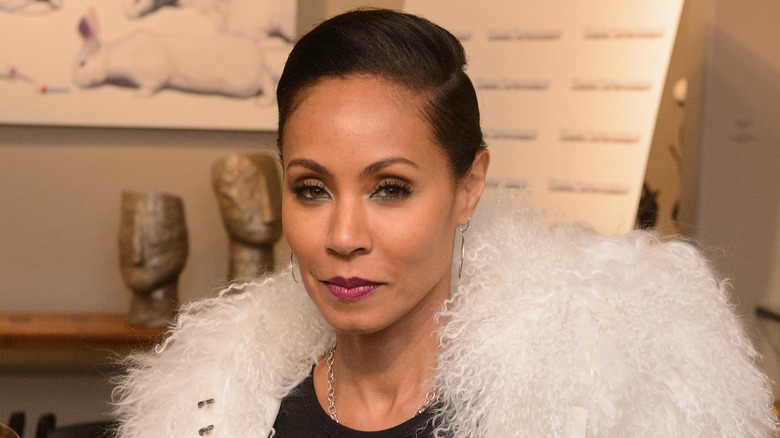 Getty Images
When the Oscars So White controversy erupted in 2016, Will and Jada Pinkett Smith were among the most vocal critics of the Academy. For the second year running, all 20 actors nominated in the lead and supporting acting categories were white, something that hadn't happened since 1998. Jada released a much-publicized (and mocked) video explaining why she was boycotting the event, hoping to shine a spotlight on institutional racism.
However, during a 2018 episode of "Red Table Talk" (via People), the outspoken actress made headlines again when she confessed her own tendency to judge others, revealing, "I do have my own biases, specifically with blonde women," she admitted. "Blonde hair on white women just triggers me, and I've had to catch myself." The fact that blonde bombshell Margot Robbie had previously told E! News that Will "tastes like Christmas" probably didn't help matters much.
The "Girls Trip" star revealed that she's thought twice about doing interviews with blonde women in the past because they remind her of the type of kids who used to tease her in school. However, she was quick to concede that this was wrong. "I think what crushes me, specifically in my relationship with white women, the thing that really breaks my heart is that white women understand what it feels to be oppressed [...] because of their sex," she said.
Willow had an unusual relationship with an adult man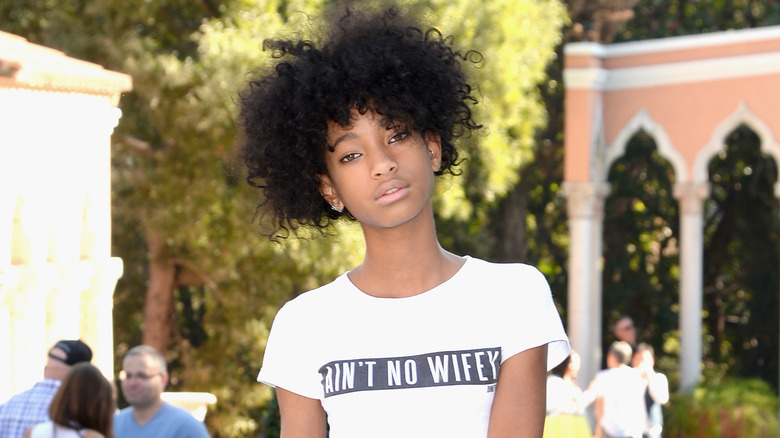 Getty Images
In 2014, Will and Jada Pinkett Smith's parenting techniques were called into question after 20-year-old "Hannah Montana" star Moises Arias posted a photo of himself and then-13-year-old Willow Smith lying on a bed together. The adult actor was topless in the shot, which sparked an immediate backlash. Sources close to the Smith camp told TMZ that Willow's parents believed she was mature enough to judge situations for herself. They also reportedly saw the photo as innocent. However, concerned netizens wanted an explanation. 
TMZ was quick to quiz Jada about the incident when she arrived at LAX for a flight soon after the controversy broke, and the mother of two reacted angrily. "Here's the deal, there was nothing sexual about that picture or that situation," she said, blaming the press for the uproar. "You guys are projecting your trash onto it, and you're acting like covert pedophiles and that's not cool."
Willow and Moises were allowed to remain friends, and they were even spotted together on a day out in New York soon after. The older actor inexplicably decided to go topless once again for the occasion, but that wouldn't be the end of it. The Smiths were allegedly investigated by the Los Angeles County Department of Children and Family Services over the offending photo but were later cleared after it was determined that Willow hadn't been in any real danger, per Radar. 
Will's first son felt 'betrayed and abandoned' by him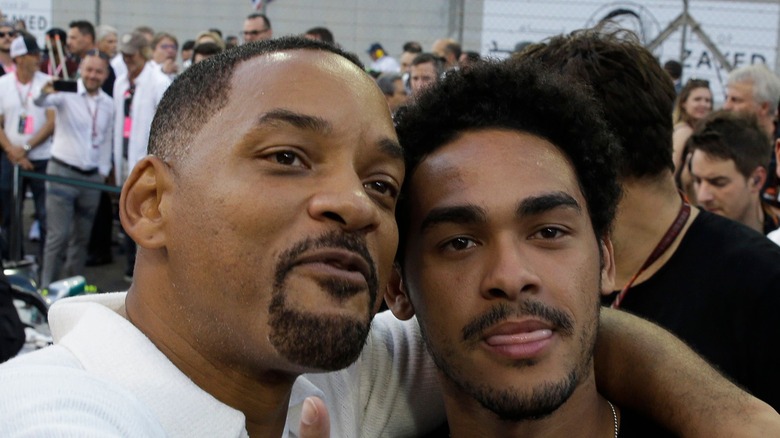 Getty Images
Because he doesn't court media attention like his outlandish half-siblings Jaden and Willow Smith often do, Will Smith's first-born son tends to fly under the radar. Trey Smith (pictured above) was the product of his father's ill-fated marriage to Sheree Zampino, which actually overlapped with the actor's current relationship. In May 2018, Jada finally admitted that she began dating Will before his divorce from Sheree was finalized.
The two women got together for a highly awkward chat on "Red Table Talk," discussing the violation of Sheree's marriage in front of the cameras. "Because I did not understand marriage," Jada said. "I did not understand divorce." A graceful Sheree thanked Jada for helping to raise her son, who always got along with Jada.
The ladies didn't get into the lasting effects their rivalry had on Trey during their chat, but in November 2018, Will spilled his own tea on the matter. He revealed that he and Trey were now in a good place, but that wasn't always the case. "We struggled for years after my divorce from his mother," the "I Am Legend" star revealed in an emotional Instagram video. "He felt betrayed [and] abandoned. It is a wild blessing to recover [and] restore a loving relationship with my beautiful son!"
Jada 'isn't mature enough' to get divorced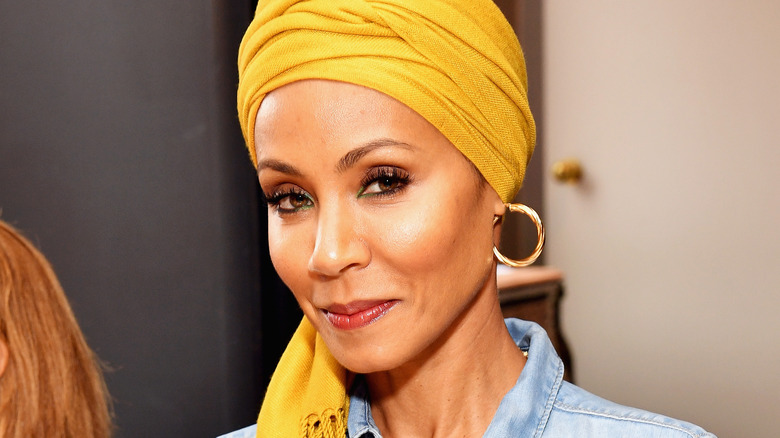 Getty Images
Breakup rumors have dogged Will and Jada Pinkett Smith ever since they tied the knot back in 1997, but they rarely comment on the gossip. However, when the Margot Robbie cheating rumors began to gather pace in 2015, Will went against that rule and spoke up. "I don't usually respond to foolishness (because it's contagious) but so many people have extended me their 'deepest condolences' that I figured, 'What the hell, I can be foolish, too!'" the A-lister said in a Facebook post. "Jada and I are not getting a divorce!"
Jada echoed the sentiment to Entertainment Tonight that year, questioning why people seemed to want them to fall apart. "Just so that you know, we're not getting a divorce ... again!" she said. "You'd think people would be rooting for you to stay together, not to break up, you know?" While the life partners presented a united front, later discussions on the matter suggested that the two had at least spoken about it at one point or another.
In October 2018, Will appeared on Jada's internet show "Red Table Talk" and the topic of ending their marriage came up. "Because I had been divorced before, I wasn't getting divorced again," Will said. "Divorce wasn't an option." Jada joked that it was simply more affordable for Will to keep her around, but she got serious when her guest, Toni Braxton, asked about divorce. "For me, personally, I'm not mature enough to have a divorce," the host admitted.
Will Smith contemplated killing his own father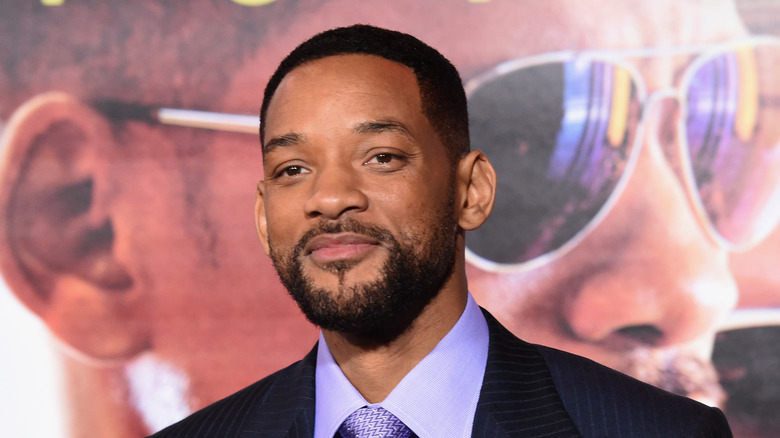 Jason Merritt/Getty Images
The Smith family is known to reveal details that many fans wish would've remained hidden. It seems that they aren't afraid to get personal, but this typically doesn't work out in their favor. Will Smith's memoir, "Will," is full of information that could have very well remained hidden. One of the book's most shocking revelations would have resulted in prison time for the star had he followed through with his plan.
The actor explained that his father, Will Smith Sr. was abusive toward his mother. As a child, he told himself that he would seek revenge for his mother when he got older — at a time when he'd have the power to capably do so. The star realized he had the opportunity while caring for his father one day after he was diagnosed with cancer. "One night, as I delicately wheeled him from his bedroom toward the bathroom, a darkness arose within me," Smith Jr. wrote.
He went on to detail the moment that he contemplated pushing his father down the stairs to kill him. He noted that nobody would ever suspect that a huge Hollywood star like him would be capable of such a feat. "I could shove him down, and easily get away with it ... I'm one of the best actors in the world. My 911 call would be Academy Award level," he wrote. "As the decades of pain, anger, and resentment coursed then receded, I shook my head and proceeded to wheel Daddio to the bathroom."
If you or someone you know is dealing with domestic abuse, you can call the National Domestic Violence Hotline at 1−800−799−7233. You can also find more information, resources, and support at their website.
Were they secret Scientologists?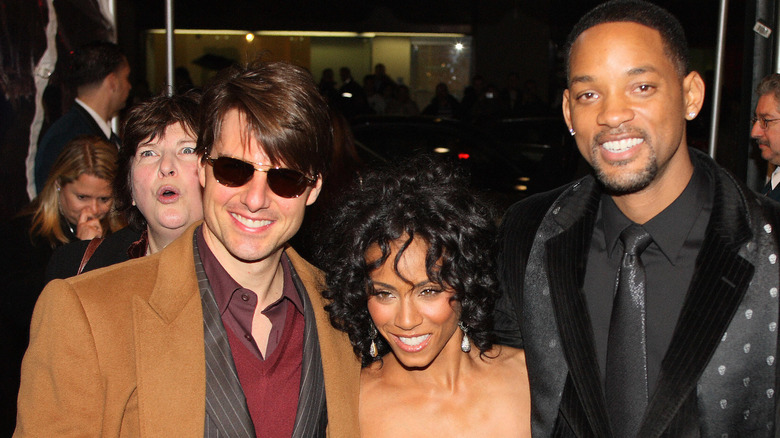 Getty Images
Is it possible to study Scientology without actually becoming a Scientologist? Yes, according to Jada Pinkett Smith, because that's exactly what she did. The actor and her famous family have often been linked with the controversial religion, though no members of the Smith clan have ever publicly admitted to being members, despite the following evidence. Firstly, the former principal at a now-closed school the Smiths founded alleged that the curriculum was Scientology-focused. And secondly, 2013's "After Earth" was dubbed Scientology propaganda. And yet, Jada always denied becoming a fully-fledged member. According to Tony Ortega, she's lying.
The former Village Voice editor claims that while Will simply dipped a curious toe in Scientology, his other half was all in. "We have known for years that the dedicated Scientologist in the family was Will's wife," Ortega, who has become something of an authority on the church, wrote on his blog in 2017. "Anyone who reports on Scientology and knows about the Smith family involvement knows this very well. It's not even controversial."
Former church member Leah Remini backed up these claims, telling The Daily Beast that she constantly saw Jada in regular attendance at the Scientology Celebrity Centre. Jada promptly denied Remini's allegations on Facebook, writing, "I have studied Dianetics, and appreciate the merits of Study Tech ... but I am not a Scientologist." The two women squashed their beef in 2018, but questions over Scientology's sway over the Smiths remain unanswered.
Jada was a sex addict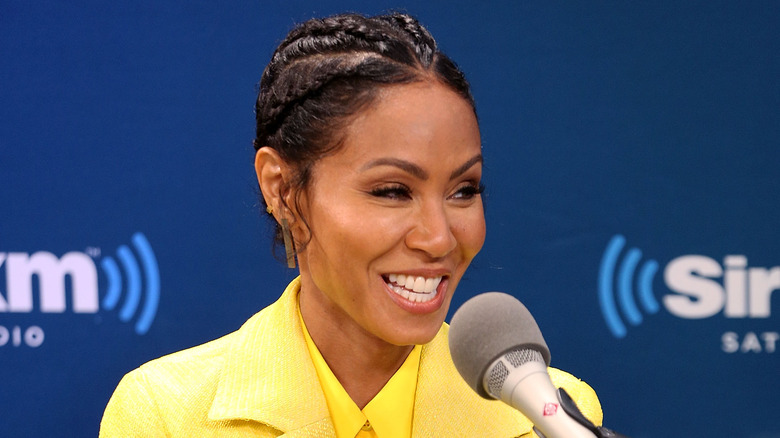 Getty Images
From the get-go, "Red Table Talk" quickly earned a reputation for juicy gossip. But a July 2018 episode of the Facebook Watch show went above and beyond the usual Smith family reveals. In it, the matriarch admitted that she recently realized she'd had a form of sex addiction in her youth, telling her guests (which included, rather shockingly, her own mother), "I definitely ... [thought] that everything could be fixed by sex."
While acknowledging that she'd also experienced addictive behavior relating to alcohol use and exercise, she reflected on the nature of dependency. "It's the behavior that's attached to it because if you want to have a lot of sex, that's great. But why are you having all that sex?" she mused. "That's what you've got to look at." Jada didn't go into her personal reasons for having all that sex back in the day, but she did suggest that an immediate and sudden withdrawal from the habit was the only answer.
"That's the thing about me, I can go cold turkey," she said. "I am a binger, and I always have to watch myself and I can just get obsessed with things." This wasn't the first time that Jada had gone into detail about her sex life in front of family members. In a June 2018 episode of the show, the "Bad Moms" star revealed that she was also addicted to sex toys. "I've had a lot of experience with sex toys," she said — right in front of Willow Smith, no less. "Lots."
If you or anyone you know needs help with addiction issues, help is available. Visit the Substance Abuse and Mental Health Services Administration website or contact SAMHSA's National Helpline at 1-800-662-HELP (4357).
The actor used sex as a coping mechanism
Vivien Killilea/Getty Images
Clearly, Wills Smith shares a great deal in common with his life partner. Another unexpected revelation to come out of his memoir, "Will" was his confession about how he coped with his first heartbreak. In his book, the actor explained that his first love, Melanie, cheated on him while he was away for work. Smith was deeply attached to his then-girlfriend due to a need for approval, so the breakup really took a toll on him. "The look in Melanie's eyes became the substitute for Gigi's [Smith's grandmother's] approval," the actor wrote in his book. "I've always needed a woman to achieve for."
Smith went on to detail that he turned to sex as a coping mechanism after discovering his girlfriend had been unfaithful. "I desperately needed relief but as there is no pill for heartbreak, I resorted to the homeopathic remedies of shopping and rampant sexual intercourse," the "King Richard" actor wrote. He added that previous to Melanie, he'd only slept with one other woman. That all changed. "Over the next few months, I went full ghetto hyena," he wrote (via Consequence Film). "I had sex with so many women, and it was so constitutionally disagreeable to the core of my being, that I developed a psychosomatic reaction to having an orgasm." The star later revealed that he sometimes even vomited during these frequent sexual escapades. It looks like Smith's memoir really didn't spare any details.
Will admits he's responsible for his wacky kids
Getty Images
Jaden Smith's Twitter provides ample evidence of how out-there his musing on life can get, but it's nothing compared to the now-infamous 2014 joint interview he and Willow Smith gave to T magazine. Highlights included Willow's take on the nature of time where she shared, "I can make it go slow or fast ... that's how I know it doesn't exist." And Jaden's thoughts on the duality of the human mind, in which he said, "When you think about an apple, you also think about the opposite of an apple." The interview sparked wide mockery, including from Sony execs, whose emails were made public after the studio was hacked. 
"They are homeschooled," Tom Rothman, then head of TriStar productions, wrote to then co-chairman of Sony Pictures Entertainment Amy Pascal (via The Daily Beast). "Don't let this family date your movies!" Despite his longstanding relationship with Sony, Will Smith took the jabs in his stride, stating to Variety, with a chuckle, "Everybody disses my kids."
Prior to the Sony scandal, Will seemed to take some responsibility for Jaden and Willow's eccentricity, telling Metro (via E! News) that he and Jada didn't discipline the kids. "The concept of punishment ... has a little too much of a negative quality to it," he reasoned. However, after seeing how Jaden and Willow were being perceived, he changed his tune. "Yeah, I think it may have been a mistake," the actor told BBC Radio 1Xtra, laughing. "We may have gone too far." 
Will and Jada aren't married, they're 'life partners'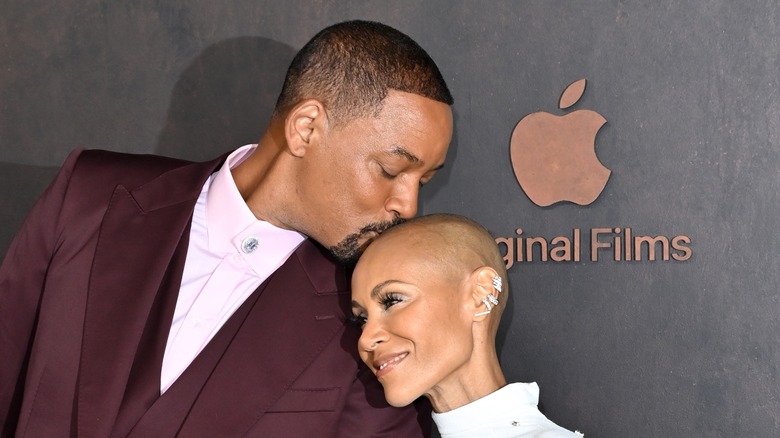 Featureflash Photo Agency/Shutterstock
Will and Jada Pinkett Smith seem to have a very unconventional marriage, to say the very least. The couple is so nontraditional that they apparently don't even refer to each other as husband and wife. During a 2018 appearance on TIDAL's "Rap Radar" podcast, Will revealed that he and Jada have different titles for each other these days. "We don't even say we're married anymore," the "Emancipation" actor said. "We refer to ourselves as life partners, where you get into that space where you realize you are literally with somebody for the rest of your life. There's no deal breakers. There's nothing she could do — ever. Nothing that would break our relationship. She has my support [until] death and it feels so good to get to that space." This might explain why Jada and August Alsina's entanglement wasn't a deal breaker for Will.
Jada shared a similar statement during a radio interview with "Sway in the Morning" where she elaborated that the traditional labels of a relationship and the traditional roles that come with those labels don't necessarily matter to them as a couple — she and Will are family and they'll always have each other's backs. "At the end of the day, that is a man that can rely on me for the rest of his life, period," she said of her life partner. At least we know Will and Jada are on the same page.