Here's How Much The Clintons Are Really Worth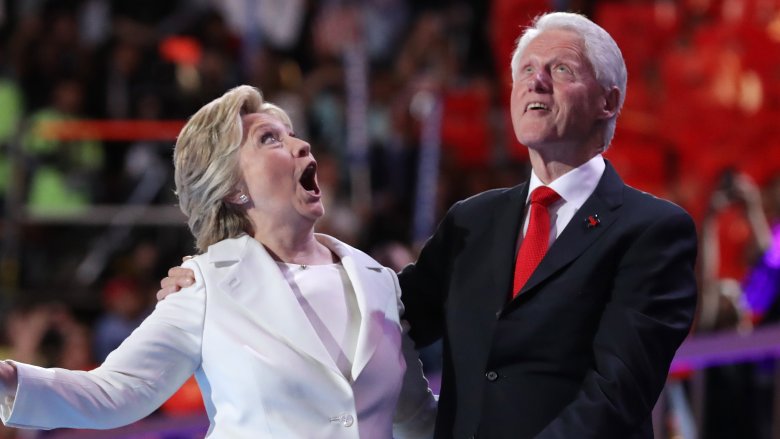 Chip Somodevilla/Getty Images
When Bill and Hillary Clinton left the White House in 2001, their financial standing looked grim. During a tense interview with NBC News journalist Craig Melvin in 2018, the former President claimed he didn't get out of the Monica Lewinsky scandal "for free," referring to his legal bills. "I left the White House $16 million in debt," he explained.
Hillary seconded that, saying the couple were "dead broke" and in debt, when ABC News' Diane Sawyer asked her to defend the $5 million she made giving speeches (via Real Clear Politics).
Flash forward to 2016, and not only were the Clintons completely out of debt, the power couple were sitting on a whopping estimated $240 million of earnings according to Forbes. So how did they go from clipping coupons to almost a quarter of billion dollars in just 15 years?  By doing what the Clintons do best: writing books and giving speeches. A cool $189 million of that came courtesy of Bill.
Immediately after his presidency ended, Bill Clinton earned $125,000 for a speech at the multinational investment bank and financial services company, Morgan Stanley Dean Witter & Co. This kicked off the Bill Clinton speech tour that included hundreds of stops that earned him $106 million in 15 years.
His 2004 memoir, My Life, became a national bestseller, and three books later, Clinton pocketed earned roughly $38 million just as his work as an author from 2001 to 2015. He then earned a combined $39 million by advising American businessman and billionaire Ron Burkle and doing consulting work for two for-profit education companies, Laureate Education and GMS Education.
Hillary didn't bring much in between 2001 and 2013 since she was a United States Senator for New York and the US Secretary of State during those years. And, unless you're doing things you shouldn't be doing, a public servant's salary can't afford a private plane. But in the two years immediately following her exit from her time in the Senate and as President Barack Obama's Secretary of State, the Hilary Clinton raked in $9 million for speaking fees.
In 2015, while she was making her second run for President, Hillary earned a million bucks from speaking alone. In 2014, Hillary was awarded the fifth-richest book deal of all time for her second memoir, Hard Choices. According to The Guardian, sales dropped 43% in the second week and "it is believed that Simon & Schuster did not make back the advance." 
Hillary Clinton cashes in on What Happened in the 2016 election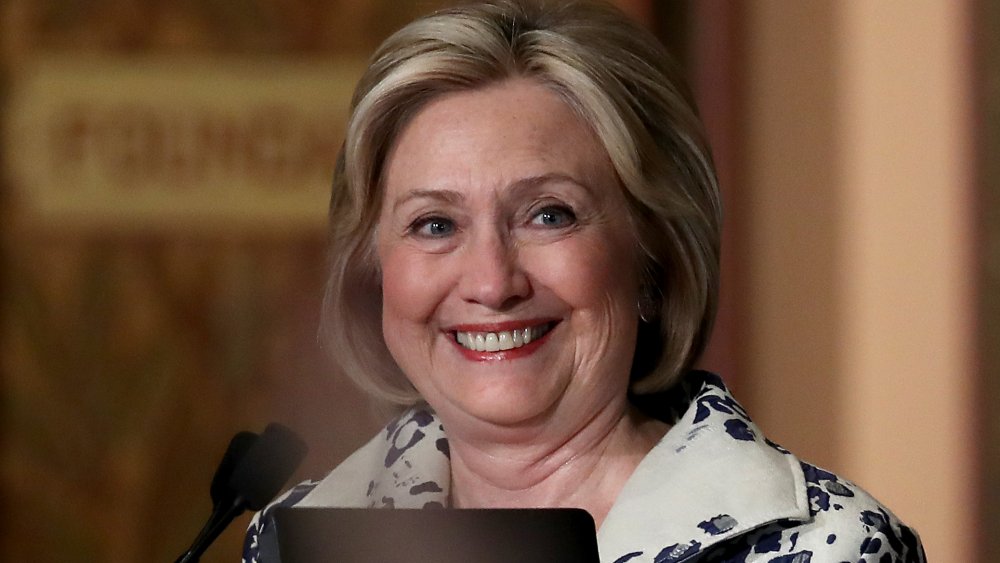 Win Mcnamee/Getty Images
Following the 2016 presidential election and her loss to Donald Trump, Hillary Clinton had a lot to say — and she knew America wanted to hear it. In typical Clinton fashion, she put pen to paper and crafted What Happened, which details her presidential bid from a first-person perspective. In the introduction for the book, Clinton revealed that it was one of her most candid projects to date, writing, "In the past, for reasons I try to explain, I've often felt I had to be careful in public, like I was up on a wire without a net. Now I'm letting my guard down." 
And it seemingly pays to let your guard down. Following the release of the book, which debuted at number one on The New York Times Best Seller List, Clinton embarked on the Hillary Clinton: Live book tour where the truth didn't come cheap. According to Fox News, Clinton was charging a whopping $2375.95 for a "VIP platinum ticket" on some of the tour stops, which included "two front-row seats, a photo with Clinton backstage and a signed book". Other stops, including an appearance in Florida, weren't as pricey, with tickets ranging from $50 to $375 a ticket, according to the media outlet. However, considering that a good deal of her appearances were sold-out, it's fair to say Clinton probably made a pretty penny from the tour. There's no word on how much Clinton earned from this book deal with Simon & Schuster, though Forbes reports that it was more than likely a "massive" sum.
Daughter Chelsea Clinton isn't doing too shabby either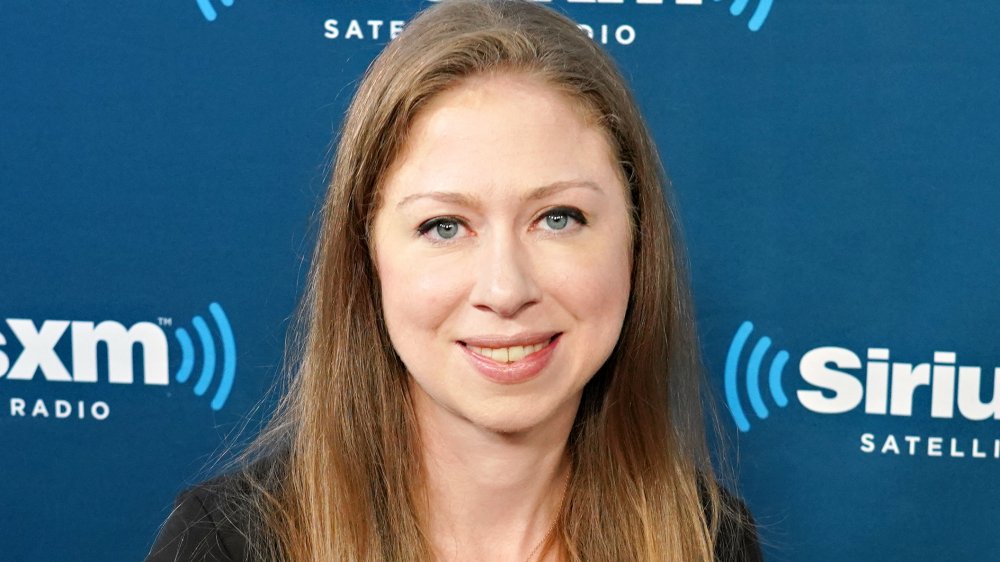 Cindy Ord/Getty Images
Not to be outdone by mom and dad, Chelsea Clinton is a millionaire in her own right. The sole Clinton child is estimated to be worth about $15 million, according to Celebrity Net Worth. Straight out of graduate school at Oxford University, Clinton started earning the big bucks when she landed a job with consulting firm McKinsey & Co., as reported by The Telegraph. According to The Observer, Clinton was raking in about $120,000 a year at the company when she started out. You know, just your everyday, right out of grad school salary. 
After three years with McKinsey, Clinton set her sights on the hedge fund world. She began working for Avenue Capital Group in 2006 where, according to New York Magazine, she was probably making about $100,000 a year. In 2011, the first daughter expanded her horizons when she accepted a position as an NBC correspondent, a gig for which she was reportedly earning $600,000 – and she was only doing it part-time! During her stint as a part-time correspondent, Clinton appeared on several episodes of Rock Center with Brian Williams and Nightly News before ultimately calling it quits in 2014. And since she's a Clinton, Chelsea also has put out a few books over the last few years adding, to her multi-million dollar net worth. 
Nearly two decades after leaving the White House, the Clintons have managed to build and maintain a lasting empire of their own. So while the Clinton family is making plenty of cash, read up on how the Trump family is spending all of their money.