What Michael Cera And Jonah Hill's Relationship Is Like Today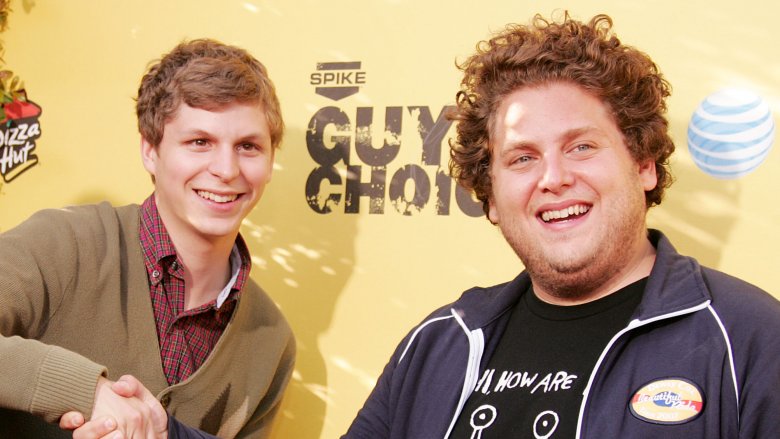 Frazer Harrison/Getty Images
Michael Cera and Jonah Hill became household names after the release of the 2007 smash hit teen comedy Superbad. Not only did the film launch the two actors into stardom, but it also started a lifelong friendship.
In a 2013 interview with Playboy (via E! News), Hill explains how he and Cera bonded. We can all thank executive producer Judd Apatow. "I kept thanking Judd, and he said, 'It's all good. Call Michael Cera. You're going to spend every waking second together until we shoot this,'" he said. So before filming the millennial-defining comedy, Jonah Hill joked that he and Cera were in "an arranged marriage all summer." He explained, "We would hang out at my apartment, go to Canter's, play video games, mack on girls at the mall."
In fact, in 2018 The Sun published paparazzi photos of the two friends hanging out in the trendy New York neighborhood of Tribeca, proving their friendship was still going strong 11 years later.
During the promotion of Mid90s, Hill's 2018 directorial debut, he put out an indie magazine where Hill interviewed twelve people he respected and admired, asking them about whether or not they'd learned to love themselves. Naturally, his longtime pal Michael Cera was one of those twelve interviews. What followed, which was published as an excerpt on Vulture, is a heartwarming conversation between friends who genuinely have a love for one another.
Michael Cera recalled a particular anecdote, describing how Jonah Hill accepted him for who he was during the press tour for Superbad — even though Cera felt uncomfortable in his own skin. "Well, it's clear that you liked me. When I watch the footage of us hanging out, I'm like, 'Wow, Jonah is really tolerating me as a 19-year-old in a very sweet way,'" Cera said. "We had a lot of love for each other that has lasted. I look at the insane version of myself and I'm like, 'That guy is terrible. I couldn't spend five minutes with him."
The buddies reunited publicly once again in Jan. 2019 as guests on A24's Don't Be Stranger podcast. "This is Michael Cera and we've been friends for almost 12 years, maybe even longer now I believe," Hill said as the sit down chat started. "Maybe 13 years."
Hill went on to say that Superbad was a unique experience because it made them go "through something very similar at the same time together." And that experience created the foundation for a friendship that has no signs of slowing down.