The Real Reason Christina Hendricks Refuses To Do A Nude Scene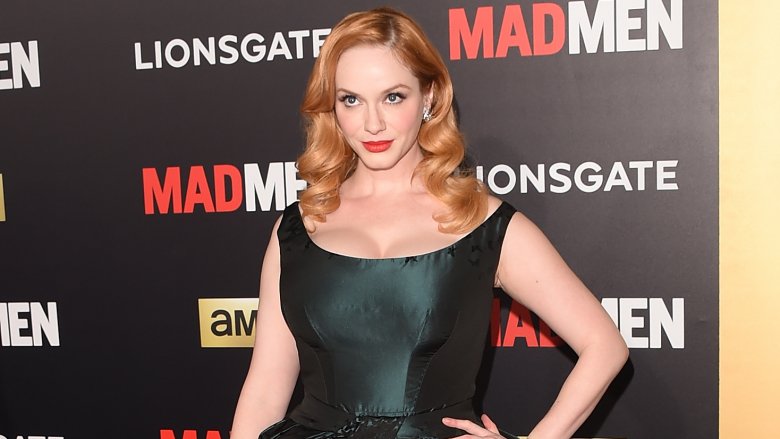 Jason Merritt/term/Getty Images
With her curvaceous figure and form-fitting outfits in the AMC hit Mad Men, Christina Hendricks became a modern-day 50s bombshell with her role as the femme fatale with a heart of gold, Joan Holloway. The Marilyn Monroe comparisons started instantly, and although she told Parade in 2010 that no "woman in the world could get tired" of hearing that, Hendricks admitted she "could never hold a candle" to the Hollywood icon.
We assume that was the former model's way of telling the media to stop focusing on her body. That same year, Hendricks lamented that her breakout role was reduced to conversations about her hourglass shape. "It kind of hurt my feelings at first," she told New York magazine (via Jezebel). "Anytime someone talks about your figure constantly, you get nervous, you get really self-conscious. I was working my butt off on the show, and then all anyone was talking about was my body!"
However, in a 2012 interview with BlackBook, Hendricks thanked her character's in-your-face sexuality for giving her confidence. "She was very openly saying, I have sex, and I don't care if you judge me," she said. "I'm not going to apologize for who I am. Those qualities resonated with people."
Christina Hendricks' time on Mad Men might have given her newfound confidence in her body, don't expect that to translate to the screen any time soon. "My husband makes me feel sexy, and I've always been comfortable in my own skin, but I'm really just a girl who would prefer talking about my acting than my body," she explained.
"I'm a very comfortable naked person," she continued. "Not in front of other people, but at home and in front of my husband, I feel good not wearing clothes."
We say hats off to Hendricks for her bold stance. And her husband, obviously.