MTV VMAs 2019: Cardi B Gives Hilarious Speech Accepting Best Hip Hop Video Award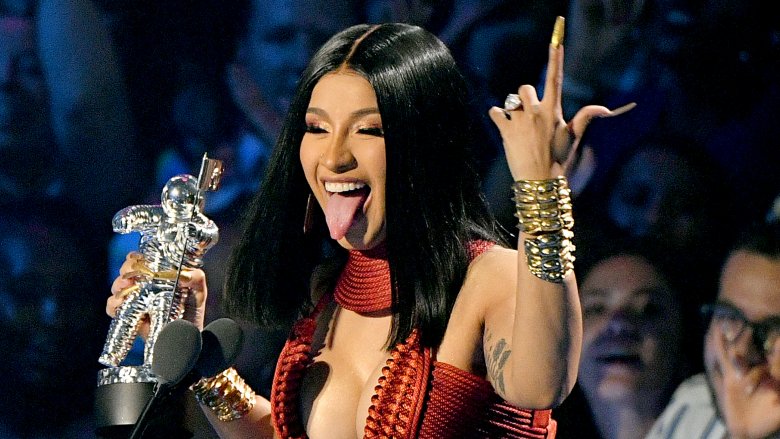 Mike Coppola/Getty Images
The only thing in the world that Cardi B likes more than checks? Trophies. 
Appropriately, rap sensation Cardi B was richly rewarded for her song about her many riches at this year's MTV VMAs, taking home the shiny statue for Best Hip-Hop video for her song "Money."
In true Cardi fashion, she laughed her iconic half-nefarious, half-victorious cackle and shimmied in celebration while delivering her acceptance speech. Cardi B, whose music video for "Money" has amassed a staggering 83 million views (and counting) on YouTube since it dropped in December 2018, then thanked her music video team for ensuring her make-up is always on-point and her outfits leave her looking snatched. Cardi got candid (because when is she not?) when she directed her attention to "Money" director Jora Franztis, thanking her for editing all her perceived imperfections. 
"Wait a minute, wait a minute! Let me do my speech now! Lemme do my speech. First, Jora [Frantzis] — that's the director and everything. She gotta hear my mouth like, 'I look ugly, edit my stomach, edit my butt, smooth my cellulite out,'" Cardi began. "And I wanna thank my glam team. Kollin Carter, Vincent, Tokyo Stylez, Erika La Pearl ... Thank y'all so much! Without ya'll, my music videos wouldn't look like this! Ahhh, ahhh, ahhh. Thank you, Jesus! Thank you, Jesus. Jesus, Jesus, Jesus. Thank you, everybody! Goodbye!"
With another laugh, which inspired the crowd to let out giggles of their own, Cardi B exited the stage. In the moments after, the rap queen took to Twitter to react to her big win one more time, giving herself a well-deserved pat on the back in a tweet that reads, "MONEY MUSIC VIDEO I GAVE LOOKS, CHOREOGRAPHY AND A WHOLE LOTTA FAT A**!"
A Cardi B acceptance speech is nothing without that infectious laugh, her always-present humor, and a sunny demeanor you can't help but love. Cardi B served all that — plus a little more — at the 2019 MTV VMAs.
And her successes aren't going to stop after the ceremony. Cardi B, who scored nominations for five awards at this year's MTV VMAs, is set to appear alongside Jennifer Lopez, Constance Wu, Lili Reinhart, Keke Palmer, Lizzo, and more in the upcoming comedy-drama film Hustlers, which follows a group of strippers who hustle wealthy men out of money during the U.S. financial crisis of the late-2000s. Catch the flick in theaters on September 7, and see more of Cardi B, well, everywhere else in the meantime.