Lil Nas X's 'Old Town Road' Wins Song Of The Year At 2019 VMAs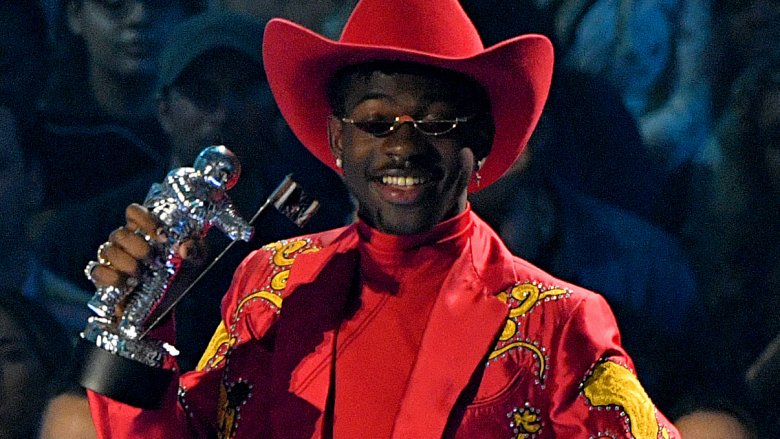 Mike Coppola/Getty Images
Lil Nas X is taking his horse to the Old Town Road — and his shiny new Moon Man statue to his trophy shelf.
At the 2019 MTV VMAs on Monday, August 26, the 20-year-old rapper won the award for Song of the Year for — you guessed it — "Old Town Road." 
This is Lil Nas X's first VMA and his second-ever award, following after his 2019 Teen Choice Awards win for Choice R&B Hip-Hop Song (also for his country-rap banger). "Old Town Road" also won Best Direction at this year's VMAs.
While accepting the award, Lil Nas X thanked his collaborator, Billy Ray Cyrus, and pulled out a "little speech" from his pocket... which turned out to be a lengthy scroll. Lil Nas X is never one to do the expected, and his knack for cracking jokes that turn into social media memes is uncanny. Things were clearly no different at the 2019 VMAs. 
"I want to say thank you to this man for helping me take my career to the next level," said Lil Nas X, wearing a red cowboy hat and an ornately designed suit — which looked to be embroidered with patches of himself riding a bull. (Talk about a far cry from the Wrangler he usually wears on his booty.)
Cyrus then gave thanks of his own: "I never dreamed I'd be standing here tonight. One time, Johnny Cash wrote me a letter, and in the letter, he said, 'It's good to be reminded where all goodness comes from: almighty God.'"
It isn't as though Lil Nas X needed a VMA to prove that he's a rapper who had a meteoric rise to fame earlier this year, or that his track "Old Town Road" is anything but the standout tune of 2019. Still, it's great to see Lil Nas X rewarded, and to watch him bring his signature humor to the VMAs stage. 
The 2019 ceremony was a memorable one for Lil Nas X beyond his Song of the Year win. Earlier in the evening, he donned a futuristic suit, took the audience to the year 2079, and fancied himself as the President of the United States during his live rendition of "Panini." Clearly, Lil Nas X is a rule-breaker, a money-maker, and a genre-shaker. You can't tell him nothin'.