Taylor Swift Sparked The 'Drunk Taylor' Meme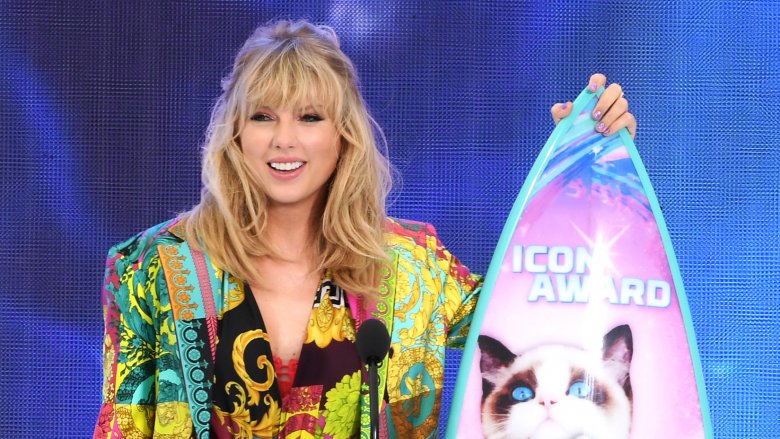 Kevin Winter/Getty Images
On Aug. 10, 2019, Taylor Swift and friends partied at Beauty and Essex in Hollywood to celebrate her 10 MTV VMAs nominations (via E! News). Along for the ride were Panic! at the Disco's Brendon Urie, Orange Is the New Black's Laverne Cox, Hayley Kiyoko, all the members of HAIM, and RuPaul's Drag Race contestant A'keria Davenport, just to name a few.
With the alcohol freely flowing, Swift was captured in a few videos singing and dancing to her own song, "You Need to Calm Down." In one video, Swift pretended to take a shot while singing along to her song's lyrics, "But you're takin' shots at me like it's Patrón" before mussing her hair and continuing to dance. The videos quickly spread through social media, and the hashtag #DrunkTaylor was born:
"#DrunkTaylor is our favorite Taylor," Portland's Live 95.5 radio station tweeted. 
"#drunktaylor is my spirit animal. Like this speaks to my soul," another user tweeted.
"If you don't drink, love that for you. love that for your life. love that for your body. love that for your liver. love that for your hydration. love that for your bank account..BUT can't relate. the #drunktaylor hashtag has been fun. some people need to stop being so annoying," another user wrote.
The trending power of #DrunkTaylor was so powerful even Taylor Swift herself had to acknowledge it and join in on the fun. "Threw a party to celebrate with the people who made the ME! & YNTCD videos with me- and we had so much fun that 'Drunk Taylor' is trending on Twitter. CHEERS," Swift wrote on Instagram.
The very next day, Swift accepted the first Icon Award at the 2019 Teen Choice Awards (above) and didn't look that worse for wear. So either she was drunk on life or has a hangover recipe she needs to share with the world. "One thing I wish I would have known when I was a teen is mistakes are inevitable," she said in her acceptance speech (via People). 
"You think you can possibly ace life, but it's normal to make mistakes... it's normal," she continued. "That's what's going to happen in life."
No matter what anyone tells you, getting drunk and lip-synching your own song is never a mistake. We should all be so lucky. Party on, Taylor Swift.