MTV VMAs 2019: Miley Cyrus Gives Powerful Performance Amid Divorce With Liam Hemsworth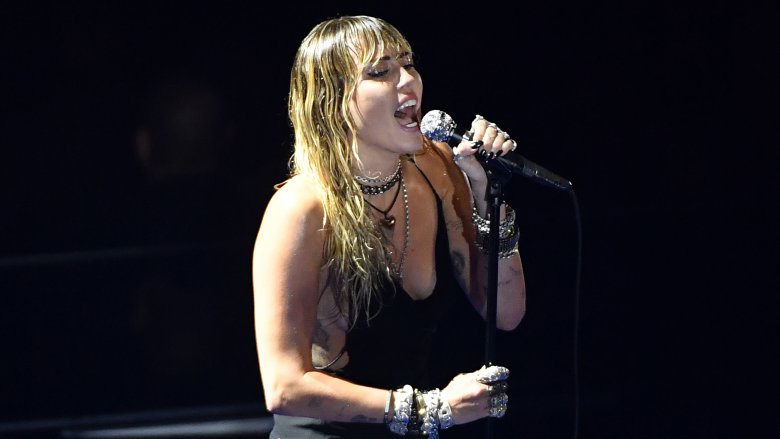 Noam Galai/Getty Images
Miley Cyrus' twerk-and-tongue-filled latex fever dream performance with Beetlejuice Robin Thicke at the 2013 MTV VMAs is stuff of infamous legend. Flash forward six years later, and Cyrus has "GROWN UP." 
Despite claiming there was "no f*****n' way" that she would perform at the 2019 MTV VMAs, Cyrus took the stage — bathed in black and white and backed by strings — and delivered a powerful rendition of her new breakup song, "Slide Away."
The emotional weight of the gut-wrenching performance wasn't lost on the audience, who barely two weeks earlier learned that Cyrus and Liam Hemsworth were divorcing after less than a year of marriage. The heartbreaking and poignant lyrics "woke up one day, it had turned to dust" were delivered with real pain in Cyrus' voice.
The stripped down, intimate performance was a departure from the rest of the night and was easily one of Cyrus' career bests. However, after reliving her very recent breakup on stage, Cyrus walked off to her new love: Brody Jenner's ex, Kaitlynn Carter. According to Page Six, Cyrus and Carter didn't walk the red carpet together, but they did share "a sweet kiss" before the emotional performance. Following the awards show, the couple were spotted holding hands while walking into the Up and Down nightclub in NYC (via People).
Not only did Cyrus debut a new song at the 2019 VMAs, but she also showed off a new tattoo on her left forearm that reads, "My head was feeling scared, but my heart was feeling free." Is this lyric from the Pixies' song "The Thing" a reference to her split with Hemsworth? Cyrus hasn't confirmed anything yet, but the "Party in the U.S.A." singer sure knows how to get fans talking.
Love her or hate her, Miley Cyrus is here to stay. We can't wait to see what else she has in store, and what her post-"Slide Away" life will bring.