Kevin Hart Injured In Car Crash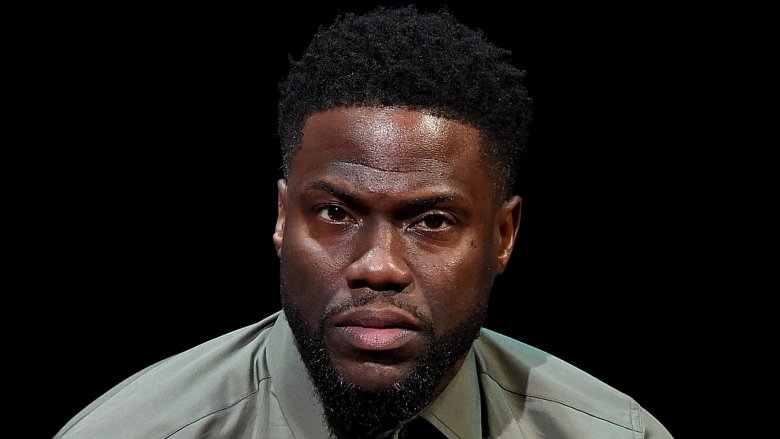 Jamie Mccarthy/Getty Images
Comedian Kevin Hart was injured in a terrifying car accident on Sunday, Sept. 1, 2019, in the Malibu Hills area of Los Angeles, TMZ reported. The entertainer's car reportedly veered off the road in a particularly winding area of Mulholland Highway at about 1 a.m., crashing through a wooden roadside fence before stopping in a ditch about 10 feet from the road.
Hart, 40, was a passenger in his custom Plymouth Barracuda (a recent birthday gift for himself). Both the movie star and the driver of the vehicle, Hart's pal Jared Black — who authorities said wasn't drinking at the time — reportedly suffered "major back injuries." A female passenger in the vehicle — later identified by Entertainment Tonight as Black's fiancée, Rebecca Broxterman — was unharmed in the crash. She is also the personal trainer of Hart's wife, Eniko Parrish.
According to TMZ, one of Hart's bodyguards reportedly "picked him up" at the scene of the accident and initially took him home for medical attention, but he was later hospitalized. Meanwhile, Black and Broxterman were reportedly trapped in the vehicle under its crushed roof until authorities arrived to remove it. It's been reported that both have only suffered minor injuries.
As of the early evening of Sept. 1, 2019, Hart has remained hospitalized and is undergoing tests to determine if his injuries will require surgery (via The Blast). Thankfully, the Jumanji 3: The Next Level star is reportedly expected to make a full recovery, with sources close to the actor claiming to the media outlet that he didn't suffer "a spinal cord injury" and is "able to walk and move his extremities."
A day after the accident, TMZ caught up with Eniko Parrish, Hart's wife, while she was entering the hospital. In the first public comments made by a member of Hart's family, she assured the comedian's fans that he is doing "great" and is expected to make a full recovery. "He's gonna be just fine. He's good, everybody's good. Thank God," she said. "He's fine; he's awake." 
Details of how the crash happened are scarce at the moment, but law enforcement sources told TMZ that California Highway Patrol officials are looking at speed as a possible factor. According to a witness, they heard screeching tires moments before Black turned onto Mulholland Highway and crashed into a fence before landing in the ditch. Skid marks at the scene of the crash look to support that theory.
Photos of Kevin Hart's mangled car found their way online, and just from one look it's easy to see that the Ride Along star and the other two car occupants are lucky to be alive. After the initial reports claimed that Hart suffered a "major back injury" coupled with photos from the scene, the comedian received a ton of support and an outpouring of love from his famous peers and coworkers. 
"Stop messing with my emotions brother," Dwayne "The Rock" Johnson wrote on Instagram on Sunday, along with the photo of the pair on the set of Jumanji: The Next Level. "We have a lot more laughing to do together. Love you man. Stay strong."
Breaking Bad star Bryan Cranston, who co-starred with Hart in The Upside, took to Instagram to ask everyone to send the comedian as much "positive energy and healing thoughts" as they could. "He's a good human," he continued. "Get well soon, brother."
"Argued with you @kevinhart4real onscreen but offscreen, Love you so much," actress Sherri Shepard wrote on Instagram. "Praying for you Kevin and your friends who were in the car with you. We love you!"
Mad About You and Stranger Things star Paul Reiser offered "healing thoughts and prayers" to this friend on Twitter. "Please don't drive off a cliff again!" he quipped. "We love you, pal."
"Hearing from the family that my guy is doing well has definitely kept me on track yesterday & today," rapper Ludacris wrote on Instagram. "But then again knowing how resilient & Strong he is there wasn't much of a question in my mind. Extra Speedy Recovery My Brother."
Overall, it's been a difficult two years for Philadelphia native Kevin Hart. In September 2017, he was the target of an extortion plot involving a video of him allegedly engaging in what was described as sexually suggestive conduct with a woman who was not wife Eniko Parrish, to whom he was engaged at the time ... just months after he'd denied cheating on her. Then in December 2018, he infamously stepped down from hosting the 2019 Oscars after facing backlash over past stand-up jokes that many felt were homophobic and insensitive.