The Truth About Ruby Rose's Rough Childhood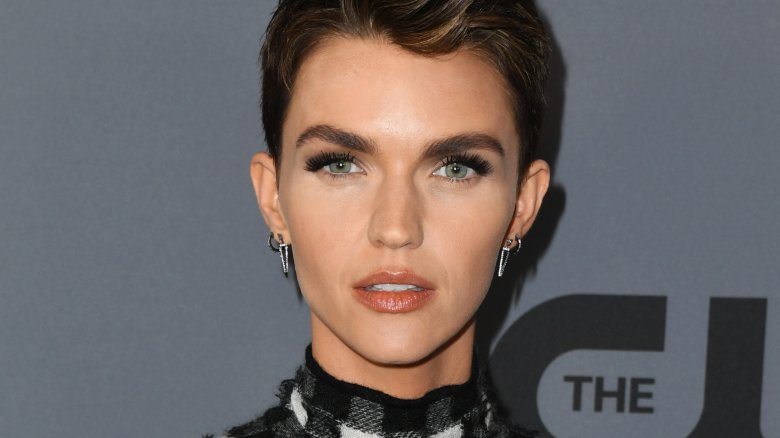 Jon Kopaloff/Getty Images
Following her breakout role as Stella Carlin in Netflix's Orange Is the New Black, Australian beauty Ruby Rose was seemingly everywhere. With a trio of big-budget studio films under her belt – xXx: Return of Xander Cage, John Wick: Chapter 2, and The Meg – Rose is currently protecting the streets of Gotham City in CW's Batwoman. However, her path from the land down under to the red carpet of Hollywood wasn't an easy one.
In a 2015 interview with Porter magazine (via The Sun), the gender-fluid actress revealed that she and her mom escaped her abusive father when she was still a baby. "My mother left my dad after about a year; we had no money, and my dad was not really a good person. She got out of there for my safety," she explained. To pay for their plane tickets to Rose's aunt's house in Queensland, Australia, her mother had to steal and pawn a television.
"[When we] rocked up to the front door, we were malnourished, my mum had two black eyes, and I was like one of those kids in scary movies who are dirty and bite people," Rose recalled. "It was just us against the world for a long time." She continued, "[My mother] is the first one to say that she wasn't perfect, but everything she did was to the best of her ability, in the hope that she would raise the best daughter she could."
The trouble followed her to high school, where five girls and one boy viciously bullied her during her tenure. "I never cried in front of them. I think that made it worse. They were determined to break me," she said (via Australia's Sunday Telegraph). "Sometimes they would just come up and punch me in the head, but there was a lot of intimidation." Then, tired of just throwing insults and punches, one of the girls bashed Rose's skull with a metal chair, resulting in a brief hospitalization. Rose decided not to press charges, but instead get school over with so she'd never had to see them again. "I could have turned into an alcoholic, a drug addict or anything at all, but there was always something in me that made me go, 'I'll show them,'" she explained.
Ruby also revealed to The Sun that she was sexually abused as a child by a family member. "I was getting suicidal thoughts when I shouldn't have even known what suicide was," she explained. "My past involved incestuous sexual abuse and a turbulent home life which was not always safe."
Despite the trauma that she lives with daily, Ruby Rose's fighting spirit serves as an example for those who have suffered the same. We can't think of anyone more deserving to wear a cape.