Are Brad Pitt And Jennifer Aniston Dating?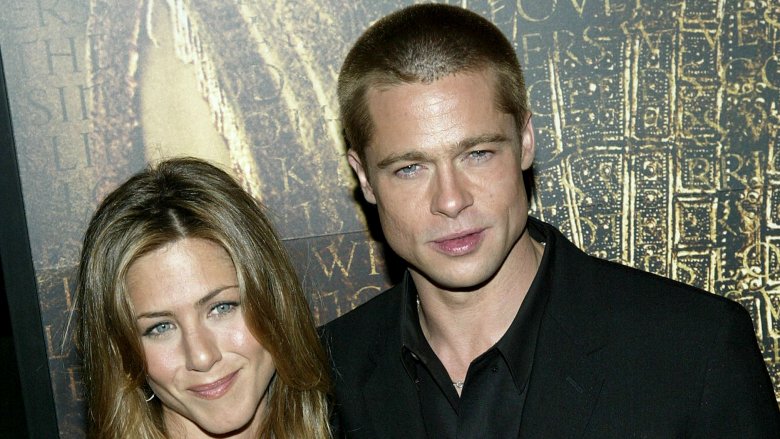 Paul Hawthorne/Getty Images
Brad Pitt and Jennifer Aniston comprised two sides of one of the most famous love triangles in history: After Pitt and Aniston divorced in 2005, he was with Angelina Jolie for 12 years and married to the Maleficent star for two of them. Jolie filed for divorce from him in September 2016 after an alleged altercation between Pitt and their son Maddox on a private plane. In February 2018, Aniston and her second husband, Justin Theroux, called it quits after about three years of marriage and seven years together. The question on everyone's lips at that point: Would Pitt and Aniston reunite now that they were both single?
As it stands in September 2019, the short answer is no. Aniston and Pitt are friends, and they're dating ... but they're not dating each other.
In February 2019, Brad Pitt attended Jennifer Aniston's 50th birthday party, but so did Aniston's other ex, John Mayer, and sources said that no one should read into it much. "They aren't in regular contact, beyond an occasional text back and forth to wish each other the best when there's been a new project or big event," a source told People of Aniston and Pitt. "For well over a decade now they have lived totally separate lives and so not surprisingly, they have become totally different people than who they once were when they were together." An insider also said that they've been split up for longer than they were ever together — and that Pitt's six kids, plus each of their various heartbreaks over time, would pretty much prohibit a reunion.
Six months later, it appeared little had changed between Pitt and Aniston. A source told Entertainment Tonight that the Friends star and the Ad Astra hunk were just friends who occasionally keep in touch, adding, "They both have come so far."
Now that you know they're just pals, take a peek inside Brad Pitt and Jennifer Aniston's surprisingly warm friendship.