What Kristen Stewart Thinks Of Robert Pattinson Playing Batman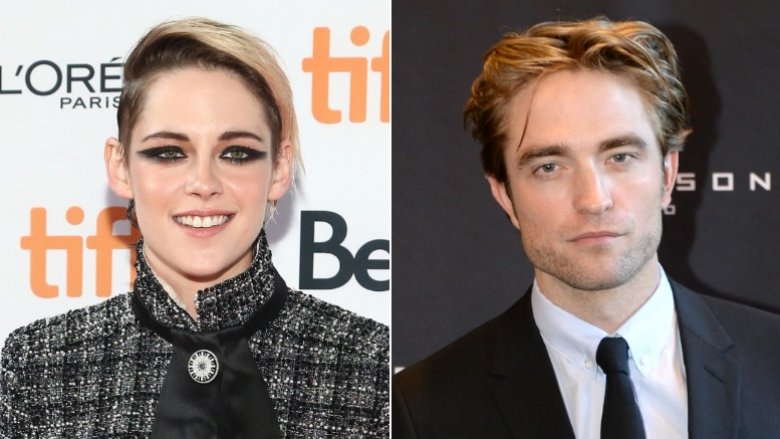 Tommaso Boddi, Andrew Toth/Getty Images
We can assume Kristen Stewart and Robert Pattinson don't hang out much anymore, but when you have a famous ex, it's hard to avoid them. And much like everyone else, Stewart heard the news that her Twilight co-star would be donning the cape and cowl in director Matt Reeves' upcoming The Batman. And just like everyone else, she had an opinion that she was ready to share.
While promoting her upcoming movie Seberg at the Toronto International Film Festival, Stewart was asked her thoughts, telling Variety that her former beau has the "perfect cheekbones" to play the Caped Crusader. "I feel like he's the only guy that could play that part," she added. "I'm so happy for him. It's crazy. I'm very, very happy about that. I heard that and I was like, 'Oh man!' It's awesome."
Immediately after the news broke that Robert Pattinson would be the next Batman, fans started a petition to get Kristen Stewart cast as the leather-clad femme fatale, Catwoman. At the time of this writing, Pattison is the only actor attached to the project, so if Warner Bros. is up for a Twilight reunion in Gotham City, so is Stewart. "I'm down," she told Variety. "I'm definitely not turning that down."
Stewart seems legitimately happy for her ex-boyfriend nabbing a starring role as a superhero, but her congratulations came just days after she revealed to Harper's Bazaar that she was told to hide her sexuality if she wanted a superheroic role for herself. "I have fully been told, 'If you just like do yourself a favor, and don't go out holding your girlfriend's hand in public, you might get a Marvel movie,'" she told the magazine. "I don't want to work with people like that." 
"That's been a conversation that's always existed," Stewart had told Variety at TIFF. "I've always radically rejected it." However, she was quick to mention that it wasn't specifically Marvel who allegedly wanted her to keep her personal life a secret. "It was literally just a big conglomerate-y type thing," she said. "I'm sure they would love to hire the gay kids to be superheroes."
The Twilight saga made over $1 billion at the box office, so if Warner Bros. and DC know what's good for them, they might want to pick up the phone and give Kristen Stewart a call. Or maybe just shine the Bat signal in the sky...