Here's How Much Money The Sister Wives Are Worth Now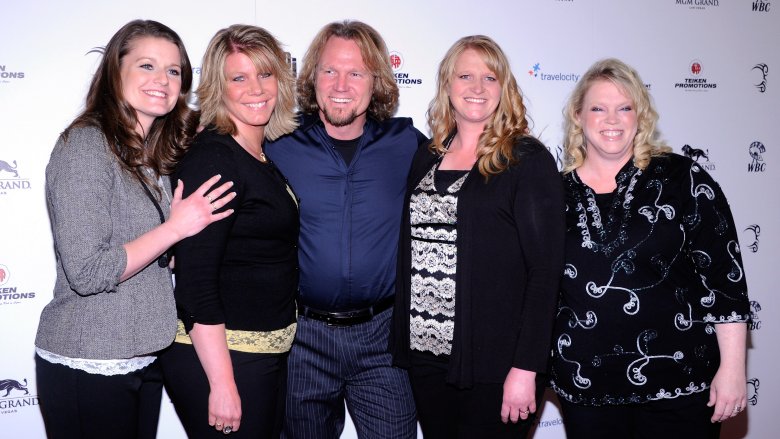 Ethan Miller/Getty Images
In this age of reality television, nothing is off the table when pitching an idea to a network. Want to see a show about polygamy? TLC had you covered in 2010 with the premiere of Sister Wives. 
The show follows the life of Kody Brown and his four wives Meri, Christine, Janelle, and Robyn as they live their life as polygamists. They have eighteen children collectively, so you know money is always going to be an issue. So exactly how much are the cast of Sister Wives worth? Let's take a deep dive and find out.
According to Celebrity Net Worth, Kody Brown is reportedly worth $800,000. While he spent most of his working career in ad sales, the vast majority of this healthy sum came courtesy of TLC. Per Cheat Sheet, reality show families earn "10 percent of a show's per-episode budget" and TLC spends anywhere between "$250,000 and $400,000." The number of Sister Wives episodes fluctuate during any given season, but best estimates say the family has made roughly $3 million since 2010. Cheat Sheet also reports that Meri and Janelle are each worth $400,000.
And trust us, nobody was happier to see their bank account grow than the Brown family. That's because, years before the show began, they faced financial ruin. According to Radar Online, Brown and his first wife Meri, filed for bankruptcy in 2005 after struggling to take care of such a large family. Court documents showed the family was drowning in debt — $229,873.49 to be exact — from their mortgages, car loans, and credit card bills. At the time, Kody and Meri claimed to pull in $4,625 monthly. The case was eventually closed and settled in 2007 for $187,885.74.
Seven years later, financial hardship struck again after Robyn's son Dayton was involved in "a horrific ATV accident" (via Life & Style). Robyn's insurance "covered it a little bit," but the cost of Dayton's extensive surgeries led to a lien on Robyn's Las Vegas home for unpaid medical bills that she settled in 2015.