Sarah Palin, Husband Todd To Divorce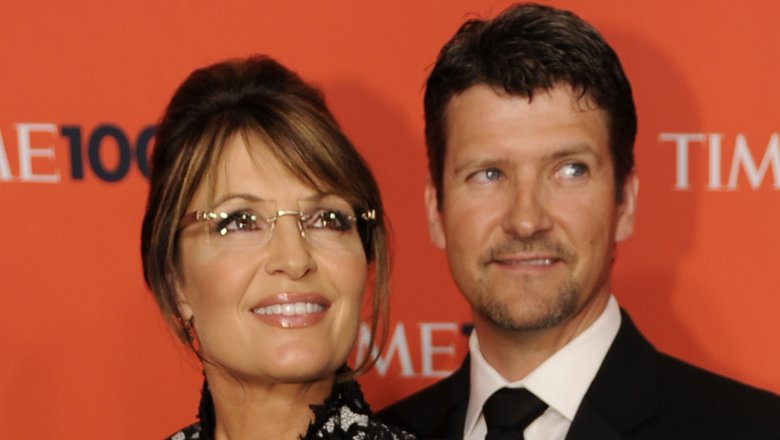 Timothy A. Clary/Getty Images
Sarah Palin and husband Todd are no married more. The Anchorage Daily News reported that Todd Palin filed for divorce from the former vice presidential nominee after 31 years of marriage. In the filing, Todd reportedly cited "incompatibility of temperament between the parties such that they find it impossible to live together as husband and wife" as the reason for the split. NBC News reported that the paperwork was reportedly submitted on Aug. 29, 2019, just eight days after their 31st wedding anniversary.
Todd and Sarah Palin have been married since 1988 and share adult children Track, 30, Bristol, 28, Willow, 25, and Piper, 18. Todd requested joint custody of their son Trig, 11, who has special needs. Todd also reportedly asked for a 50-50 settlement of debts and assets in the divorce. The filing was written using only Todd and Sarah's initials, but it included son Trig's name and their birthdates.
The Palins first hit national prominence when Sarah was selected as then-Sen. John McCain (R-Ariz.)'s running mate for the 2008 presidential election. Sarah had been elected governor of Alaska in 2006 but resigned in 2009 amid increased media attention on her family following the failed VP bid, according to NBC News. In the years since her time as a public servant concluded, Sarah Palin has been a pretty regular presence on television if her IMDb page is anything to go by, both as a Fox News analyst, along with appearances on shows like Teen Mom and Dancing with the Stars: Juniors. A reality show named for her, Sarah Palin's Alaska, aired for one season on TLC in 2010.
Conservative actor Dean Cain told People that he recently dined with the estranged couple and had no idea that there was any split looming. "They seemed wonderful together," the Lois And Clark star said. "I'd hate to speculate on the cause — what happens behind closed doors, and how people grow and change over time is something no one can ever predict or understand, save those two people." He added, "I know that they're both extremely devoted and wonderful parents, and I'm certain that they'll both remain dedicated to Trig and their other children."
People reported that Sarah and Todd "appear to have been living somewhat separate lives" leading up to the divorce filing, though they both attended daughter Piper's high school graduation in May. Sarah and Todd celebrated the Fourth of July separately in 2019, with Sarah spending it with daughter Bristol while Todd marked Independence Day with Trig, Piper and Willow.
It's unclear what the actual marital discord entailed for the Palins, but cheating rumors dogged the couple for years since Sarah first stepped out onto the national stage. In 2011, The National Enquirer reported that Todd Palin was involved with a massage therapist named Shailey Tripp who'd been busted for allegedly running a brothel, though police told The New York Daily News that there wasn't any evidence linking the pair and that Todd's name had never come up during their investigation into the case.
In September 2008, Sarah Palin was reported to have had an affair with Todd's pal and former snowmobile business partner, Brad Hanson. The National Enquirer, back for more potential Palin scandal, claimed that the alleged affair nearly destroyed each of their marriages. A Hanson family insider who reportedly passed a polygraph test told the tabloid, "Sarah was elected mayor of Wasilla, Brad became a city council member in the nearby town of Palmer, and they started an affair. Todd found out about the affair and was so mad he broke up their partnership at the snowmobile dealership." Another source claimed that Sarah felt lonely when Todd was away on business and that Hanson went from a kind ear to a different kind of partner for Sarah, who allegedly told Todd she'd fallen in love with Hanson.
Hanson denied the allegations, which resurfaced in 2011, telling The Associated Press, "Todd and Sarah Palin have been good friends for many years, and in fact we still own property together. We sold a former joint business venture for business reasons, nothing more. These attacks are shameful and those making them seem to be out only to destroy good people and make more money doing so."
In 2010, the Palins were hit with $20 million divorce rumors, which they dismissed. Sarah scoffed to People, "I call Todd on the cell phone [from the grocery checkout] and I say, 'Todd, you won't believe this cover!' And he says, 'Twenty million? Write me a check!' He's good about laughing some of that stuff off." The $20 million divorce may have been a bit much anyway, as TMZ estimates Sarah to be worth about $12 million.
As of this writing, neither Todd nor Sarah Palin have commented on the divorce filing.