How To Buy A Jim Carrey Painting And What It'll Cost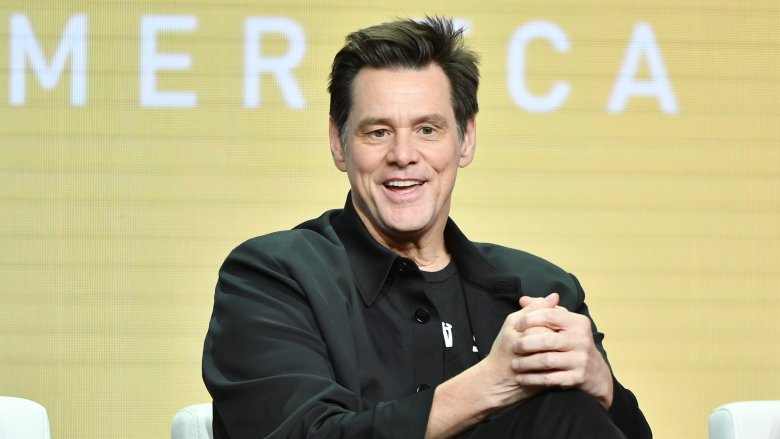 Amy Sussman/Getty Images
With smash hits like Ace Ventura: Pet Detective, The Mask, Dumb and Dumber, Liar Liar, The Truman Show, Batman Forever, The Cable Guy, and Eternal Sunshine of the Spotless Mind, Jim Carrey absolutely dominated the box office in the 90s. But if you were alive back then, and a time traveler from the future told you that in 25 years Ace Ventura would be churning out one incredible painting after another, you probably wouldn't have believed them.
Despite his massive success in Hollywood, Carrey became a recluse later in his career, leaving fans wondering where he went. That is, until he dropped the documentary, Jim Carrey: I Needed Color, detailing his newest creative passion. "I think what makes someone an artist is they make models of their inner life," Carrey said in the video. "They make something physically come into being that is inspired by their emotions or their needs or what they feel the audience needs."
Carrey's art, that he routinely shares on Twitter, is sometimes politically charged and awash in social messages and religious themes. The Hollywood Reporter posted several of the comedian's most controversial pieces in 2018, including his painting titled, Jesus. "I do a lot of Christ," he said of the 2016 piece. "But I don't really think of it in terms of Christianity terms. I wanted to capture Christ's consciousness coming kind of through the ether. And you would be able to find every race in his face." Donald Trump is a frequent inspiration for Carrey's work, and other targets have included Bill Cosby, Jeffrey Epstein, and divisive political topics like immigration and mass shootings.
But how would you buy a Carrey piece, and how much would it cost? Well, if you're in the market for prints, you snag one for $800 from Maccarone, a contemporary art gallery in New York's West Village. Pricing on originals is a bit harder to nail down. Carrey is a featured artist with Signature Gallery Group and Ocean Blue Galleries, that latter of which boasts "first limited editions" of his work for sale. However, pricing isn't publicly listed, but you can simply click on a piece, and email the company to see what it will set you back. 
No matter the cost, Carrey will likely be producing art for long time. "It's just exploding," said of his new career in 2018 (via Artnet). "I don't know where it's going. You don't know which tributaries are actually going to cut a groove, you know, [but] you do it."