Donald Trump's Comment About Cokie Roberts Sparks Controversy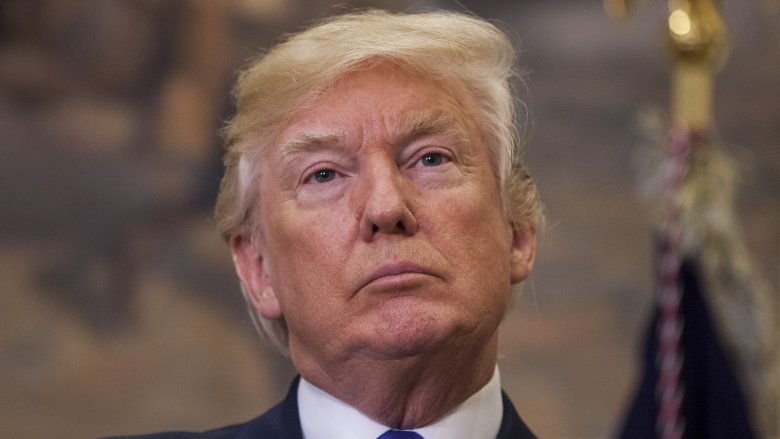 Pool/Getty Images
Renowned ABC News journalist and political commentator Cokie Roberts passed away at the age of 75 on Sep. 17, 2019, after a battle with breast cancer. She is survived by her husband, fellow journalist Steven Roberts, her children, Lee and Rebecca, and her six grandchildren. The iconic newswoman, who was named a "Living Legend" by the Library of Congress in 2008, was a trailblazer, serving as an inspiration to countless women seeking careers in journalism.
However, the death of a powerful political voice wasn't exactly met with compassion from the most powerful political voice in the world. While onboard Air Force One during a flight to California, President Donald Trump responded to the news of the three-time Emmy winner's death in what critics have described as his predictably controversial fashion.
"I never met her. She never treated me nicely," Trump said (via AOL). "But I would like to wish her family well. She was a professional, and I respect professionals. I respect you guys a lot, you people a lot. She was a real professional. Never treated me well, but I certainly respect her as a professional."
It's unclear what alleged mistreatment Trump received at the hand of Roberts, but his beef with the journalist appears to go way back. "Just watched Cookie (sic) Roberts on @ABC. Her predictions have been so wrong for so long that she has lost all credibility. Just another sad case," he tweeted in 2015.
Most other celebs had kind words for Cokie Roberts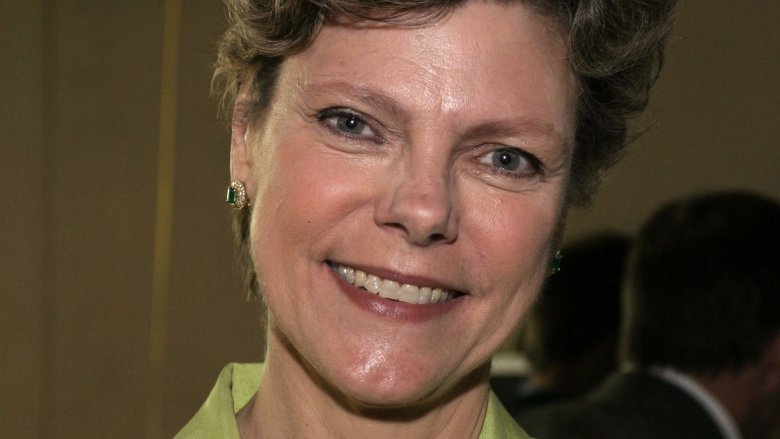 Andrew Kent/Getty Images
Former Presidents, government officials, and Cokie Robert's peers remembered the pioneer who wasn't afraid to ask hard-hitting questions to those in power. 
"Cokie Roberts was kind. She disagreed agreeably. Cokie listened, offered advice, showed patience and poise, worked hard, put faith & family first. God bless. RIP," White Counselor Kellyanne Conway tweeted.
"Cokie Roberts was a trailblazer who transformed the role of women in the newsroom & our history books as she told the stories of the unsung women who built our nation. Her warmth, wit and wisdom will be deeply missed by all," House Speaker Nancy Pelosi said a statement posted to her official Twitter account.
"Michelle and I are sad to hear about the passing of Cokie Roberts," former president Barack Obama said in a statement (via HuffPost). "She was a trailblazing figure; a role model to young women at a time when the profession was still dominated by men; a constant over forty years of a shifting media landscape and changing world, informing voters about the issues of our time and mentoring young journalists every step of the way. She will be missed ― and we send our condolences to her family."
"Cokie Roberts was one of the founding mothers of journalism in this country and a representative of the highest standards in the field," Democratic Rep. John Lewis of Georgia said (via ABC News). "A light has gone out in the Washington press corps, and she will be deeply missed."
"So sad to hear this. Bestselling author, Emmy award winner, and veteran journalist Cokie Roberts has died at the age of 75 due to complications from breast cancer. She was a pioneer for so many and will be sorely missed," Katie Couric tweeted.
Donald Trump's remarks about Cokie Roberts weren't without precedent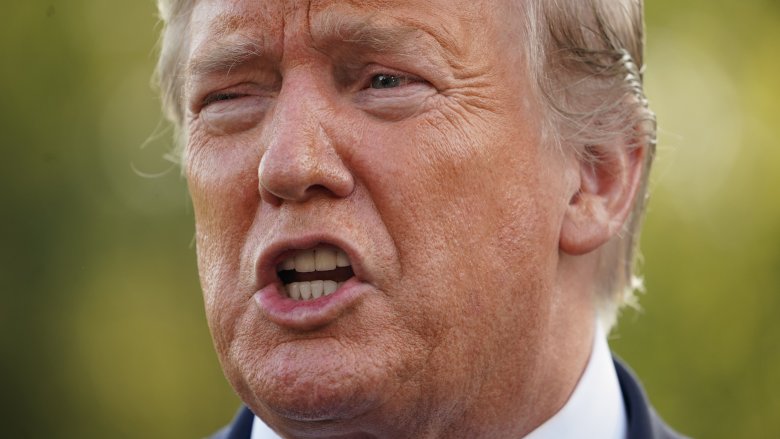 Mandel Ngan/Getty Images
Donald Trump has a history of beefing with recently deceased people, and Cokie Roberts is no exception. The most notable (or infamous) case is the 45th president's long-standing feud with the late Senator John McCain. "He's not a war hero," Trump told the Family Leadership Summit in Iowa, regarding McCain's time as a POW in Vietnam (via Politico). "He was a war hero because he was captured. I like people who weren't captured." And that when McCain was alive.
But after the "maverick" passed away from brain cancer in 2018 at the age of 81, Trump continued his attacks on Barack Obama's 2008 presidential election opponent. During a June 2019 appearance at the the Faith and Freedom Coalition, Trump appeared to joke about McCain's death, according to The Washington Post. Discussing the failed GOP attempt to repeal the Affordable Care Act, Trump said: "We needed 60 votes, and we had 51 votes. And sometimes, you know, we had a little hard time with a couple of them, right? Fortunately, they're gone now. They've gone on to greener pastures — or perhaps far less green pastures. But they're gone. ... I'm very happy they're gone."
As if that wasn't overt enough (McCain famously torpedoed the aforementioned GOP effort to repeal key aspects of the healthcare bill), after the Wall Street Journal reported that the White House tried to hide the USS John S. McCain from Trump's line of vision during a trip to Japan, Trump told reporters (via Politico), "I was not a big fan of John McCain in any way, shape, or form."