Emmys Audience Laughs At Kendall And Kim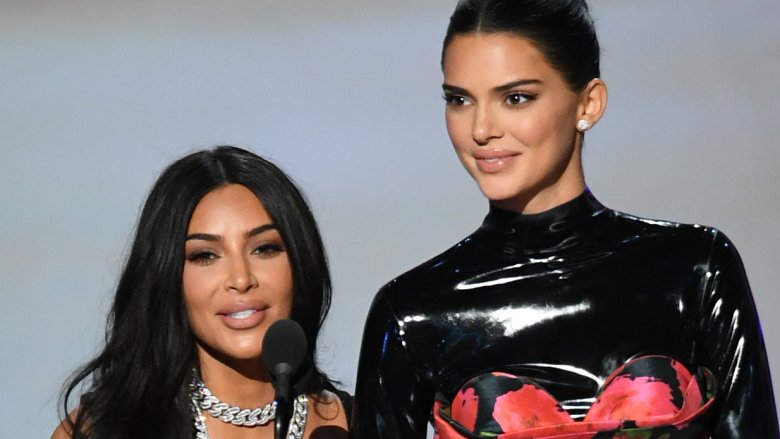 Kevin Winter/Getty Images
The 2019 Emmy Awards celebrated the very best of comedy, drama, reality, and more in TV — but it doesn't sound like everyone attending the event was a fan of Keeping Up with the Kardashians.
Us Weekly reports that the awards show took a noticeably awkward turn after reality TV stars Kim Kardashian and Kendall Jenner walked out on stage — aptly accompanied by "We are Family" by Sister Sledge — to present the outstanding competition series category.
Things appeared all well and good at the top, with Kardashian reading off the teleprompter: "Our family knows first-hand how truly compelling television comes from real people just being themselves." However, before Jenner could chime in with, "Telling their stories unfiltered and unscripted," a surprising round of laughter erupted among the crowd. Yikes.
Despite initially appearing confused by the minor interruption, the KarJenner sisters were ultimately unphased and continued on with the job. The trophy later went to RuPaul's Drag Race for the second year in a row (via Deadline). After the titular host sashayed his way onto the stage to accept the award, he delivered an empowering political speech, encouraging viewers with, "Speaking of voting for love, go and register to vote."
And while we couldn't be happier for Mama Ru's win, it was the audience's apparent dig at America's so-called royal family that was the talk of the Twittersphere...
What did Twitter have to say about the KarJenners vs. the Emmys audience?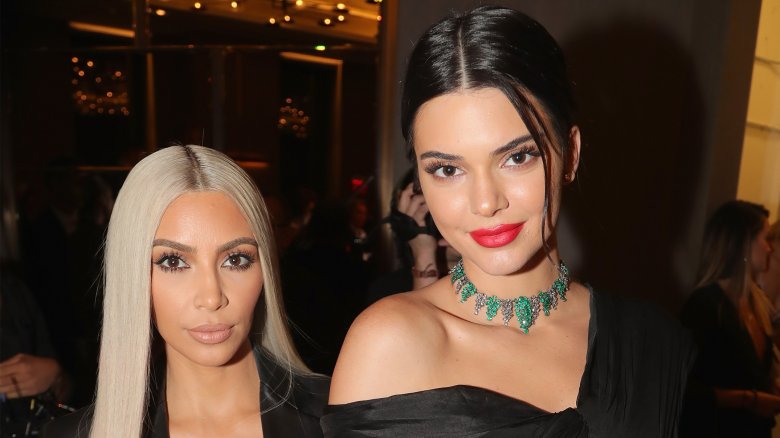 Paul Morigi/Getty Images
So, what did Twitter make of Kim Kardashian and Kendall Jenner's awkward Emmys appearance? Well, naturally ... a whole lot.
"Did the #Emmys audience just laugh at Kim Kardashian? I don't think she was telling a joke," one person wrote, captioning a popular Chrissy Teigen cringe reaction gif. Meanwhile, another person tweeted, "Let us never forget that the entire Emmys crowd laughed at Kim Kardashian and Kendall Jenner when they described their show as 'real,' 'unscripted,' and 'them being themselves.'"
One Twitter user called "the entire room cackling" a "whole mood," adding, "They really set them up with their lines about being 'unscripted' and stuff, didn't they?" Another tweeted out, "Kim Kardashian told a joke and didn't even know it," alongside a crying-laughing emoji.
Of course, Twitter isn't necessarily known for being a platform that boasts agreement, so while many social media users found the whole affair to be pretty hilarious, it should be noted that not every Emmys viewer felt the audience's laughter was very amusing. Noting that the crowd of celebs were "laughing at [Kim]; not with her," one Twitter user wrote, "It was uncomfortable (and, in my opinion, uncalled for) in the room."
On a similar note, another fan gave a "shout out" to Kim and Kendall for "doing a fantastic job as presenters at the Emmy's!!!" Complete with several hug emojis, they added, "It takes a lot of confidence to speak on that stage!"
What happened to Kylie Jenner at the 2019 Emmy Awards?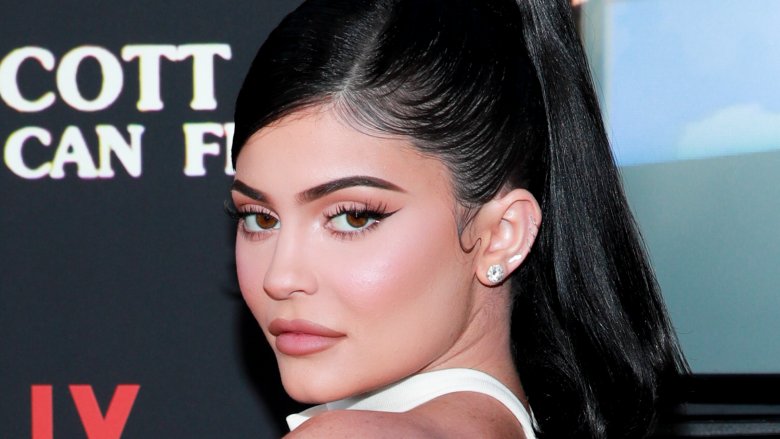 Rich Fury/Getty Images
Kendall Jenner and Kim Kardashian's presenting gig wasn't the only thing that didn't go exactly to plan for the E! Network stars at the 2019 Emmy Awards. 
According to a source cited by People, younger sister Kylie Jenner reportedly ended up skipping out on the event due to an undisclosed illness. She had been previously slated to present on television's biggest night alongside her sisters. While we're wishing the youngest KarJenner family member a speedy recovery, let's take a moment to reminisce about Kim Kardashian's first-ever Emmys appearance, which took place an entire decade ago.
While speaking with Giuliana Rancic on E!'s Live from the Red Carpet alongside Emmys newbie Kendall, Kardashian revealed, "I was just looking back at footage and I came in 2009 and sang this little bit about reality shows with Jimmy Fallon when he hosted and it was super embarrassing watching that back."
One of these days, we imagine a Kardashian-Jenner appearance at the Emmy Awards will be smooth sailing. In the meantime, this famous family can at least count on the continued support of their adoring fans. Alongside the hashtag, "#RespectTheKardashians," one person tweeted, "I'm so sorry that you had to see how disrespectful and rude the Emmys audience was to you guys! All the love and respect for you."
While you're here, check out the fakest storylines featured on Keeping Up with the Kardashians.