Jessica Simpson Flaunts 100-Pound Weight Loss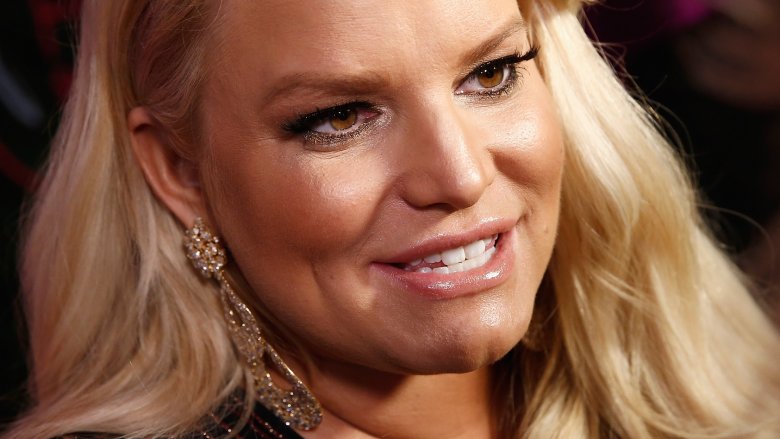 Brian Ach/Getty Images
In September 2019, singer-turned-fashion-entrepreneur Jessica Simpson revealed that she'd dropped a whopping 100 pounds since giving birth to her daughter, Birdie Mae, that March. The "With You" singer posted a stunning photo on Instagram of her new svelte silhouette in a black fitted dress, writing, "6 months. 100 pounds down. (Yes, I tipped the scales at 240.) My first trip away from #BIRDIEMAE and emotional for many reasons, but so proud to feel like myself again. Even when it felt impossible, I chose to work harder."
"She's working hard and working out and eating healthy and trying to get back in her best shape and excited for what's ahead," a source told People in September 2019 of the former Newlyweds star's fitness goals. "She's trying to get back to her healthiest place. And she just wanted to get to a place where she feels her healthiest. She's not focused on the number, but on feeling her best self."
Simpson has been candid about her struggle with her baby weight throughout her pregnancy with Birdie, documenting her pregnancy in often hilarious ways (like a 10-year challenge snap of her in 2014, rocking Daisy Dukes (below) versus with swollen ankles and feet, a fantastic pun captioning her baby bump, and a photo of her broken toilet lid). She also posted some snaps of her making postpartum progress, including one of her stretching in a rubber corset.
In July 2019, Simpson told People that was walking a lot to get back in shape both physically and mentally after Birdie's birth. She also said she was trying to eat healthily as well and that she was pleasantly surprised to learn how much she enjoyed cauliflower. She also credits her longtime personal trainer, Harley Pasternak, with her slimdown. Pasternak congratulated Simpson on Instagram, writing of the Employee Of The Month star, "Beyond proud of this incredible woman. Been working together for over 12 years and she's always the most warm, sweet, polite, and respectful person in the world. And on top of it all, after being nonstop pregnant for as long as I can remember, she's down 100 pounds and looks younger today than she was when we met."
This isn't Jessica Simpson's first significant body transformation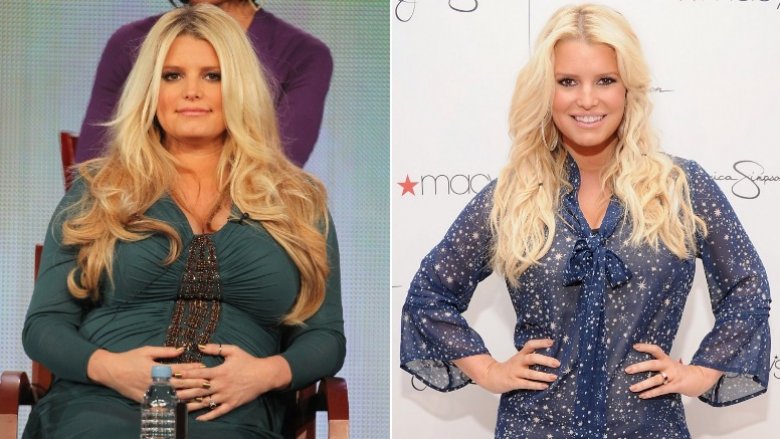 Frederick M. Brown/Jamie Mccarthy/Getty Images
Jessica Simpson has struggled with fluctuating weight for over a decade. In 2009, photos of the singer performing at a Chili Cookoff in less-than-flattering high-waisted jeans went viral and made headlines just about everywhere. She later told Glamour of the controversy, "Celebrities aren't perfect. It's amazing to me how much thought is put into a woman's figure on tabloid covers." She also explained that she struggled with her body image since she was a kid, admitting, "When I was young, I would look at magazines and feel a lot of pressure. As a child of 12, I would write things in my journal like, 'I'm lying here and all I can think about is that my stomach is hanging over my underwear.' That disturbs me even today! I was always disconnected from myself; there was this idea of perfection I couldn't ever get to," she continued. "But all women struggle with insecurity, and we all have something we don't like about ourselves."
In 2012 (shown above left in January, and then above right in November), Simpson gave birth to her first child, daughter Maxwell, with husband Eric Johnson. She lost 50 pounds following the delivery using Weight Watchers, for which she was a brand ambassador, however, she almost immediately put the weight back on when she got pregnant with son Ace just five months later.
She said she "couldn't believe" the numbers she saw on the scale and that she learned to embrace balance pre- and post-baby, which likely made her post-Birdie birth weight loss a bit easier for her.
"You are creating a life, and honestly it's not easy," she told ABC News in February 2014. "It is a really hard thing to go through. And you deserve to eat your ice cream, you deserve to have your pancakes. Do whatever you want to do and then afterwards just know that you have to work really hard. I had to learn that with my first and second pregnancy," she said. "My first pregnancy I ate a lot more, but my second pregnancy I ate enough, like I ate what I wanted to eat but I stayed active and I think because I had gained so much weight with my first that I had to stay active throughout my second because I didn't know what to do with myself if I didn't."