Inside Sulli And Choiza's Relationship
K-pop stars Sulli and Choiza dated for two years before reportedly splitting in early 2017. Choiza, a member of Korean hip-hop group Dynamic Duo, and Sulli, a solo artist who rose to fame in K-pop idol group f(x), were first rumored to be dating in 2014 after footage of them holding hands surfaced. Their coupling sparked controversy in the K-pop world, as Choiza is 14 years older than Sulli and had a bad boy reputation.
Tragically, Sulli was found dead in her Seongnam, South Korea, home on Oct. 14, 2019. She was just 25 years old. Police told The Guardian that Sulli was suspected to have taken her own life, but that investigations were ongoing. In 2018, she revealed on a talk show that she suffered from panic disorders from a young age, explaining, "Even close people left me. I was hurt by them and felt there was nobody who understands me, which made me fall apart." In her more recent Instagram videos, The Guardian reported, Sulli cried and said, "I'm not a bad person."
Meanwhile, in the wake of Suli's death, some fans have begun to scrutinize her relationship with Choiza — and have even gone so far as to pressure him into taking some kind of responsibility for her untimely and tragic end. 
The relationship's end and Sulli's rebound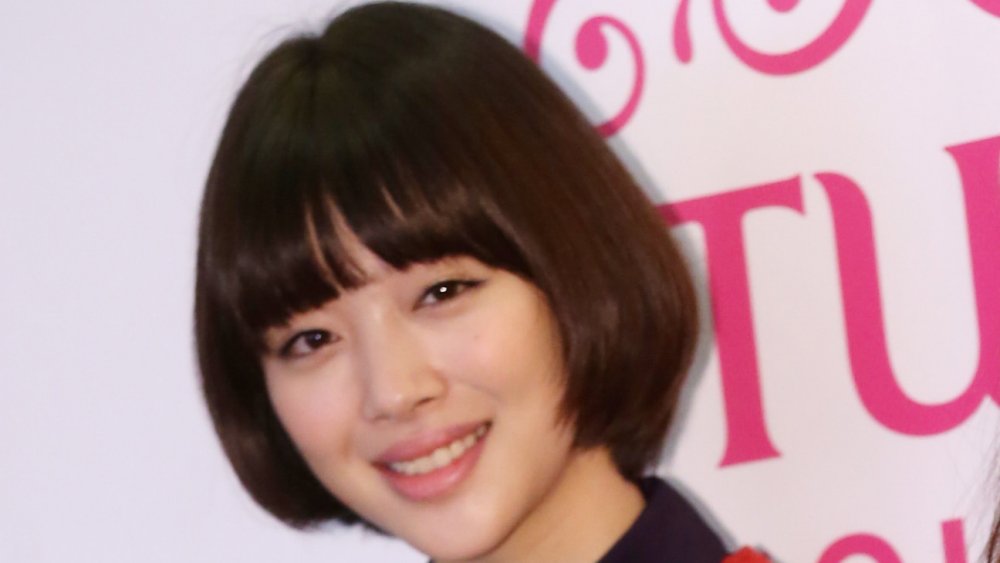 Afp/Getty Images
Back in 2017, a rep for Choiza confirmed his split from Sulli in a statement, explaining, "Due to their busy schedules and different ways of life, Choiza and Sulli naturally grew apart. The time they spent together will remain as a good memory." Neither Sulli nor Choiza directly commented on the split at the time, though some social media users thought Choiza hinted that Sulli had cheated based on a vague translation of an Instagram post about a leg of lamb ... seriously. There was also some speculation that the pair may have reunited, but neither commented on the reconciliation claims and little came of those rumors in reality.
Sulli, in fact, preferred a new rebound relationship over reuniting with her ex. Sulli reportedly began dating another man (who wasn't famous) just months after her split from Choiza. A rep for Sulli confirmed her romance with 360 Sounds brand director Kim Min-joon in March 2017, noting, "The two apparently became interested in each other recently. She is being careful because he is a non-celebrity. We ask that everyone be respectful about their relationship." 
The relationship didn't last long, unfortunately, and Sulli and Min-joon reportedly broke up that July after just four months together. Min-joon reportedly wrote of the split, "After lots of thought, Choi Jin-ri and I decided to go separate ways." He added, "It was ordinary dating. There is only the story of the two, and no other special stories or curious backstories." According to Hello Kpop, Sulli's rep confirmed that the couple fell out of love.
Choiza was cyberbullied after Sulli's tragic death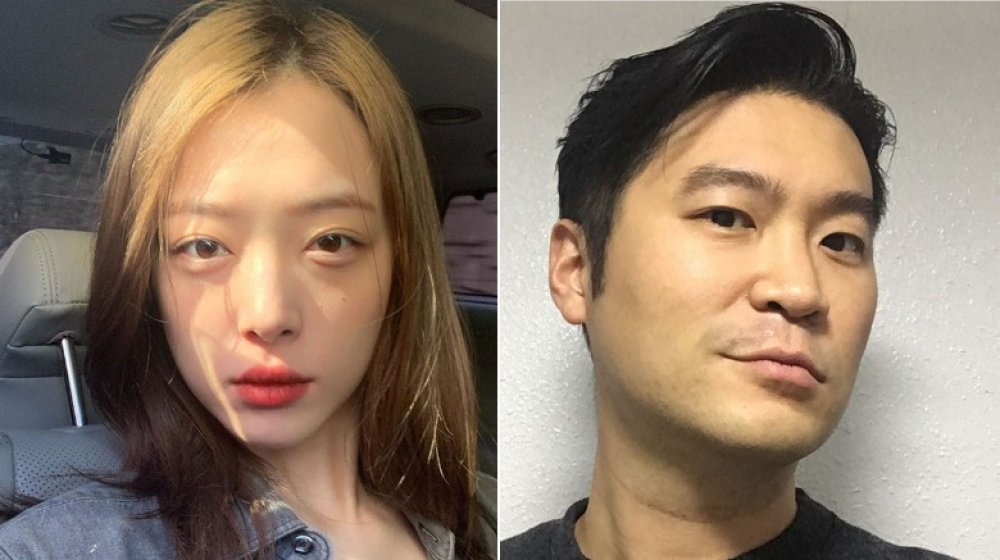 Instagram
All K-Pop reported that after Sulli's passing, Choiza was inundated with social media comments blaming him for her death. "Die," one user reportedly wrote. "It's your responsibility," another said, while a third commenter fumed, "If you at least had a conscience, you would leave words of condolences and take a hiatus. Cancel your concert." However, others showed sympathy for Choiza, with one writing, "Sulli didn't pass because of Choiza. She probably suffered because of malicious comments." Another wrote, "I hope you don't feel guilty." 
In fact, the New York Times reported that some K-Pop fans theorized that cyberbullying could have actually had a role in Sulli's own dark state of mind, and linked to tweets making that conclusion. 
"Sulli you were never a bad person. Just a soul buried under all that anonymous hate. Rest easy my girl," read one of the linked tweets. 
"I hope everyone who commented these horrible things realizes what they have done," read another. "They took part in making a person feel like death is the best option #Sulli"
If you or someone you know is having suicidal thoughts, please call the National Suicide Prevention Lifeline at 1-800-273-TALK (8255) or text HOME to the Crisis Text Line at 741741.