Here's How Much Money Eddie Murphy Made From Playing Donkey In Shrek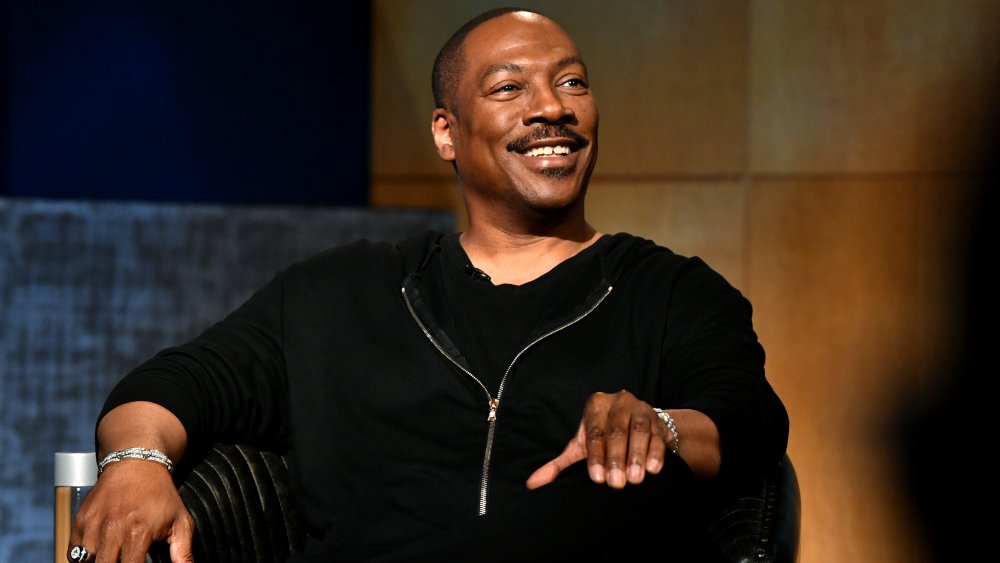 Emma Mcintyre/Getty Images
Casting Eddie Murphy as Donkey in the Shrek franchise is one of the most brilliant moves DreamWorks Pictures could've made back in 2001. Playing the hilarious sidekick to the giant green ogre named Shrek (played by Mike Myers), Murphy's performance is certainly one of the reasons the original film grossed $484 million worldwide. As such, the voice actors from the original got a serious payday when the sequel was created.
Murphy, who really is the anchor in this hilarious franchise, reportedly earned $350,000 for his work on the first film. Variety revealed that when all was said and done, Murphy brought in roughly $3 million thanks to his share of the domestic gross sales. When the sequel came out, Murphy (along with Myers and their co-star Cameron Diaz) raked in $10 million, the New York Post reported. 
With such a stacked resume — including his legendary time on Saturday Night Live, and hit film franchises like Beverly Hills Cop and The Nutty Professor — it's not that surprising that Murphy gets paid the big bucks. What is a little crazy is that Murphy remains in the top 20 of the highest-grossing movie actors of all time, despite not having a big blockbuster hit in the last decade. 
Eddie Murphy shines bright as Donkey in all Shrek films
In 2010, Murphy was No. 5 on Forbes' "Hollywood Animation A-list" which reported that movies for which he provided voices earned an average of $622 million at the box office. Since Shrek 2 grossed $919 million worldwide, Shrek the Third grossed $798 worldwide, and Shrek Forever After grossed $752 million worldwide, the hits have just kept on coming for Murphy and the rest of his cast mates.
Payment numbers for the third Shrek installment aren't readily available, but according to Celebrity Net Worth, the 58-year-old actor may have earned $4 million to start and up to $12 million with backend points for Shrek Forever After, the fourth and (so far) final film in the franchise.
These big numbers only add to Murphy's growing fortune, which doesn't seem to be diminishing anytime soon. He is reportedly at a net worth of $160 million, and if Dreamworks ever decides to produce more Shrek and Donkey adventures in the future, we have a feeling the actor will be enjoying lots of waffles, or parfaits — because everyone loves parfaits.