Eddie Murphy Poses With All 10 Kids In Rare Family Photo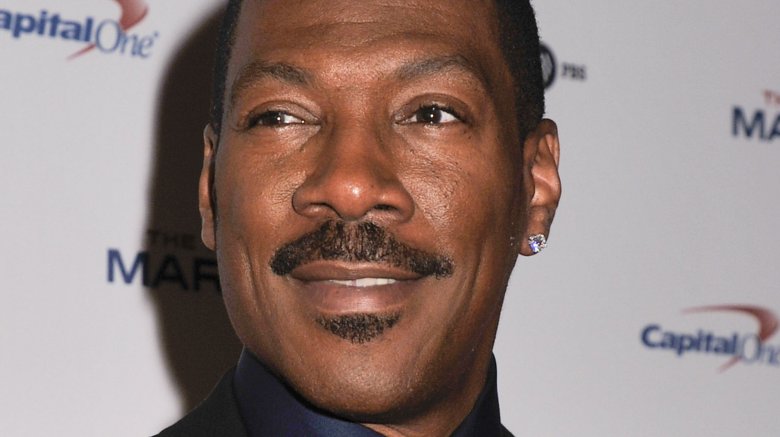 Getty Images
Comedian Eddie Murphy's daughter Bria just shared the first-ever photo of her father with all ten of his children!
On Tuesday, Dec. 25, 2018, Bria posted a photo of herself with her large family on Instagram, marking the very first time that Murphy, 57, has been seen in a picture with all of his kids. In the photo, Murphy holds his 2-year-old daughter, Izzy, whom he shares with his fianceé, model Paige Butcher. In the picture, Butcher, 39, cradles Murphy's youngest child, newborn son Max Charles, who appears to be sleeping in her arms.
Around Murphy are all of his other children. Five of his kids — 29-year-old Bria, 26-year-old Miles Mitchell, 24-year-old Shayne Audra, 19-year-old Zola Ivy, and 16-year-old Bella Zahra — Murphy shares with his ex-wife Nicole, as noted by USA Today. He also has Eric, 29, whom he shares with Paulette McNeely; Christian, 28, whom he shares with Tamara Hood; and Angel Iris Murphy Brown, 11, whom he shares with Spice Girls member and America's Got Talent judge Melanie "Mel B" Brown.
As noted by Today, Murphy's mother, Lillian, and Butcher's mom also posed for the holiday family photo. In the Instagram photo's caption, Bria wrote, "Merry Christmas!!!" and added a Christmas tree emoji.
Back in November 2016, Murphy had opened up about his large brood, gushing about his kids to the press while supporting Bria's art show in Los Angeles. "I really got lucky with my kids," he stated, as reported by People magazine. "There really isn't a bad one in the bunch, everyone turned out to be really good people."
The former Saturday Night Live star continued, "You know what is funny? None of my kids are like me, and I'm sure parents say this all of the time, they are all totally different from each other." He explained, "None of them are chips off the old block. They all have their own thing, They're good kids."
In a September 2016 interview with comedian and daytime talk show host Ellen DeGeneres, Murphy commented on his big family, saying, "I love kids, and my kids are the joy of my life."
While many of Murphy's children are grown, several are still very young. As Nicki Swift previously reported, Murphy welcomed baby Max Charles with Butcher, to whom he'd gotten engaged in September 2018, on Nov. 30, 2018. He was named in honor of Murphy's late brother, comedian and actor Charlie Murphy, who passed away after a battle with leukemia in April 2017.
Before Max Charles was born, a source told People that the Nutty Professor actor and his lady love, who'd started dating back in 2012, were "very happy to expect another baby."
The insider noted, "They live a pretty low-key life. They are all about family. Paige is very close with Eddie's kids." Describing Murphy's huge family, the source also stated, "They are a very special and happy family. They vacation and spend holidays together. Paige loves being a mom and is very involved. She takes her daughter to the park and for play dates."
According to Us Weekly, Murphy's daughter Angel has been spending more time with her father than usual since her mother, Mel B, is healing after breaking two ribs while in England and requiring emergency surgery. "Angel is very well cared for," a source told the celebrity news magazine. "Eddie and Angel have been spending a lot of time together in recent months."
Fortunately, Murphy and Mel B, who dated for nine months in 2006, seem to get along well these days — a far cry from soon after they'd first split when Murphy demanded a paternity test be done to prove Angel was his biological daughter.
In December 2018, Mel B complimented her ex while on Steve Harvey's talk show Steve (via Us Weekly). "He's such a loving, caring, respectful person," she shared. Noting that she's later realized they'd "had a loving relationship," she noted, "We have a beautiful daughter to show it."
Regarding their current relationship as co-parents, Mel B explained, "It took a while to get there because we broke up not in the happiest of circumstances. ... And now everything's all good!"
We're glad things between Murphy and Mel B are great — otherwise, it's certainly be tricky for their daughter to see her many brothers and sisters!