Where Is Lady Gaga's Meat Dress Now?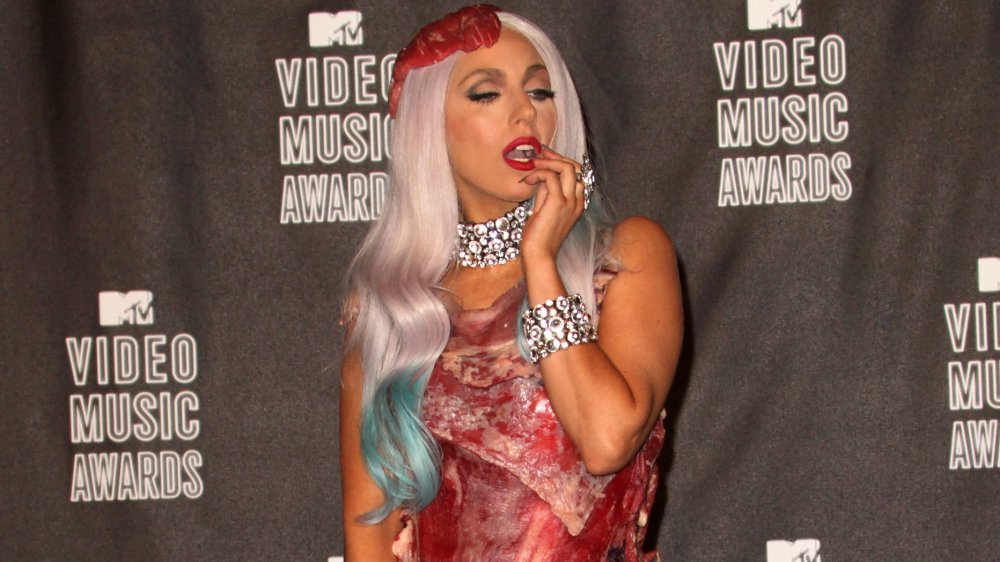 Frederick M. Brown/Getty Images
In 2010, Lady Gaga made one of her more memorable fashion statements when she arrived at the MTV Video Music Awards wearing a dress made entirely out of raw meat. The "Meat Dress," as its now known, consisted of a dress, hair piece and boots...all made of meat. What was it all supposed to mean? Well, the "Shallow" singer was rocking this frock to raise awareness about the U.S. military's "don't ask, don't tell" policy, of which she did not approve.
"Well, it is certainly no disrespect to anyone that is vegan or vegetarian. As you know, I am the most judgment-free human being on the earth," Gaga said at the time via Rock & Roll Hall of Fame. "However, it has many interpretations. But for me this evening, if we don't stand up for what we believe in, and if we don't fight for our rights, pretty soon we're going to have as much rights as the meat on our own bones. And, I am not a piece of meat."
Nearly 10 years later, Gaga's meat dress is still a topic of conversation, but does it still exist? Yes, it does! In fact, it has been on display in two different places over the past decade. It started out at the aforementioned Rock and Roll Hall of Fame as a part of the Women Who Rock traveling exhibit, and — as of this writing — it's now shining in Las Vegas.
The meat dress is alive...it's just a little dried out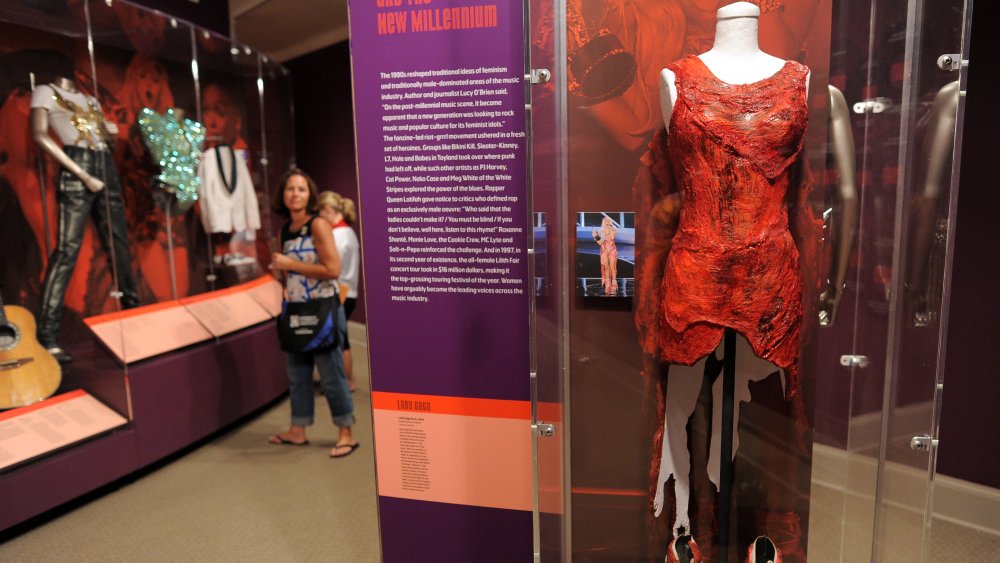 Jewel Samad/Getty Images
Even though Lady Gaga's infamous meat dress does still exist — and you can still visit it currently on display in Las Vegas in honor of her residency as a part of Gaga's Haus of Gaga exhibit at the Park MGM — it is no longer a raw meat dress. It's more like beef jerky nowadays. Since raw meat goes bad and it's been nine years since it was first created — meaning it would be pretty gross by now — the dress had to be heat treated. 
"Right after the VMAs, the museum contacted Lady Gaga about the meat dress and the plan for the future," Jun Francisco, the Director of Collections for Rock Hall, told MTV in 2015. "They agreed to send it to us, but at the time it was still raw meat. So we had to figure out — we went back and forth with ideas — and the thing we decided on was to preserve it like a beef jerky. So it's taxidermied."
So there you have it. You can still see Gaga's meat ensemble in all its glory, but you'll basically be looking at beef jerky that's been painted to look like raw meat. Gross? Or delicious?