The Reason Kristen Stewart Didn't Like Kissing Taylor Lautner In Twilight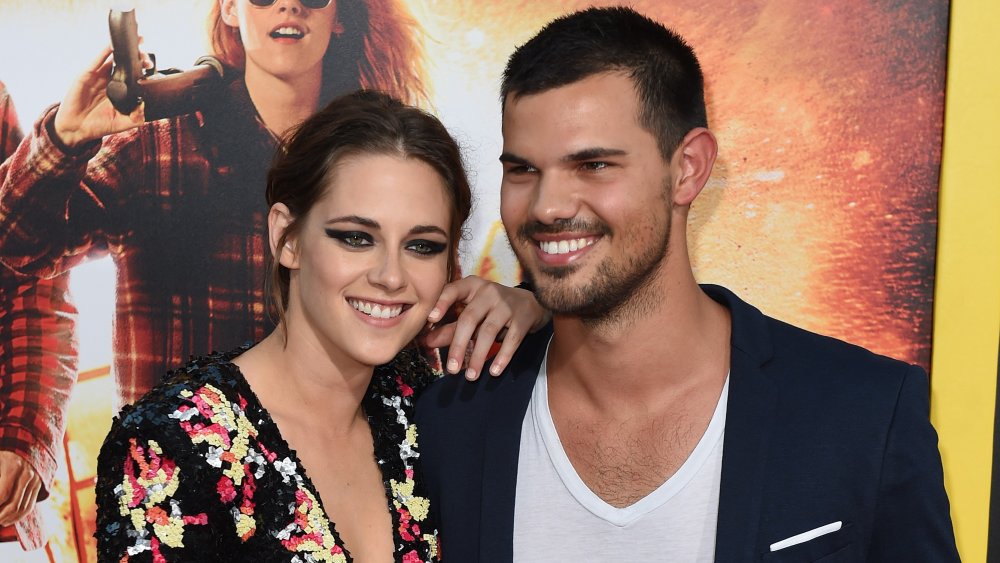 Mark Ralston/Getty Images
Twilight might've been about Bella Swan, played by Kristen Stewart, and Edward Cullen, played by her real-life then-boyfriend Robert Pattinson, finding love and living as vampires together forever. But there was also another love interest in the franchise...Jacob Black, played by Taylor Lautner – who may be better known as the hot werewolf in town. 
After four books and five movies, fans are still broken into two camps: Team Edward and Team Jacob. But when it comes to the actors in the films, Stewart wasn't on team werewolf...at least when it came to having to kiss Lautner on screen.
"One of the most challenging scenes was probably finally kissing Jacob for the first time," Stewart told Parade. "Bella has got such tunnel vision that Edward is the only thing for her. That's a strange perspective. So when Taylor Lautner and I kissed, it felt like such a different dynamic. I was nervous as hell."
Throughout the films, Stewart's character kissed Pattinson's character often — they were human-vampire high school sweethearts, after all — but in the third movie, The Twilight Sage: Eclipse, Lautner's brooding character got his highly-anticipated kiss. Even though it was a little uncomfortable for Stewart to smooch her friend, she also admitted that it was fun because it wasn't the norm.
"Taylor [and I] have so much fun with this stuff because our intimate moments are so few and far between — and weird," Stewart told reporters (via Us Weekly) during a press conference in 2010. "Me and Rob are always so serious because we have [a lot of] those scenes."
Kristen Stewart and Taylor Lautner's awkward kiss hasn't ruined their adorable friendship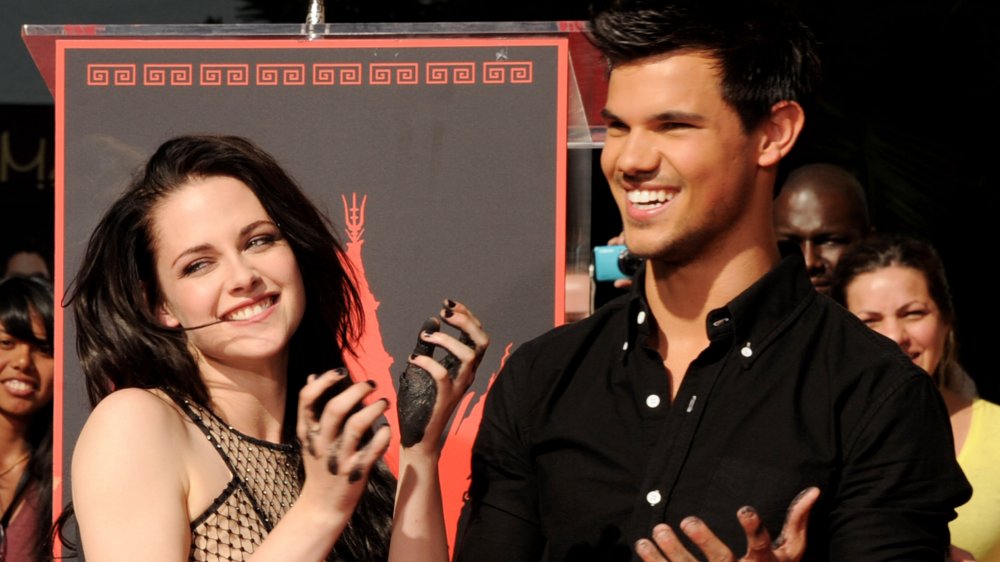 Kevin Winter/Getty Images
Taylor Lautner is right there with Kristen Stewart when it comes to thinking their on-screen kiss was just weird. He was a fan of his character finally getting to kiss his love, but his friendship with Stewart made for a few awkward silences while filming the scene.
"As soon as we finished, as soon as we pulled away and they called cut, she'd look at me and I'd look at her and there would be a moment of silence," Lautner told Access Hollywood in 2010."And she would go...'We just kissed!' It's definitely interesting but when we film, we become Jacob and Bella."
If you are still Team Jacob, don't panic, because Stewart and Lautner's friendship off-screen has never wavered. Their on-screen smooch was strange, but it was in the past and that's where it has stayed. Off-screen, the duo frequently see each other. In fact, the two reunited in 2015 at Stewart's American Ultra premiere, and the actress couldn't help but gush over her longtime friend. "I love Taylor. He's one of my boys," she told E! News at the time. "He's like one of my best friends."
Luckily for Twihards, this isn't the only time the two co-stars have spent time together since wrapping the Twilight films. They were spotted together in February 2019 in Malibu where Stewart showed up to celebrate Lautner's birthday...and there are photos to prove it! We know that Bella picked Edward, but in real life it looks like Stewart is all in on Jacob, er, we mean, Lautner.