Will BTS Add A New Member If Jin Joins The Military?
Neilson Barnard/Getty Images
K-pop group BTS might have a shorter shelf life than most probably thought. However, it's not due to lack of fan support or infighting. In South Korea, from which the boy band hails, men between the ages of 18 and 28 are required to serve at least 21 months in the military. While that might not seem like an amount of time that could make or break a career, BTS has accomplished quite a bit in their last 21 months. In a little under two years, the boy band became the first-ever best K-pop winners at the VMAs, broke YouTube records, and made history as the first K-pop group to be nominated for a Grammy. 
Given all that can be done in 21 months (well, at least if you're an international superstar), it's probably very scary for any of the members of BTS to even think about having to bow out of the group during their meteoric rise — but that's the reality for the oldest member of the group, Jin. The singer-songwriter will turn 28 in 2020, meaning that he has delayed his mandatory service as long as possible. With Jin's inevitable departure on the horizon, is BTS considering swapping him out for a newer model? 
When it comes to BTS, there's no "Boy With Luv" left behind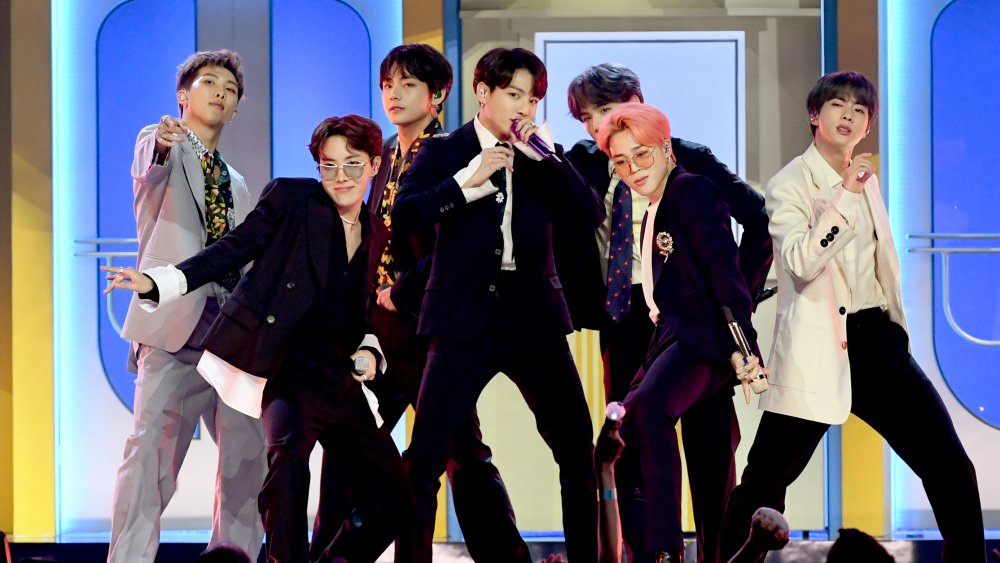 Kevin Winter/Getty Images
The BTS Army can breathe easy because it doesn't seem like Jin will be getting the boot when his boots hit the ground for service. In 2018, the group extended their contract with management company Big Hit Entertainment through 2026, as reported by Forbes. That means the company knows the members will be undergoing hiatuses over the new few years, but will work to keep the momentum going and "provide systematic support and investment" to the group (via Forbes). The seven-member boy band has achieved success together and it seems like Big Hit's thought process is if it ain't broke, don't fix it. "It is our philosophy that we should cater the best to artists who's achieving an unprecedented global success," the management company stated, as noted by Billboard. 
While the band could technically all enlist together, they haven't given any indication that they will go forward with it until they absolutely have to — plus, that would leave a BTS-sized gap in the world for some time. However, fans have come up with for the group to deal with the mandatory enlistment that, despite staggered enlistment years, have all the boys back together again by 2028. 
Despite his impending departure, Jin seems to be at peace with what has to be done. "As a Korean, it's natural," Jin told CBS Sunday Morning in April 2019. "And, someday, when duty calls we'll be ready to respond and do our best." However, not all members are fully ready to accept the future. The youngest BTS member, Jungkook, added, "I don't want to think about it at this point. We have something really good going." 
In addition to enjoying huge success as a group, some of the boys have also enjoyed solo success from mixtapes and collaborations over the years. This self-sufficiency proves they can survive the upcoming enlistments by focusing on solo and small group endeavors until they are all back together again. And if they ever really feel like they need to throw someone else in there, Halsey seems like the perfect interim member — she's already got the choreography down pact.