BTS' Jungkook Dyed His Hair Blond
Frazer Harrison/Getty Images
BTS member Jungkook has earned millions of fans thanks, in part, to his swoon-worthy good looks. However, when the K-pop group was in South Korea on Tuesday, Nov. 12, 2019, fans noticed something very different about Jungkook: He had dyed his hair blond! Or, to be more exact, he had dyed the top-half of his hair blond.
Jungkook was captured on camera along with the rest of BTS while they were making their way through the Incheon International Airport. Even though all of the band members were covered up in face masks, hoodies and hats, fans still managed to spot Jungkook's layer of blond hair. "WHAAAAT JK HAS BLOND HAIR??????? WHAT IS THIS????? I SEE BLONDE!!!!!! OR AM I TRIPPING???????" one person tweeted, matching the level of shock (and at times adoring enthusiasm) expressed by many other fans. The change caused such a buzz that the Korean media published an article about Jungkook's new look that claims the star was trending on social media in "41 countries around the world" due to "his two-color blond hair."
However, not everyone is on board with the change. In fact, some even think it's fake. "That's a wig," posted one doubtful tweeter. Whether it's real or not, Jungkook is certainly not the first BTS member to embrace a different hair color.
Jungkook isn't the first BTS member to dye their hair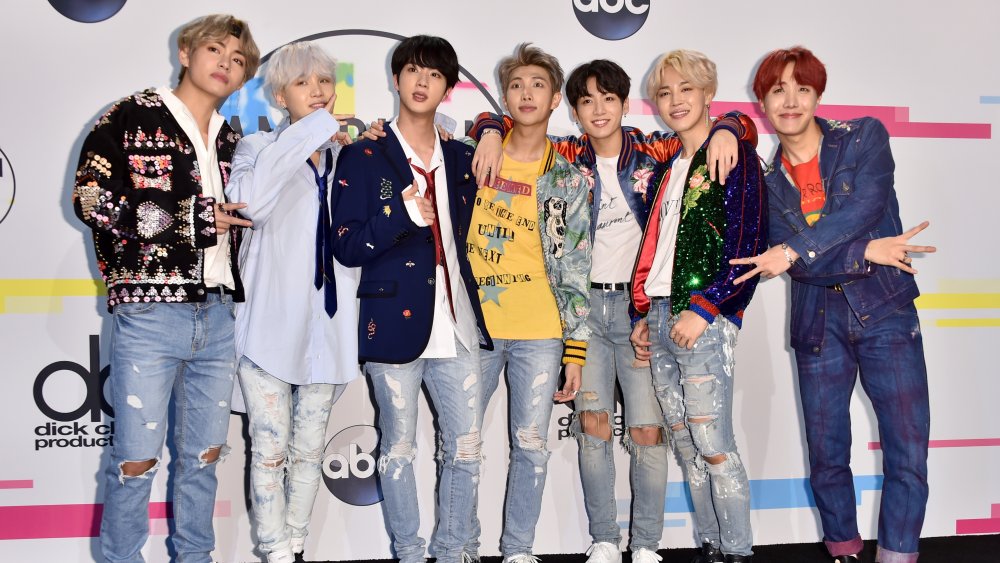 Alberto E. Rodriguez/Getty Images
Jungkook may have shocked fans with his blond makeover, but he's certainly not the first (and surely won't be the last) BTS member to switch up his hair color. In the past, Jin (full name Kim Seok-jin) has also sported lighter locks as has RM (full name Kim Nam-joon) who went even lighter. And then there's Jimin (A.K.A. Park Ji-min) who is perfectly willing and able to slay a stylish shade of bubblegum pink. 
Frankly, those are just a few of the colors these fashion-forward superstars have embraced. We've also seen them pop up with red hair, green hair, blue hair, and purple hair, just to name a few colors. The Ringer even deemed "brightly colored hair" the band's "calling card."
And while these changes might just be for fun or to stick with their signature style, fans were quick to express a theory as to the true motive behind the new hair color. "COMEBACK!!!! Jungkook only does stuff to his hair for comebacks," one fan wrote on Twitter. Seeing as how the band had been on a two-month hiatus when Jungkook emerged as a blond, we're not ruling out the comeback theory. Only time (and perhaps Jungkook's hair) will tell if it's true.