Where Does Lil Wayne Live And How Big Is His House?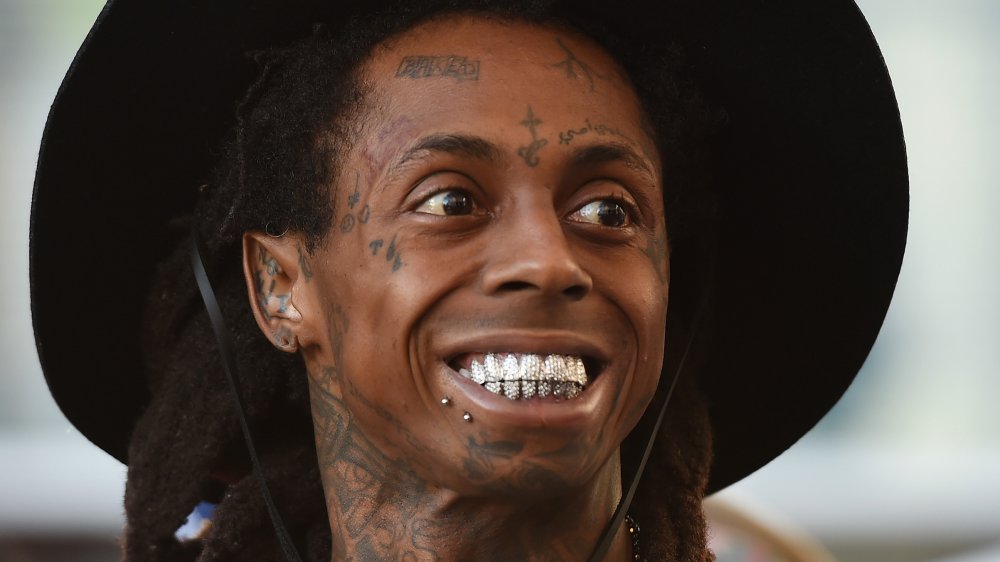 Ethan Miller/Getty Images
While some celebrities choose to live in rather modest homes and others opt for abodes in remote locations, there are also stars who would rather hand over staggering amounts of money for truly incredible homes that are beyond impressive. For instance, when rapper Lil Wayne decided to sell one Miami home in order to upgrade his living situation, he decided to buy himself what Orlando Weekly deemed a "mega-mansion" right off one of the hottest spots in the entire country.
According to Architectural Digest, at the end of November 2018, Lil Wayne paid $17 million for a property that is located on Allison Island, which is located off the coast of sizzling Miami Beach and naturally boasts stunning views of the water as well year-round sunny weather.
The sleek and modern home itself spans (or sprawls?) over 10,632-square-feet and includes seven bedrooms to accommodate plenty of family members, friends, and other overnight guests. Architectural Digest explains that each bedroom "features its own private balcony," and while that's certainly lovely, the master suite has "an L-shaped terrace that has a seating area, lounge chairs, and a view of [the] ocean inlet near which the property rests." The 11 bathrooms are just as appealing. Designed with a mixture of glass and marble, "privacy is somewhat compromised" by the fact that they all have "floor-to-ceiling windows that look over other rooms within the home." Oh dear...!
Lil Wayne's Miami mansion sounds like it's worth the millions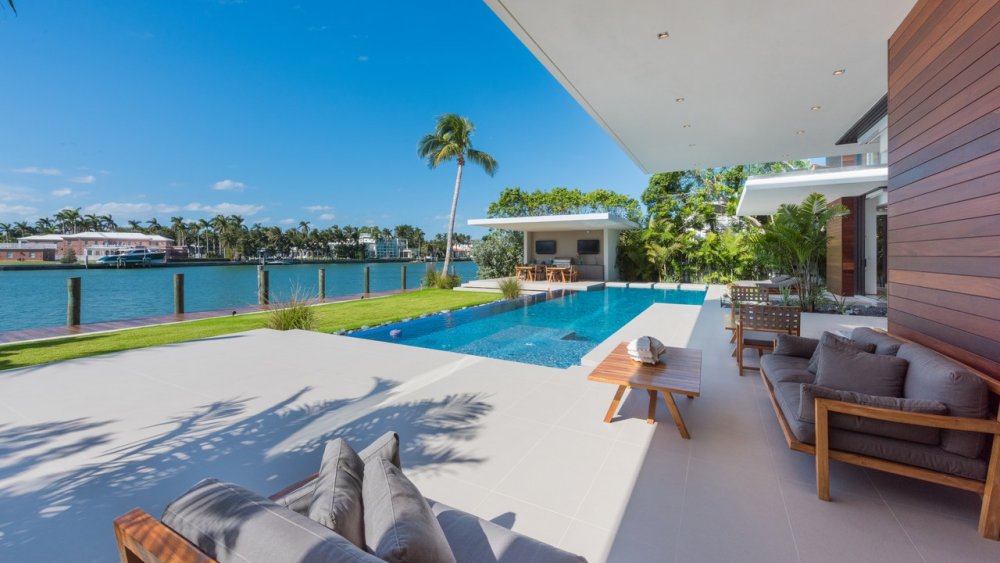 The Waterfront Team with ONE Sotheby's International Realty
Of course, there's more to Lil Wayne's mansion that just the bedrooms and bathrooms — although they're impressive enough. Anyone in the home will also be able to check out what Architectural Digest describes as "a grand mahogany-clad entryway and a great room with windows that extend from the floor up to the 22-foot ceilings."
They also note that there's an "entire wall of sliders [that] opens onto the backyard which, in addition to the sizeable pool, outdoor dining spaces, and cabana, has direct access to the clear blue water just off the property." And because the home takes advantage of its idyllic location, the large living room also features the same kind of glass sliders that, in this case, "open onto a wide deck with views of the water."
There are also two kitchens — yes, two! The first is a full-sized kitchen with light wood cabinetry and a dining table that's big enough to seat each guest that comes over for a meal. The second is a pristine galley kitchen — with a range and oven, large sink, and plenty of counter space as well as cupboards — which can be accessed from the home's outdoor space.
And, of course, no celebrity mansion would be complete without an elevator and private movie theater. In this case, Lil Wayne can enjoy a screening room that features suede wall coverings, which you'd surely expect from an abode that cost $17 million.