Are Candace Cameron Bure And Andrea Barber Friends In Real Life?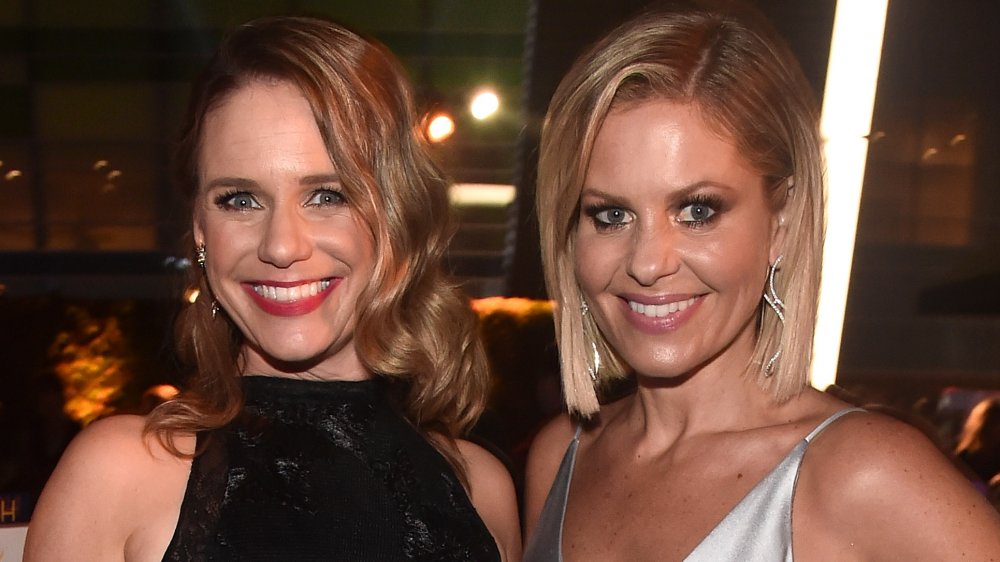 /Getty Images
We may receive a commission on purchases made from links.
In the world of television, it's not uncommon for actors to have to pretend to love someone they hate or act like they hate someone they love — that is what they're being paid for, after all. In fact, there are countless examples of co-stars who played best friends on television and actually hated each other in real life. While some feuds have flown under the radar, other co-stars have made it abundantly clear that unless the words are written in their script, they have nothing to say to each other — here's looking at you Sarah Jessica Parker and Kim Catrall. 
From 1987 until 1995, Candace Cameron Bure and Andrea Barber played best friends and neighbors D.J. Tanner and Kimmy Gibler, respectively, on the hit '90s sitcom Full House. The actresses reprised their roles in 2016 with the Full House sequel series, Fuller House. Over the years, we've learned of plenty of dark secrets the Full House cast has tried to hide — including rifts between cast members. While we might not ever know what happened to predictability, the milkman, the paperboy or evening TV, we do know whether or not Bure and Barber are friends in real life or if it's been an act all these years. 
Candace Cameron Bure and Andrea Barber have each other's backs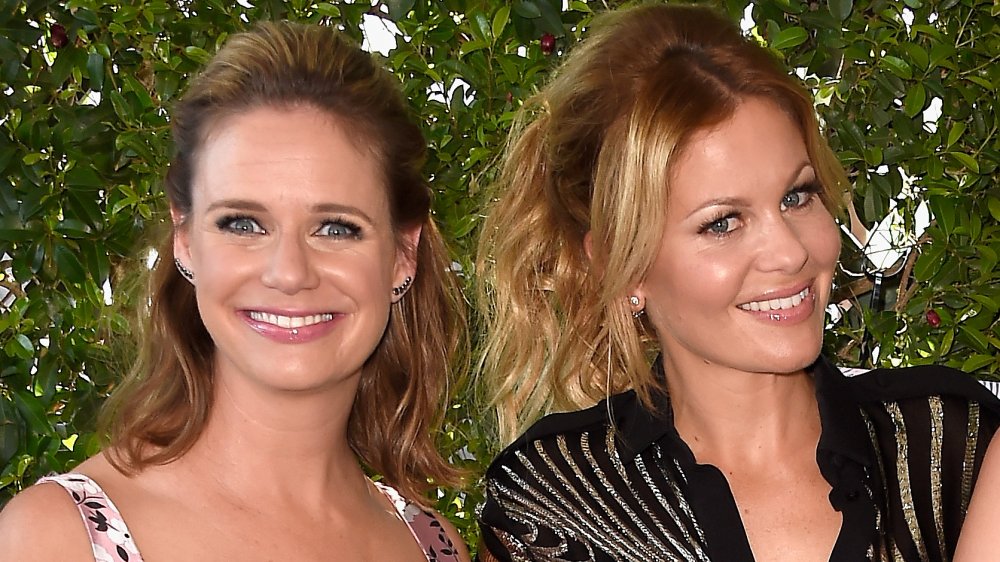 Frazer Harrison/Getty Images
If you guessed that Candace Cameron Bure and Andrea Barber are still friends in real life to this day, you got it dude! Even though Full House wrapped in 1995, one look at Bure's Instagram account will prove that the actress and her on-screen BFF never lost touch over the years. The two forged an unbreakable bond that didn't end once the cameras stopped rolling. Bure's Instagram is a goldmine full of current and throwback snaps of her and Barber. 
While the shots on social media might be picture perfect, the two have also stuck together through difficult times as well. In November 2019, Barber released a tell-all memoir called  Full Circle: From Hollywood to Real Life and Back Again. In the memoir, the actress opened up about her battle with anxiety and depression on the set of the sitcom. Bure took to Instagram to applaud her friend for her strength, writing, "I'm so proud of @andreabarber for sharing her life story and struggles with anxiety and depression. It's so open and honest and healing for those who read it." 
Barber responded in the comments section writing, "Thank you, my beautiful friend!" At the time of the book's release, Bure revealed to USA Today that even though she had known about Barber's struggles and had tried to be there for her every step of the way, she never knew the extent of her battle. "She told me, 'I didn't know it had gotten that bad.' Like, her heart was hurting. I wasn't really talking about it with anybody," Bure said. "Nobody really knew."
The support between the long-time friends definitely isn't one-sided. When Bure took the stage as a Dancing with the Stars contestant in 2014, she didn't have the easiest of times on the dancing competition. However, Barber showed up every week to support her friend — and make her laugh. At one point during the competition, when Bure was facing elimination for the second week in a row, she invited Barber back to her dressing room to help her relax. The actress left the room for a brief moment and returned to find her friend sporting one of Bure's sparkly, silver competition outfits. "I totally caught her red-handed!" Bure told Us Weekly. "She screamed, and she was like, 'I thought you were going to be longer! I wanted to try on your dress!' It was so funny. We always have so much fun together."
Candace Cameron Bure and Andrea Barber couldn't wait for their on-screen reunion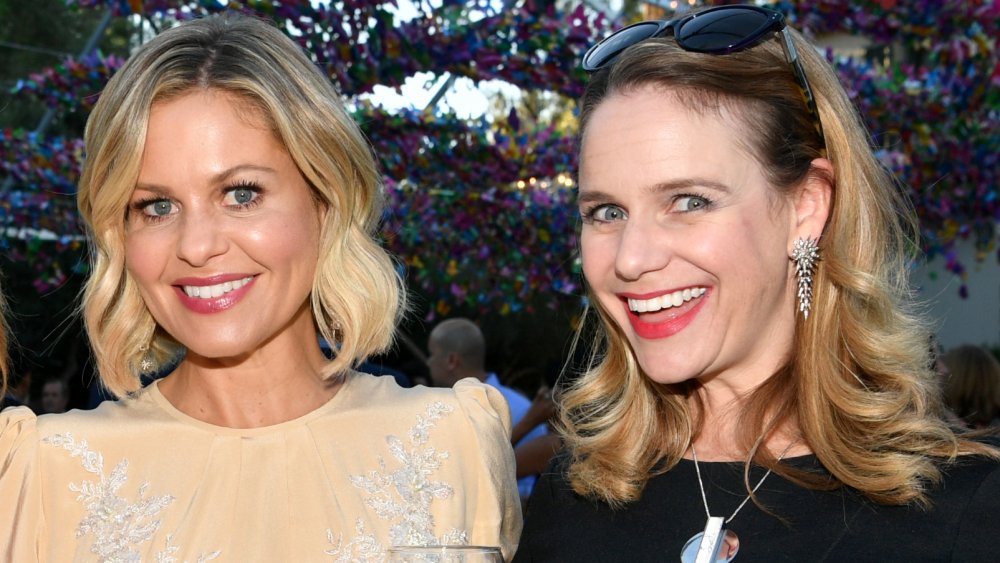 /Getty Images
After keeping their friendship alive for decades off-screen, Candace Cameron Bure and Andrea Barber were ecstatic to reunite on-screen when the sitcom that introduced them got the sequel treatment in 2016. "Are you ready to be best friends again @candacecbure? #FullerHouse @netflix," Barber asked Bure via Twitter ahead of the Full House reboot. Bure responded: "We never stopped." We're not crying, you're crying. 
The reboot allowed the friends to get a little bit more hands-on this time around, with Bure making her directorial debut in 2018 and Barber trying her hand as a Fuller House writer. Even though they're working together again, their friendship is as strong as ever. Bure told Closer Weekly that Barber is super supportive of her directing despite the fact that it kind of means she gets to boss everyone around. "Andrea Barber gave me the nicest compliment last night because she said, 'You're so nurturing as a director.' She said, 'You're always nurturing as a friend, but as a director you're even more nurturing.' I know, as an actor, that's what you want to hear. You want somebody to bring the best out in you and it was just the perfect word that she used. It made my heart swell."
Of Barber's writing debut on the show, Bure had equally kind words taking to Instagram to write, "I couldn't be more proud of my she-wolf @andreabarber for writing her very first episode!!! Congratulations mama!!! You've done some fine work. Love love love you. More laughs to come next week."
Even though the ladies are preparing to say goodbye to D.J. Tanner and Kimmy Gibbler for a second time since Fuller House is coming to an end, there's no doubt that the two's friendship will live on long after their final bows.