What Happened To Tiffany Perez After She Left Black Ink Crew?
On VH1's Black Ink Crew, Tiffany Perez was known for her ambition — and for her fiery temper. The tattoo artist, who was featured on Season 5, got her first tattoo gun as a gift from her father for her 21st birthday. But she's come a long way since her practice rounds inking grapefruits.
Before her episodes of Black Ink Crew aired in 2017, Perez laid out the path that led her to the reality series, as well as her hopes for her life beyond it. "I'm very ambitious and regardless of anything, I'm going to make it to the top," Perez said in the promo clip, adding, "Before the show, I was working hard, making money, and doing yoga. ... once the show airs, I hope to go from being booked to being super-booked." 
Perez also gave a glimpse into a possible professional stumbling point that she never encountered before. Citing the tattoo industry as a "male-dominated industry," she said she wasn't used to working with "females" and all of the "emotions and gossip" that comes along with that. She also said she wanted to focus on her art and avoid the "extra drama and pettiness," but that didn't exactly work out as she frequently beefed with co-star Sky, who she eventually sent to the hospital after a violent wig-snatch.
Perez's drive and focus, combined with her IDGAF attitude may have been why she went on to make waves on the tattoo-centered reality show. 
Tiffany Perez made waves on "How Far is Tattoo Far?"
When we met Tiffany Perez on Black Ink Crew, we got a taste for both her fierce attitude and her dedication to her work. In 2018, she went on to star in and make waves on MTV's How Far is Tattoo Far?, a show in which former friends and frenemies got each other inked with revenge tattoos. Perhaps her most infamous project on the show was a piece called "Stank C**chie," which she inked on one of two girls who dated, but probably never will again based what we're about to describe. The tattoo (shown above), which Perez placed on the woman's inner thigh, depicted a smelly trash can with someone holding his nose next to it. Subtle, no?  
Perez received instant backlash about the tattoo, with show host Snooki even saying during the moment of its reveal, "Girl, I think it's [expletive] up." According to VH1, Perez stood by her work, saying, "I'm just the tattoo artist. I didn't pick the design, I didn't pick the idea, I'm just doing it." Doesn't sound like she much enjoyed doing inking that particular tat. She went on to tattoo Snooki's face on a friend of Snooki's, with the words, "Where's the Beach?' 
Thankfully, aside from the controversies that swirled around her reality TV appearances, Perez has still managed to keep her own tattoo business successful and enjoy many of the other perks that come with being a successful entrepreneur. 
Tiffany Perez is killing it after Black Ink Crew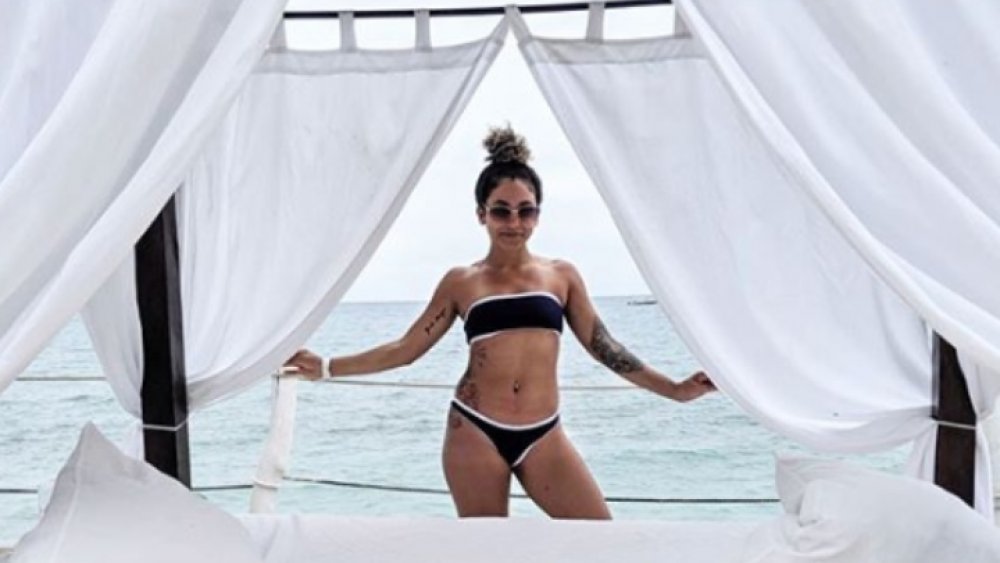 Since her time on Black Ink Crew, Tiffany Perez has gained a ton of Instagram followers, done a lot of traveling, and kept running her own successful New Jersey tattoo shop. 
Perez currently has more than 78,000 followers on Instagram who follow her to keep up with her amazing ink work and out-of-the-office antics. On Insta, she shares photos of the tats she does, in addition to pics of her working out and traveling the world. Perez's Instagram shows off photos of her in Mexico, Costa Rica, Cuba, Colombia, the Bahamas, and other exotic locales. 
On Insta, Perez also publicly celebrated the 6-year anniversary of her own tattoo shop in New Jersey.  Perez first moved back to her home base of New Jersey after college due to "a tragic domestic homicide earlier [that] year resulting in the loss of her aunt whom she was living with," according to her artist bio. This might explain why she returned to the shop after her success on Black Ink Crew. In the time since, she was even paid a special visit by Snooki, who swung by in 2019 to get her son's name inked on her arm (contributing to the Jersey Shore star looking nothing like she used to).
It seems that in spite of the controversy surrounding Perez on Black Ink Crew and How Far is Tattoo Far that the tattoo artist is doing just fine.