Mischa Barton Criticized For Response To Alton Sterling Shooting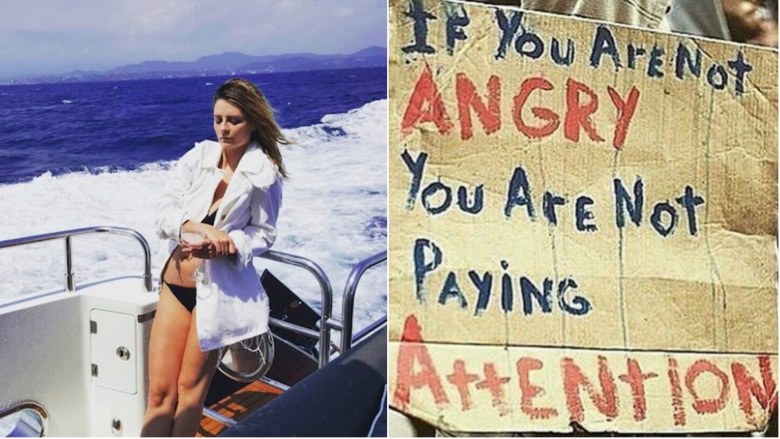 Actress Mischa Barton is facing criticism for her response to the death of Alton Sterling, a black man who was shot by a white police officer in Baton Rouge, La. on July 5, 2016.
"I'm truly heart broken [sic] to watch videos like the #altonsterling execution," the 30-year-old actress wrote. "This may have been going on forever in the United States but thank god the pigs get caught on camera now. Its [sic] unthinkable and an embarrassment to America..." she continued. "Somebody make change. We need gun control and unity. And a real President so [sic] think about when this election is around the corner. The world is a precarious place right now."
Now, we know what you're thinking. Despite a few typos, that was a relatively harmless and sincere message, no? Well, sure. Except for the fact that Barton posted the caption alongside a photo of her cruising on a yacht in a bikini holding a glass of wine. The actress seemingly attempted to legitimize the photo by closing her eyes and looking somber, but...no. The damage was done.
"This is so tone deaf," wrote Instagram user androidqueen (via Page Six). "Please reconsider how you are making this tragedy about you, asking 'someone' to fix the problems, rather than seeking out constructive ways to actually make a difference."
"Sorry Black men being murdered ruined your vacation," wrote another.
Barton has since deleted the post. On July 8, 2016, in the wake of the mass shooting at a protest in Dallas, Texas, Barton posted a photo of a cardboard sign that read, "If you are not angry, you are not paying attention" (via Entertainment Weekly). Her since-deleted caption said, "All lives matter," with a black broken heart emoji. That post didn't sit too well with her Instagram followers, either.
She later tweeted, "I'm human, I'm not perfect, and I'm sorry if my Instagram post went out of context. I didn't mean to offend anyone."
Barton became an overnight sensation in 2004 thanks to the FOX teen drama The O.C. She recently competed on Dancing with the Stars.