The Real Reason Rihanna Hates JLo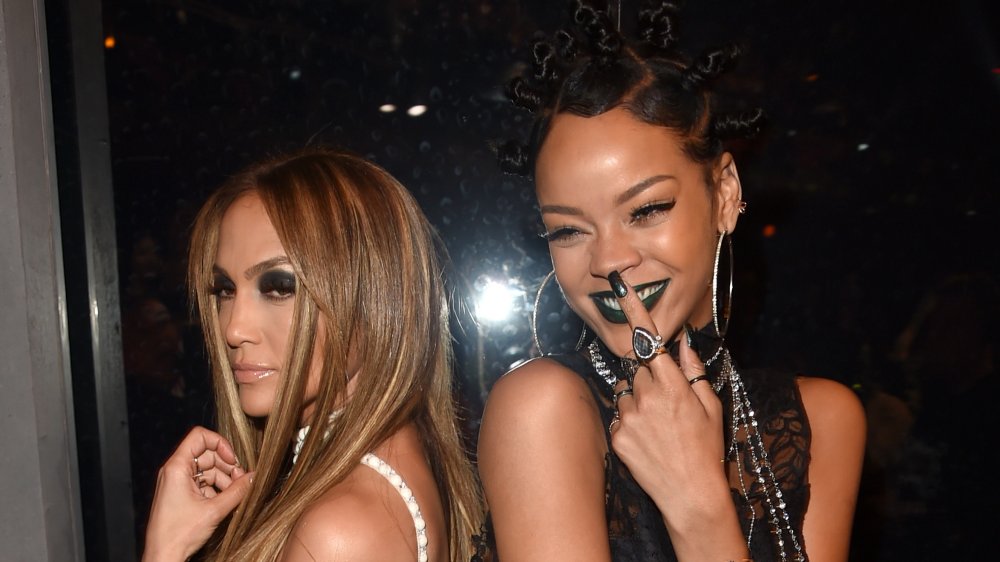 Jason Merritt/term/Getty Images
Being on Rihanna's bad side doesn't sound like a fun time for anyone. The Barbados-born beauty, who is known to have a shady side to her, certainly isn't one to back down when it comes to throwing shade at whoever comes into her crossfire.
In fact, the "Love on the Brain" crooner's feuds have been highly publicized, like the time she found herself fighting back on Twitter after Donald Trump supporter Azealia Banks slammed her for disagreeing with the president's immigration ban. Not one to back down even when there are more controversial issues at hand, she also fired back at troubled former child star, Amanda Bynes, after she published racist tweets about the singer. However, considering Bynes' mental health struggles have been highly publicized, RiRi maybe should have just let that one go.
Another target on the Fenty creator's hit list? Jennifer Lopez. Although the duo were once close pals, their feud suddenly became a whirlwind of a love triangle and has lasted to this day. Let's get to the bottom of the real reason Rihanna hates JLo.
Drake started Rihanna and JLo's beef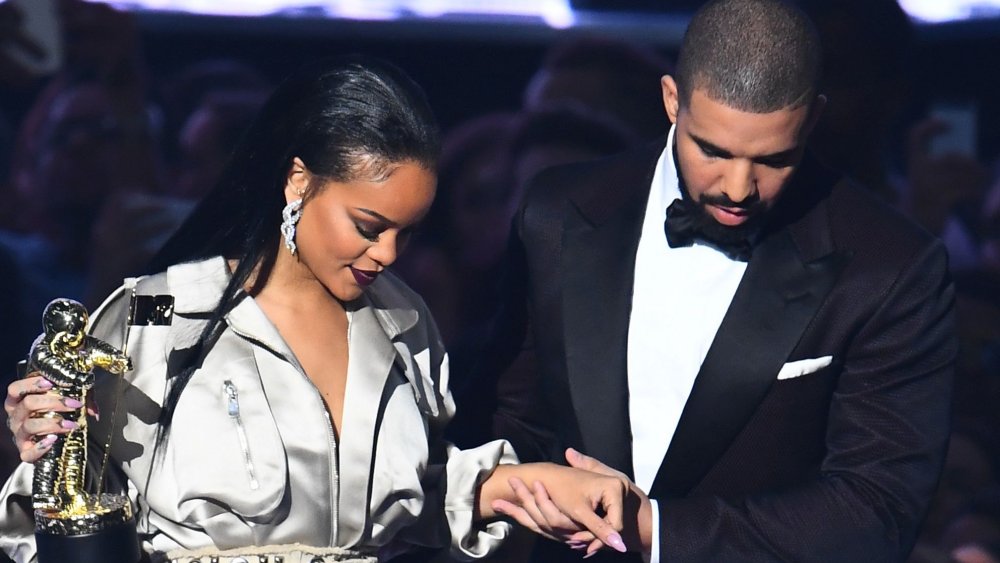 Jewel Samad/Getty Images
Although there's a number of stars who can't stand Jennifer Lopez, Rihanna certainly wasn't one of them — until Lopez committed the ultimate sin: she broke girl code. First off, let's rewind.
Drake and RiRi have a longstanding history, from creating steamy music videos together, to that awkward MTV Video Music Award moment where Drizzy professed his longtime love for the singer. The two made their romance official in July of 2016, yet by October, had called their summer romance quits. Drake, always one to swiftly move on, was already spotted with another woman, as revealed by E! News. Suddenly, by December, the rumor mill started turning, as JLo posted a cryptic photo on Instagram of Drake showing up to surprise her at one of her concerts. By the end of the month, they pretty much confirmed they were dating, with photos on Lopez's page seeing the two in an intimate embrace.
According to an insider who spoke to In Touch, Rihanna viewed the whole debacle as "the ultimate betrayal" calling JLo a "traitor" and claiming she was "very hurt." It makes sense considering the two were quite close friends once, with RiRi even gifting the Bronx-native boots and calling her "the baddest" only months before she got together with Drake. In a final pièce de résistance, Rihanna decided to unfollow Lopez on Instagram.
Will Rihanna and JLo ever make amends?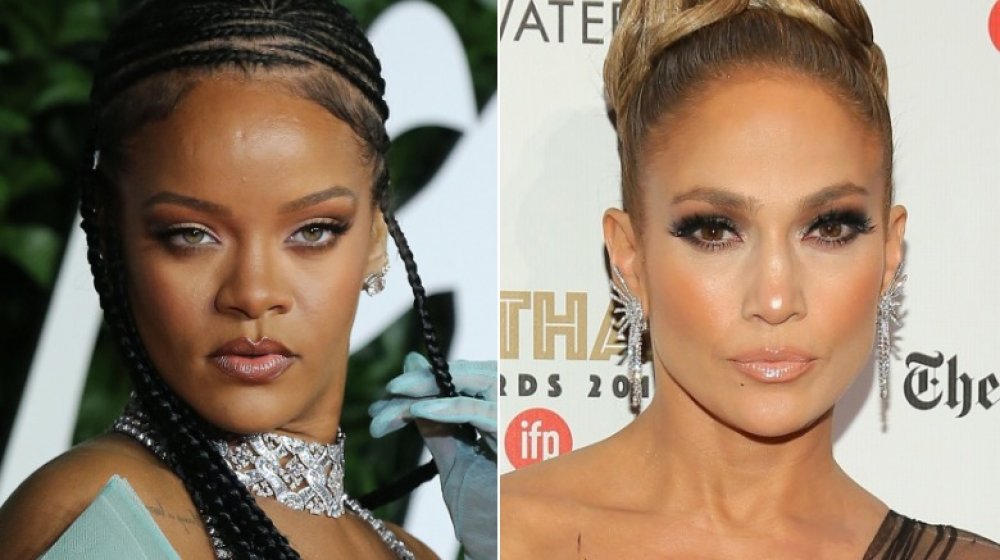 Isabel Infantes, Jemal Countess/Getty Images
Times have certainly changed since 2016's "ultimate betrayal." Jennifer Lopez is currently with Alex Rodriguez, with the two engaged as of 2019. RiRi and Drake, meanwhile, seem to finally be on relatively okay terms, having been spotted partying together at a 2019 Oscars party hosted by Beyonce and Jay-Z. As an insider dished to E! News, "They weren't hanging out the entire night, but did say hello, were cordial and interacted for a moment."
So, it's water under the bridge between Rihanna and the "Papi" singer, right? Well, not quite. As of October 2019, it looks like RiRi is still salty about JLo's disloyalty, as she reignited her feud during an interview with Vogue (via The Sun). According to the mag, when asked why she turned down performing at the 2020 Super Bowl, Rihanna responded, "I couldn't dare do that." Referencing former NFL star Colin Kaepernick's apparent blacklisting from the league after his now-infamous kneeling protest during the playing of the national anthem, RiRi explained, "I just couldn't be a sellout. I couldn't be an enabler. There's things within that organization that I do not agree with at all." 
What does that have to do with JLo? She's performing alongside Shakira for the halftime show Rihanna turned down. Now, while it's uncertain whether or not Rihanna was directly taking digs at her former friend, it's safe to say that indirectly calling her a "sellout" doesn't exactly mean the two are going to be linking up anytime soon.