Harry Potter Cast Reunites In Time For The Holidays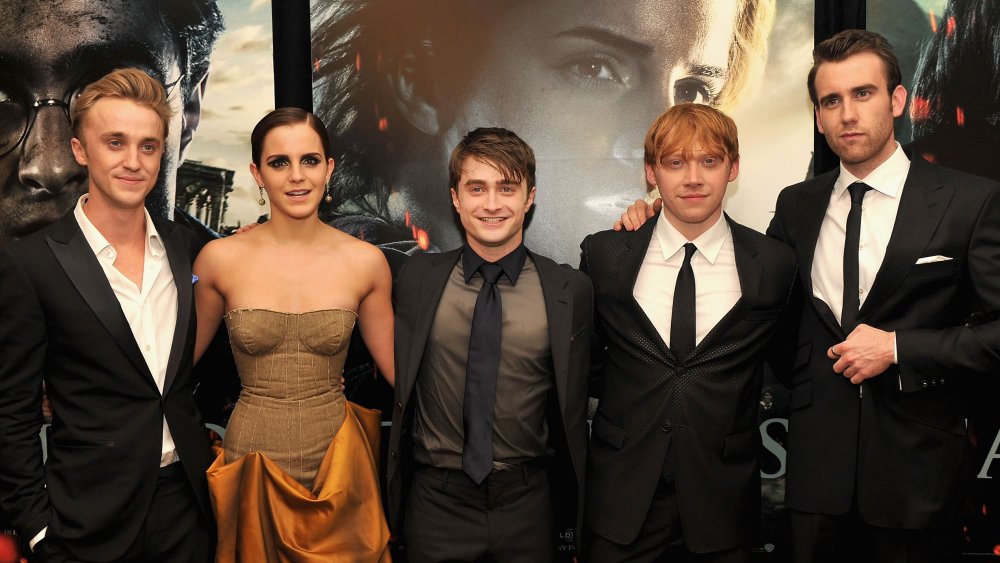 Stephen Lovekin/Getty Images
The Harry Potter films may have come out years ago, but fans are still eager to find out what the movies' stars are doing today. And despite the fact that Daniel Radcliffe has found himself caught up in weird behavior and Rupert Grint can't seem to get hired in Hollywood, fans would still surely love them to get back together for a new film (a rumor which the cast addressed while sharing their thoughts on reprising their roles). But for now, we'll happily settle for the recent holiday reunion that included several members of the Harry Potter cast.
Emma Watson (who appeared in the films as Hermione Granger) took to Instagram on December 18, 2019, to share a photo of herself along with Tom Felton and Matthew Lewis (who played Draco Malfoy and Neville Longbottom, respectively) posing with Evanna Lynch (who you might recognize as Luna Lovegood) and Bonnie Wright (A.K.A. Ginny Weasley). While we don't know the full story behind the get-together, it's safe to assume that it was related to the holidays, as Watson added a festive caption, writing, "Merry Christmas from us."
Lewis shared a slightly different version of the image along with a cheekier note, writing, "Roses between two thorns..." The caption refers to the fact that the ladies were standing between himself and Felton. Felton shared both pictures, writing, "Seasons greetings from my school mates. @mattdavelewis & I mid debate x #gryfindorVSslytherin." And they're not the only ones who shared the sweet photo.
What are Evanna Lynch and Bonnie Wright doing now?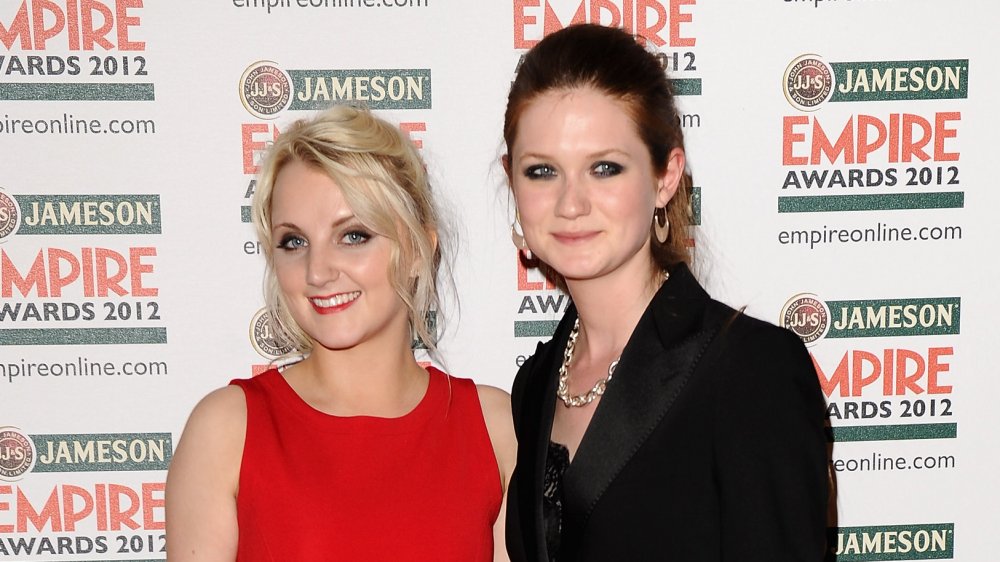 Ian Gavan/Getty Images
Evanna Lynch and Bonnie Wright also hopped onto Instagram to post shots of the holiday Harry Potter reunion. Wright popped up the image with the apt caption, "time turning." Lynch shared it with the understandable message, "AS IF I'm not going to repost this." While both actresses appear to be happy to be with their former costars, this is likely a short break in the schedule for the stars who have remained busy since their days at Hogwarts.
Lynch has worked steadily since playing Luna Lovegood, working in the theater as well as appearing in the Sky1 series Sinbad in 2012 and the 2015 film My Name Is Emily. More recently, she's popped up in various short productions, including Lucia Joyce: Full Capacity and Middle School Moguls, while also narrating Behind the McChicken Wrapper.
While Wright is still taking on acting roles as well, she's also now directing. If you want to see what she can create from behind the scenes, check out 2018's Medusa's Ankles. Adapted from a short story by AS Byatt, The Guardian explains that it "stars Kerry Fox as a woman disconcerted by the signs of aging — particularly her greying hair, which she is determined to keep 'natural' — and Jason Isaacs as a charismatic, bullying hairdresser with whom she has a fraught, fractious relationship." Wright is obviously still making magic onscreen.