The Truth About Kenan And Kel's Relationship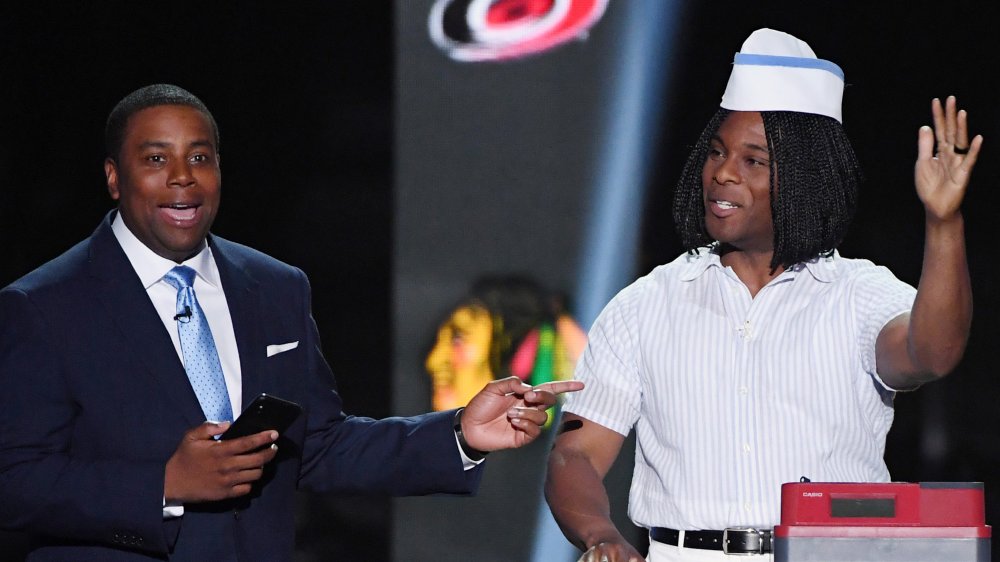 Ethan Miller/Getty Images
Kids that grew up in the late 1990s and early 2000s know the popularity of Nickelodeon stars. The kids-only network was so successful that it actually served as a springboard for stars like Ariana Grande and Emma Roberts who have gone on to have successful careers post-Nickelodeon. 
While every Nick fan had a show they'd specifically tune in for, Kel Mitchell and Kenan Thompson's Kenan & Kel was a favorite across the board. The two funnymen met back in 1994 when they starred in the sketch comedy series, All That. Due to the duo's popularity, by 1996 they were filming their eponymous television series which ran for four seasons, eventually wrapping in 2000. Mitchell and Thompson also landed the spinoff flick Good Burger, which was based on their iconic All That skit. 
In the early days of their careers, Mitchell and Thompson were almost inseparable. In 2019, while reflecting on his Nickelodeon days, Thompson told Today their was an instant connection between the two. "It was the first time I met this dude ... meeting someone else who had the same kind of dreams and aspirations that I had ... it was just amazing." Considering the fact that so much time has passed and both actors have had their ups and downs over the years, here's the truth about Kenan and Kel's relationship.
Kenan and Kel spent quite a few years apart
It was only logical that two aspiring comedians on a children's network would try and migrate to the highest level of sketch comedy: Saturday Night Live. As it turns out, Kel Mitchell and Kenan Thompson both auditioned with hopes of joining the SNL cast. Spoiler alert (not): Thompson got the gig. In fact, he's since become SNL's longest-tenured cast member. As for Mitchell? His audition was a total disaster.
As the two former besties started drifting apart due to their careers going in different directions, rumors of a feud started circulating. It didn't help that Mitchell added fuel to the fire in 2012 when he spoke to TMZ about his former co-star. "The truth is Kenan does not want to be seen with me in any form of media, or even have my name mentioned around him," he revealed. While that might sound super shady, Mitchell went on to say, "I have not been upset about this. I respect his choice of wanting to make a name for himself solo."
In 2015, the two made an appearance on The Tonight Show where they reprised their Good Burger roles for a sketch with Jimmy Fallon. As the crowd went wild, it was evident that whatever happened between the two was finally put to rest. "It was weird to see him because I hadn't seen him in 10 years," Thompson told HuffPost, adding that it felt like "comfortable shoes." Mitchell called the moment "emotional" saying, "It was just us."
Kenan and Kel are working together again
Clearly, Kenan Thompson and Kel Mitchel's reunion was enough to make them realize they wanted to work together again. During an interview with  The Breakfast Club in 2018, Thompson finally admitted that, at one point, there was a rift between him and his former bestie. However, despite drifting apart for several years, the two found their way back to each other. "We had a long talk, like a year or so ago ...everything is great ... we're close like we should be."
In 2019, All That returned to Nickelodeon after getting the reboot treatment. The icing on the cake? Both Thompson and Mitchell signed on as executive producers. "The fans really brought it back," Mitchell told Complex in 2019. "Everywhere we go, they're still talking about it." They don't have a problem with passing the torch to a younger generation, either. "We've been through it," Mitchell explained. "To be able to give the kids that advice and tell them what to do, it's been pretty awesome."
It's pretty evident that the two former child stars appreciate the network that launched their careers and introduced them to each other also those years ago. "I always valued those times, 'cause it's our blood, sweat, and tears," Thompson dished to HuffPost. "And it's my childhood, as well as anybody else's."