Why Ricky Gervais Hosting The Golden Globes Was Even More Shocking Than Expected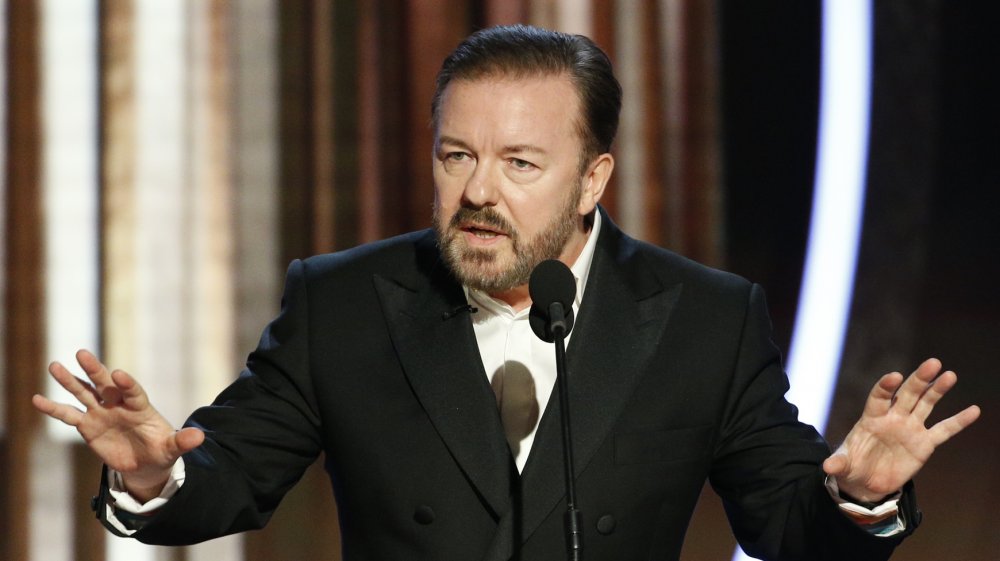 Handout/Getty Images
Ricky Gervais is known for his iffy (and sometimes offensive) humor, which is why it was a bold choice to bring him on as the host of the 77th Golden Globe Awards ceremony. Gervais certainly served up a helping of cringe-worthy jokes that had celebs squirming in their seats during the live broadcast on Jan. 5, 2020. In fact, his performance was even more shocking than many might have expected.
A fair share of Gervais' jokes were bleeped out by those behind the scenes — who were obviously ready to censor the speech. That may have been the right choice considering the host didn't hold back when targeting both the industry and its stars, including many in attendance, such as Leonardo DiCaprio. The Once Upon a Time in Hollywood actor merely grinned as Gervais joked about Leo's tendency to date younger women: "Leonardo DiCaprio attended the premiere [of his film], and by the end, his date was too old for him."
Gervais gained an even stronger reaction from the audience when he mentioned the means by which he traveled to the event. "I came here in a limo tonight and the license plate was made by Felicity Huffman," he quipped, referring to the actress who served time for her involvement in a college admissions scam. Even Tom Hanks was visibly shocked by what he heard, delivering a meme-worthy range of expressions that perfectly captured what many people were feeling...
Tom Hanks's face wins the internet at the Golden Globes
YouTube
Gasps and guffaws could be heard from the crowd at the Beverly Hills Hotel as Ricky Gervais delivered his opening speech, which took on everything from the lack of diversity at the awards to controversial figures in the business. But it's Tom Hanks who may become one of the big memes of 2020, thanks to his wide range of reactions in response to the host's dicey humor.
One Twitter summed it up perfectly with a collection of shots showing Hanks' expressions throughout Gervais' monologue and the following caption: "I'm riveted by the flabbergasted, frozen, or utterly horrified expressions of some Hollywood stars during Ricky Gervais' #GoldenGlobes opening monologue but no-one looked more appalled than #TomHanks." Others suggested the rich and famous were squirming because the jokes really hit home. "Amazing how much nervousness truth actually causes," one viewer tweeted.
Whether Gervais' jokes were accurate or not, perhaps the English comic was simply "trying his best to not come back next year." As he said repeatedly during his 2020 Golden Globes monologue, "I just don't care."