Felicity Huffman Sentenced To 14 Days In Prison For College Scam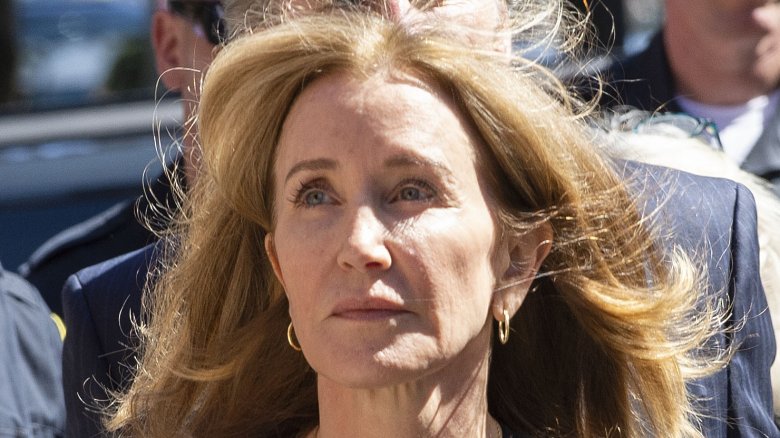 Joseph Prezioso/Getty Images
Felicity Huffman was sentenced to 14 days in prison for her role in Operation Varsity Blues, what authorities dubbed the largest college admissions bribery scandal ever prosecuted in the United States, CNN reported on Friday, Sept. 13, 2019. Following her March 2019 arrest, the Desperate Housewives star pleaded guilty to conspiracy to commit mail fraud and honest services mail fraud. Huffman admitted to paying $15,000 to William "Rick" Singer, the mastermind behind the widespread scam, in order to have a test proctor correct answers her daughter's SAT.
Huffman, who appeared in court in Boston, Mass. with about a dozen loved ones (including her husband, Shameless star William H. Macy), will also be on probation for a year and must pay a $30,000 fine and perform 250 hours of community service. The fine is $10,000 more than the $20,000 her attorneys requested, while the 14 days is less than half of the month that prosecuted asked she serve. She was the first of 30 parents in the scandal to be sentenced.
Huffman will have to turn herself in on Oct. 25, 2019 to serve her prison time.
Part of why prosecutors wanted the judge to throw the book at Huffman, NBC News reports, is to point out the alleged disparities between the treatment of wealthy white citizens versus people of color and lower socioeconomic status in the criminal justice system. The prosecution invoked the case of an African American single mom from Akron, Ohio, named Kelley Williams-Bolar. After falsifying documents to enroll her own daughters in a better school district than the one their legal residence provided, she served nine days in jail on two felony convictions.
Williams-Bolar herself said of the wealthy elites involved in the college admissions scandal, "They already had so much and just wanted more." However, she added, "Mothers want good education for their kids. That's what we have in common."
For her part, Huffman echoed Williams-Bolar's latter sentiment in a three-page letter ahead of her sentencing, writing in part, "In my desperation to be a good mother I talked myself into believing that all I was doing was giving my daughter a fair shot" (via Entertainment Tonight). She added, "I see the irony in that statement now because what I have done is the opposite of fair. I have broken the law, deceived the educational community, betrayed my daughter and failed my family."
Both Macy and Huffman's Desperate Housewives co-star Eva Longoria also wrote letters in support of Huffman in hopes of a more lenient sentencing. Macy expressed that their family life had imploded after the incident and their daughter was heartbroken, while Longoria provided a character testimonial for Huffman about how the Transamerica star stood up for her during salary negotiations at ABC.
TMZ reports that, while in court, Huffman told the judge, "I am deeply sorry to the students, parents, colleges and universities impacted by my actions. I have inflicted more damage [on her daughter] than I could've ever imagined ... I was frightened, I was stupid and I was so wrong. I am deeply ashamed of what I have done."
According to People, Huffman tearfully recalled discussing her arrest with her daughter: "One of the hardest things I've had to face after my arrest is when my daughter found out what I had done and she said to me, 'I don't know who you are anymore, Mom.' And then she broke down and asked, 'Why didn't you believe in me? Why didn't you think I could do it on my own?' I had no adequate answer for her then. I have no adequate answer for her now. I can only say: I am so sorry, Sophia. I was frightened, I was stupid, and I was so wrong."
A source close to Huffman told People that the actress was "humbled" by the verdict and sentence and that she sees it as neither a "victory nor a defeat," simply that she accepts it is what is — and that she hopes the public, as well as those close to her, will eventually forgive her for the transgression.
After her sentencing, Huffman released a statement further expressing her remorse for her actions. "I broke the law. I have admitted that and I pleaded guilty to this crime. There are no excuses or justifications for my actions. Period," the statement read. "I would like to apologize again to my daughter, my husband, my family and the educational community for my actions. And I especially want to apologize to the students who work hard every day to get into college, and to their parents who make tremendous sacrifices supporting their children."
She continued, "I can promise you that in the months and years to come that I will try and live a more honest life, serve as a better role model for my daughters and family and continue to contribute my time and energies wherever I am needed. My hope now is that my family, my friends and my community will forgive me for my actions."
What does that all mean for Lori Loughlin, who was also charged in this scam but didn't accept a plea deal? Find out here.