Inside Tara Reid's Relationship With Boyfriend Nathan Montpetit-Howar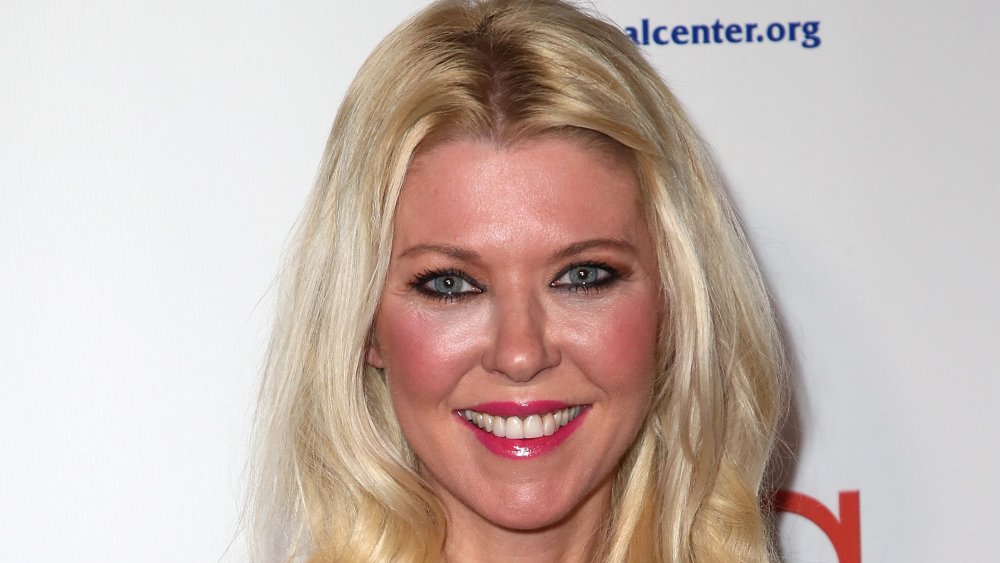 David Livingston/Getty Images
From the raunchy teen movie American Pie to the girl group-fronted Josie and the Pussycats to the made-for-TV disaster flick series Sharknado, Tara Reid's acting career has included some pretty memorable movie roles. And while her level of fame has fluctuated over the years, she's bounced back from harsh criticism of her plastic surgery, failed relationships, rumors of heavy-partying, and more. Nowadays, Reid seems happier than ever, especially when it comes to her love life.
If you're unfamiliar with Reid's current boyfriend, Nathan Montpetit-Howar, don't feel too bad — he doesn't have quite the same name recognition as some of her famous exes. Her dating history includes a rumored fling with Patriots quarterback Tom Brady (yes, really!) and a fizzled engagement with TRL alum Carson Daly. However, just because fans don't know every single detail about the new-ish pair just yet, that doesn't mean they're not serious. In fact, there are quite a few signs that Reid and Montpetit-Howar are going strong.
Tara Reid and Nathan Montpetit-Howar have the "most amazing time" together
Tara Reid made her relationship with Nathan Montpetit-Howar Instagram official in September 2019. The 44-year-old actress shared a vacation photo gallery with Montpetit-Howar, writing, "Having the most amazing time with my man in Cabo." Fans were supportive of the relationship with IG comments like, "This makes me so happy!" and "you two look amazing." That same month, Reid spoke to Page Six about her boyfriend. "Nate and I have known each other for years and have recently started dating," she said. "It's [the] early days but we love spending time together."
Per his Instagram bio, Montpetit-Howar is the "Co-founder and VP of studio sound technology company Phantom Acoustics," which he deems "the future of true studio sound." His page also mentions that he's a music producer and manager. While he hasn't posted any overly romantic, gushy posts about his girlfriend, Montpetit-Howar did share videos from the Cabo trip with Reid, which, apparently, was in celebration of his friend's birthday.
Could another engagement be in Tara Reid's future?
Wedding bells may be on the horizon for Tara Reid and Nathan Montpetit-Howar. In May 2019, an insider told the Daily Mail, "They're very close to getting engaged. I think it will be in the next couple of months — he's searching for the perfect ring." While it's been more than a couple of months since that quote came out, that doesn't mean it's not still a possibility.
Calling Reid "lucky," that same source said Montpetit-Howar is a "great guy," explaining, "'He's the kind of guy who can be there for her. He's had so much loss and heartbreak too — he's lost both parents and his best friend." One of his friends echoed that sentiment, telling the Daily Mail, "To know him is to love him. People gravitate towards him and he is just the nicest guy." Apparently the couple, who, at the time of this writing, have been together for more than a year, met "on the club scene," which makes sense since Montpetit-Howar also works as a club promoter.
Only time will tell if Reid and Montpetit-Howar end up getting engaged, but all that matters is that they're enjoying each other's company — and those beautiful Cabo beaches — in the meantime.