Kobe Bryant's Last Game Speech Is Heartbreaking To Listen To Now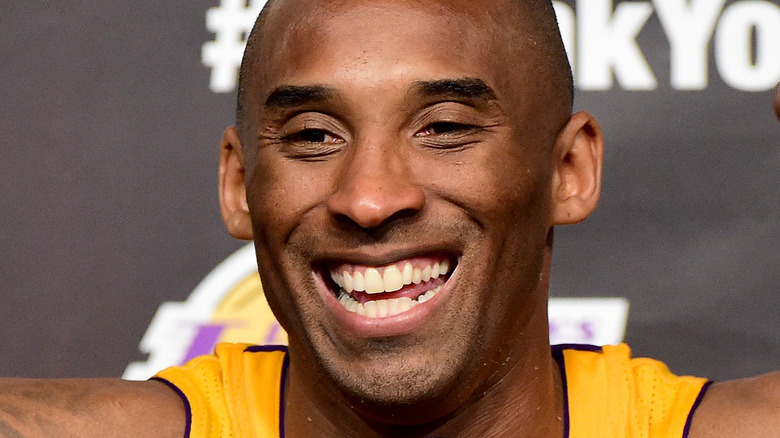 Harry How/Getty Images
Following Kobe Bryant's tragic death, the NBA star's career is being looked at in a whole new light. That includes Bryant's speech at his last game, as well as the poem he wrote to announce his retirement as a Los Angeles Laker. His words, which are worth revisiting, feel especially poignant right now and may even provide comfort in an otherwise senseless situation.
Before diving into those now-heartbreaking words, let's quickly recap what we know so far about his passing: Bryant was one of nine people aboard a fatal helicopter crash in Calabasas, Calif. on the morning of Sunday, Jan. 26, 2020. His fellow passengers included his 13-year-old daughter, Gianna, as well as multiple other families. The cause of the crash remains under investigation, but many are citing the foggy weather conditions. 
No matter what caused the accident, it's undeniably been a lot for the sports world and fans to grapple with. Now, let's look back at a few of the impactful moments in Bryant's basketball career.
Kobe Bryant called his basketball career 'absolutely beautiful'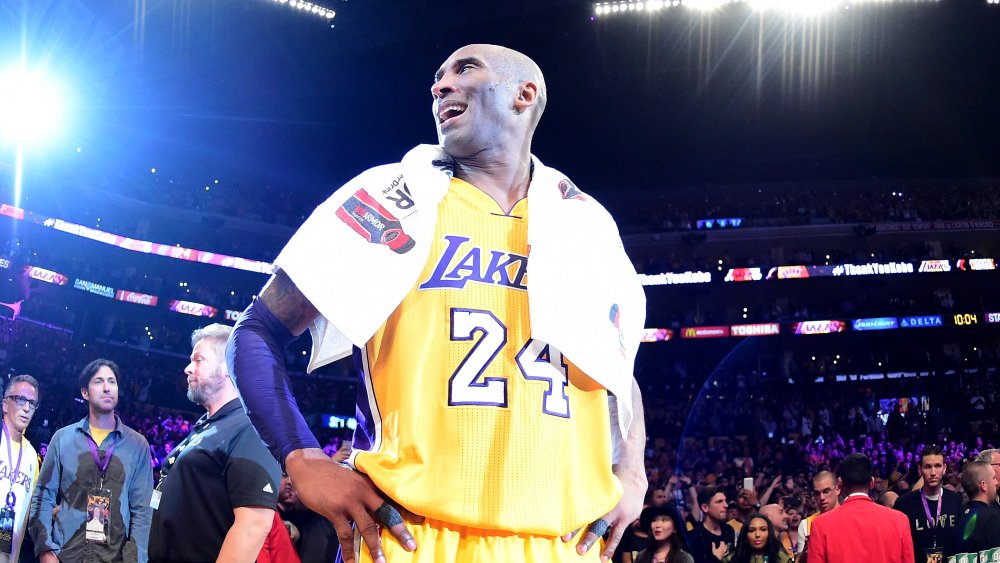 Harry How/Getty Images
Saying goodbye to a game he loved so much probably wasn't easy for Kobe Bryant, but he did it with grace. At his final NBA game on April 13, 2016, Bryant scored 60 points for the Los Angeles Lakers and followed that up with a speech about what the moment meant to him. As seen in a video shared on NBA on ESPN's YouTube, he began, "I can't believe how fast 20 years went by. Man, this is crazy... We've been through our ups, we've been through our downs. I think the most important part is that we've all stayed together throughout."
Describing himself as a "diehard Laker fan" growing up, getting to wear that jersey meant everything to him. "To spend 20 years here, you can't write something better than this," he said. "And I'm more proud of the fact that it's not about the championships, but about the down years because we didn't run. We played through all that stuff." And it's true — during his two decades with the Lakers, there were plenty of ups and downs, including a rivalry with Shaquille O'Neal that later turned into a great friendship.
Kobe Bryant thanked his family for their 'sacrifices'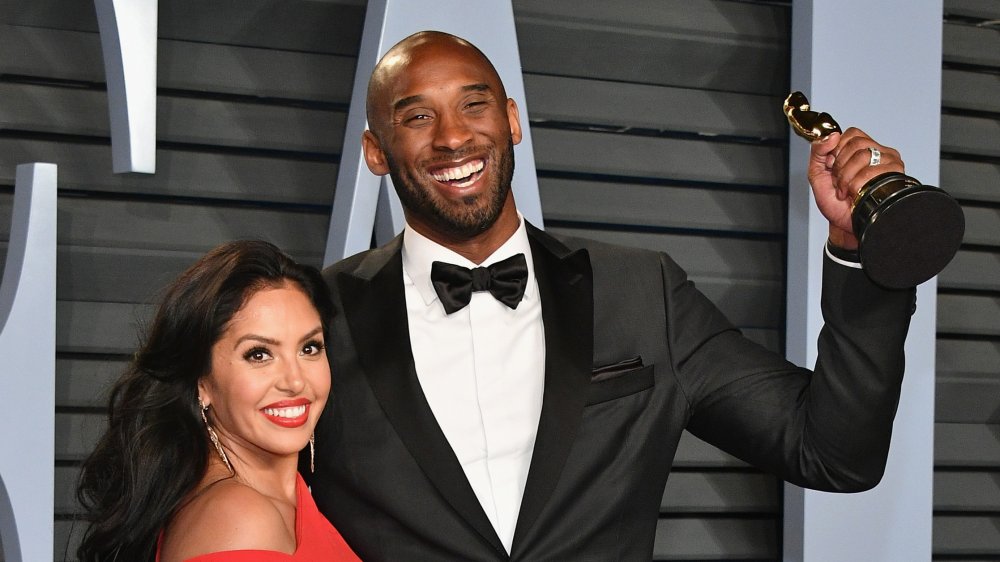 Dia Dipasupil/Getty Images
During the speech at his final game, Kobe Bryant took a moment to thank his fans for all their support, motivation, and inspiration over the years. He also shouted out his wife Vanessa Bryant and their daughters for "all [their] sacrifices" while he spent hours playing basketball or training for the game. The couple had four children together: Bianka, Gianna, Natalia, and Capri.
Thanking his wife specifically, Bryant added, "And Vanessa, you holding down the family the way that you have, there's no way I can thank you enough for that." That's especially heartbreaking to read in the wake of Bryant and Gianna's deaths, since Vanessa will now be holding down the family in a whole new way.
Before ending with an iconic "Mamba out," Bryant said to the fans, "This has been absolutely beautiful, you guys. I can't believe it's come to an end. You guys will always be in my heart and I sincerely, sincerely appreciate it. No words can describe how I feel about you guys. Thank you, thank you from the bottom of my heart. God, I love you guys." And with that, his legacy lives on.
To announce his retirement, Kobe Bryant wrote a moving poem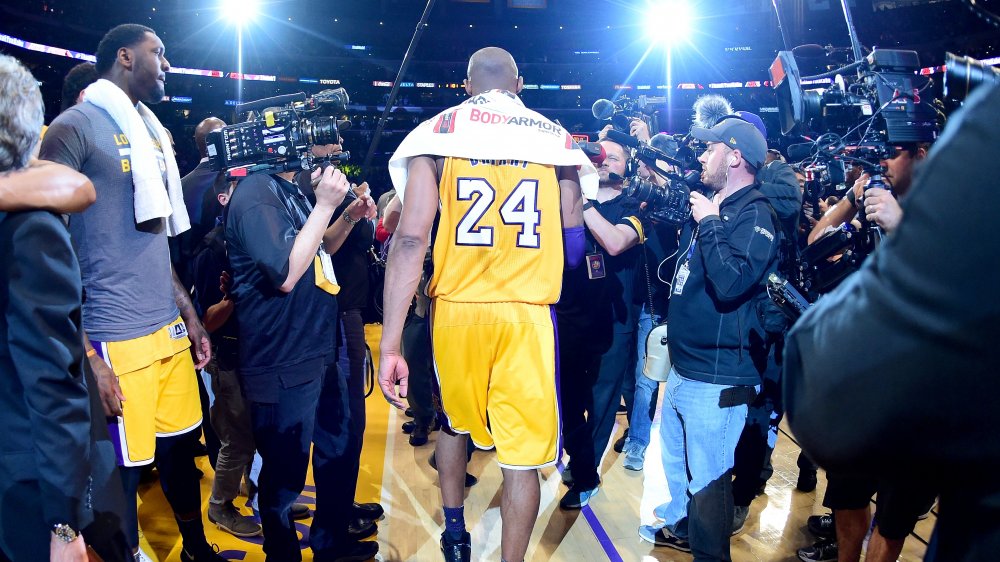 Harry How/Getty Images
In revisiting Kobe Bryant's last game speech, it's also worth looking back at the way he announced his retirement in the first place. In November 2015, Bryant shared a poetic farewell on Derek Jeter's site The Player's Tribune. The poem begins as a letter to the sport itself, "Dear Basketball, / From the moment / I started rolling my dad's tube socks / And shooting imaginary / Game-winning shots / In the Great Western Forum / I knew one thing was real: / I fell in love with you. / A love so deep I gave you my all — / From my mind & body / To my spirit & soul."
He then recalled how he fell so hard for the game. Bryant wrote, "As a six-year-old boy / Deeply in love with you / I never saw the end of the tunnel. / I only saw myself / Running out of one. / And so I ran. / I ran up and down every court / After every loose ball for you. / You asked for my hustle / I gave you my heart / Because it came with so much more." As the poem makes clear, he gave his all to the game because the satisfaction he received outweighed any of the struggles.
Kobe Bryant's poem made peace with goodbye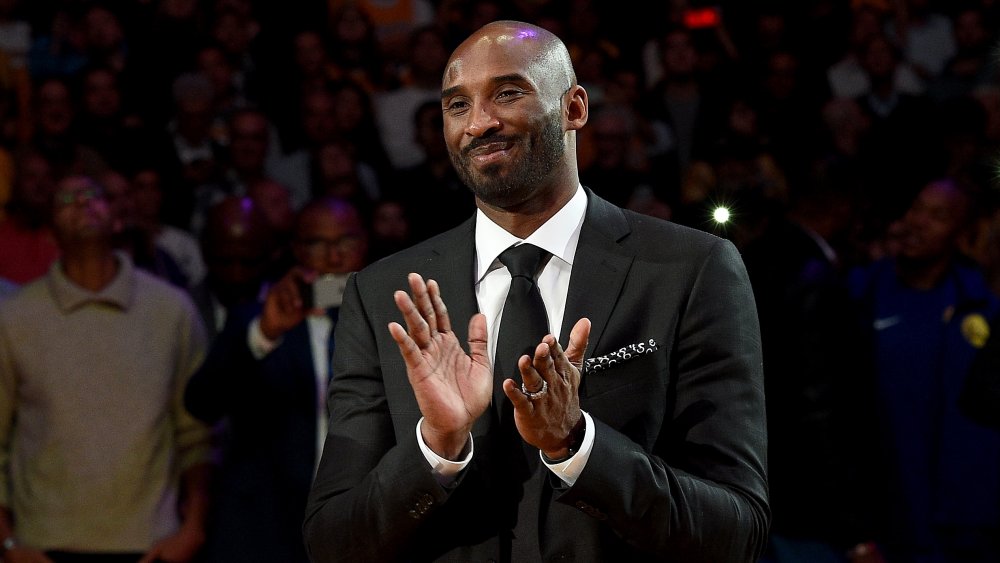 Kevork Djansezian/Getty Images
Although playing basketball was clearly Kobe Bryant's passion, his farewell poem also acknowledged that not all good things last forever. He wrote, "You gave a six-year-old boy his Laker dream / And I'll always love you for it. / But I can't love you obsessively for much longer. / This season is all I have left to give. / My heart can take the pounding / My mind can handle the grind / But my body knows it's time to say goodbye."
By the end of the poem, he came to peace with his decision: "And that's OK. / I'm ready to let you go. / I want you to know now / So we both can savor every moment we have left together. / The good and the bad. / We have given each other / All that we have."
Bringing things full-circle, he concluded, "And we both know, no matter what I do next / I'll always be that kid / With the rolled up socks / Garbage can in the corner / :05 seconds on the clock / Ball in my hands. / 5 ... 4 ... 3 ... 2 ... 1. Love you always, Kobe." He clearly loved the sport and it loved him right back.
That farewell poem earned Kobe Bryant an Oscar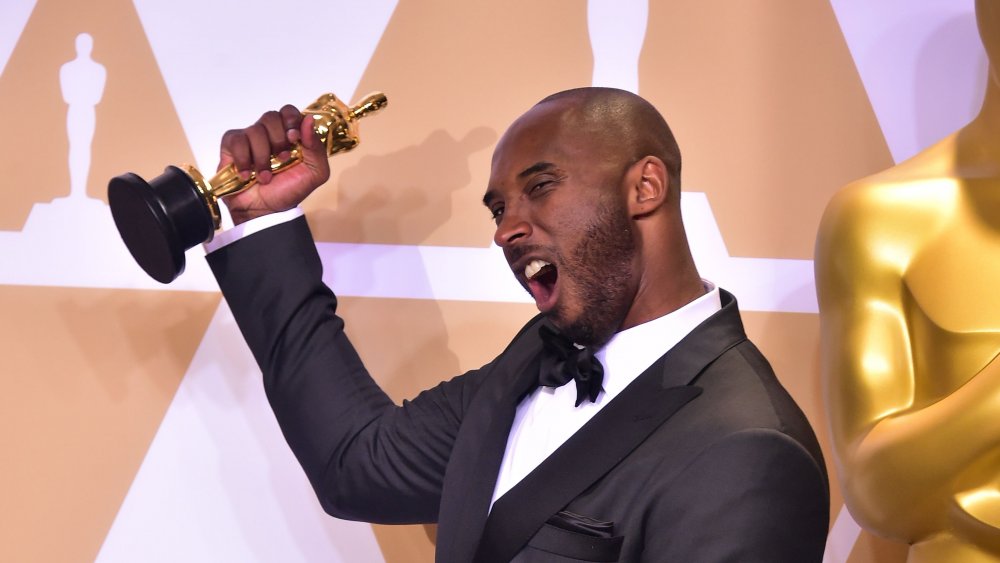 Frederic J. Brown/Getty Images
Kobe Bryant's farewell poem went on to become a short called "Dear Basketball," which was animated by Glen Keane. The video earned an Oscar nomination for Best Animated Short Film and ultimately took home the prize in 2018. Bryant told Deadline in December 2017, "I love storytelling and writing and producing, and working with other young talent to bring stories to life to either inform or inspire or challenge the next generation."
In his acceptance speech, Bryant said (per ABC), "As basketball players, we're really supposed to shut up and dribble, but I'm glad we did a little bit more than that." ABC reported that post-win, he also said, "My little 11-year-old Gianna goes, 'Well Dad, you always tell us to go after our dreams so — man up.' She's 11. Man up. So I had to man up and go for it." 
The fact that Gianna inspired Bryant to chase that dream makes the loss of both all the more heart-wrenching. But as his words make clear, Bryant appreciated everything basketball gave him — and the people who were there along the way.