Why People Were Gambling On Demi Lovato's National Anthem At The Super Bowl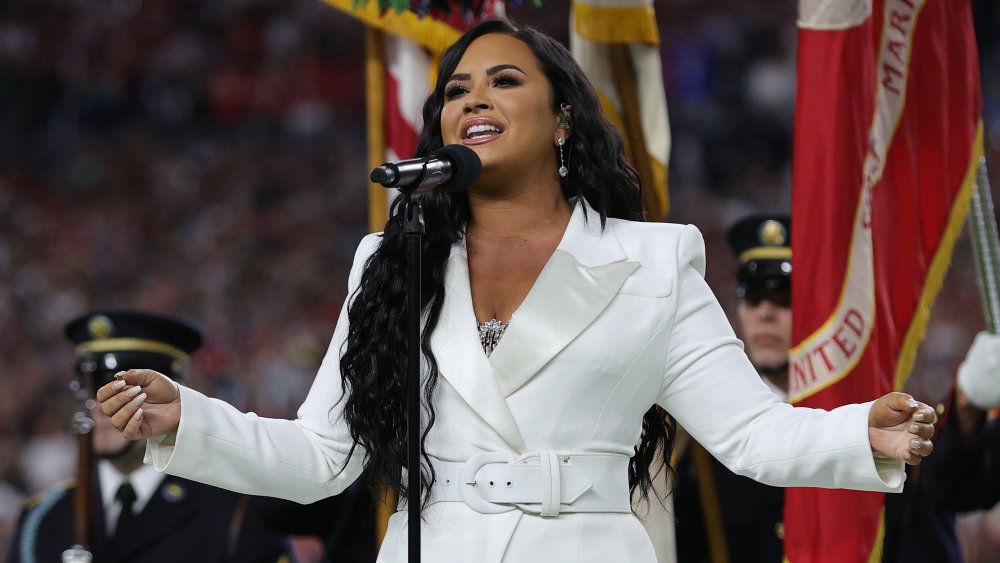 Tom Pennington/Getty Images
Ever since sports betting went legit in 2018, oddsmakers have started dreaming up wacky prop bets that have nothing to do with any on-field action. This year alone, you could place bets on the Super Bowl halftime show (What songs will Jennifer Lopez and Shakira perform? Who will join them on stage? What language will they sing in?) or wager on the Gatorade dump (What flavor sports drink?) You could even gamble on the number of times President Donald Trump would tweet on Super Bowl Sunday (via Arizona Sports).
Some of the most popular prop bets for Super Bowl LIV had to do with the national anthem, which was performed by former Disney Channel star Demi Lovato. While the top prop bet surrounding Lovato's performance seemed to be what length it would clock in at, Sporting News also listed possible wagers regarding the color of her microphone, the color of her hair, and whether members of the military would be on-camera during the performance.
Bleacher Report also noted speculation over Lovato's wardrobe choice – gown or pantsuit? You could even get odds on whether she'd forget any of the lyrics to The Star-Spangled Banner," a la fellow Disney alum Christina Aguilera, whose Super Bowl XLV rendition made Sporting News' list of worst-ever national anthem performances.
Lovato's predicted her own Super Bowl performance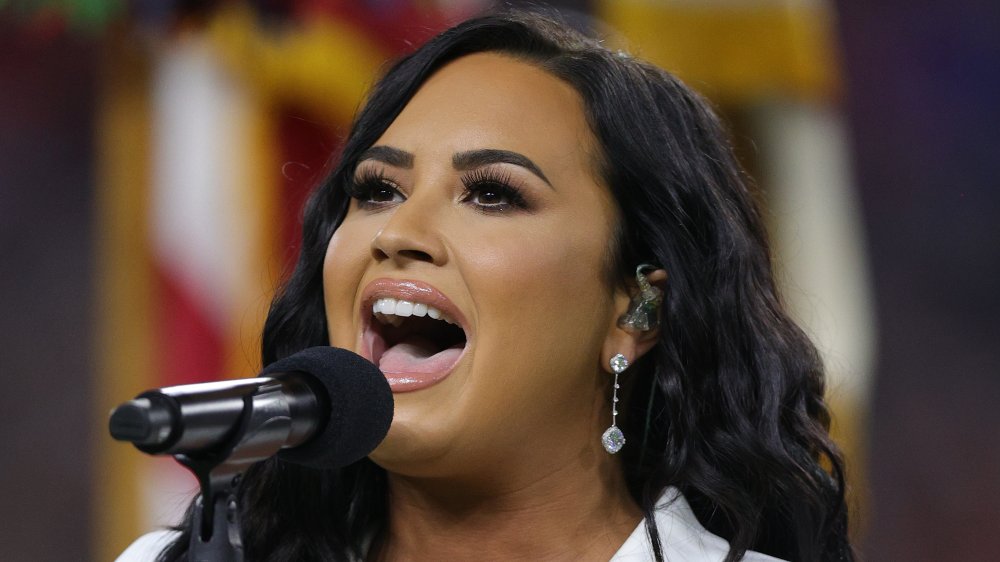 Tom Pennington/Getty Images
While Demi Lovato has had some troubles in the past, she performed at Super Bowl LIV fresh from a triumphant comeback performance at the 2020 Grammy Awards (FYI: She wore a dress; not a pantsuit). The superstar announced her upcoming Super Bowl performance via Instagram in January 2020, but Lovato had actually predicted it years earlier. In a tweet dated Feb. 7, 2010, she wrote: "One day, I'm gonna sing the national anthem at a super bowl. Onnnee dayyy.... "
Prescient, or just confident? It might have taken a decade for her dream to manifest, but Lovato has finally joined the ranks of Super Bowl national anthem legends. She joins the likes of Diana Ross, Billy Joel, Beyoncé, and the GOAT of anthem performers – Whitney Houston.
And the results are in...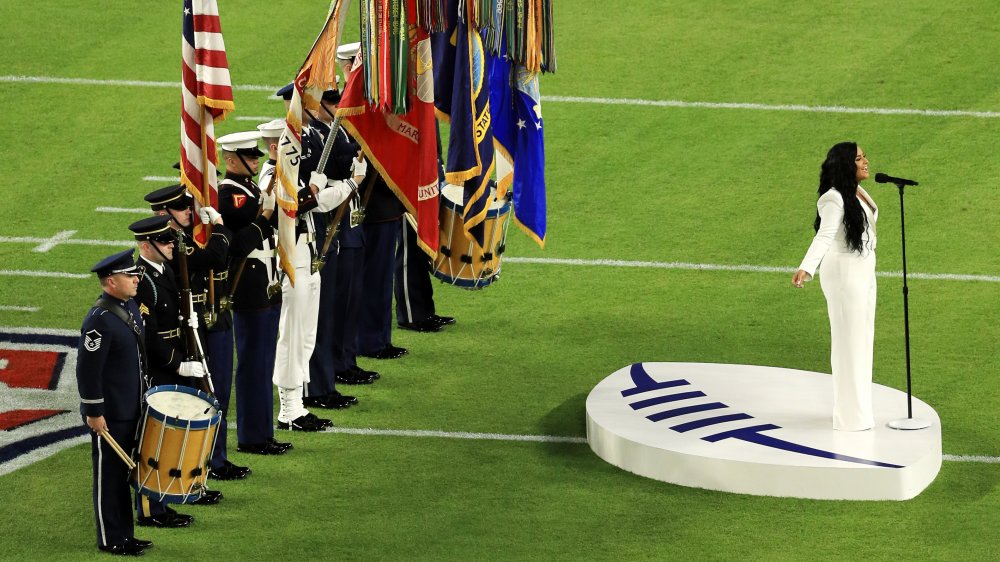 Mike Ehrmann/Getty Images
As last-minute bets rolled in, the suspense surrounding Demi Lovato's Super Bowl LIV rendition of "The Star-Spangled Banner" continued to build. Per Rolling Stone, Yolanda Adams warmed up the crowd with her flawless rendition of "America the Beautiful," and then...finally...all the bettors held their breath as Lovato strode out to the microphone (It was black, as was her hair), wearing a white pantsuit.
She performed all of the lyrics to the national anthem in 1 minute and 50 seconds (and yes, footage of service members was shown on screen.) The performance was very well received. As odds-setters SportsLine tweeted, "Everyone in the @WestgateVegas cheered at the end of the National Anthem, [but] those with the under cheered a little harder," since the over-under was set at 1 minute and 55 seconds.