Jimmy Garoppolo's Net Worth: How Much Is The 49ers' QB Really Worth?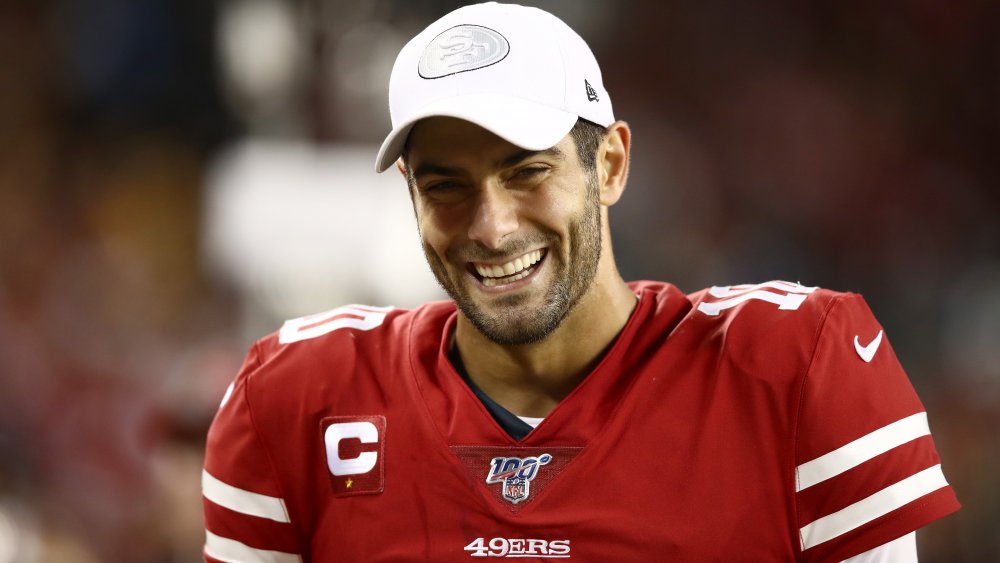 Ezra Shaw/Getty Images
San Francisco 49ers quarterback, Jimmy "GQ" Garoppolo, seems to be the name on everyone's lips in the NFL community these days. Once Tom Brady's understudy while with the New England Patriots, Garoppolo was traded to the 49ers in 2018, where he, in turn, led them as a starter in the 2020 Super Bowl. Although Garoppolo's team lost to the Kansas City Chiefs, led by quarterback Patrick Mahomes, the young player is still hopeful. "It's unlike any team I've ever been a part of," the athlete told Newsday. "I wouldn't trade any one of those guys for anything," he said, adding, "We're a young team. We've got a bright future."
Although the 49ers missed their shot at Super Bowl LIV, Garoppolo signed a 5-year-contract with the team, meaning he still has a chance to lead the 49ers to the fame and sports glory he's certainly chasing. The San Francisco team is clearly serious about the contract they offered the quarterback seeing as how, according to The Loop, they're protecting their investment by banning him from activities such as surfing, using motorcycles or offroad vehicles, skiing, or, well, pretty much anything fun.
So, for all you 49ers fans out there (or those ogling Jimmy G for superficial reasons), let's take a look at this contract and see how much Jimmy Garoppolo is really worth.
Jimmy Garoppolo snagged the 'biggest deal in NFL history'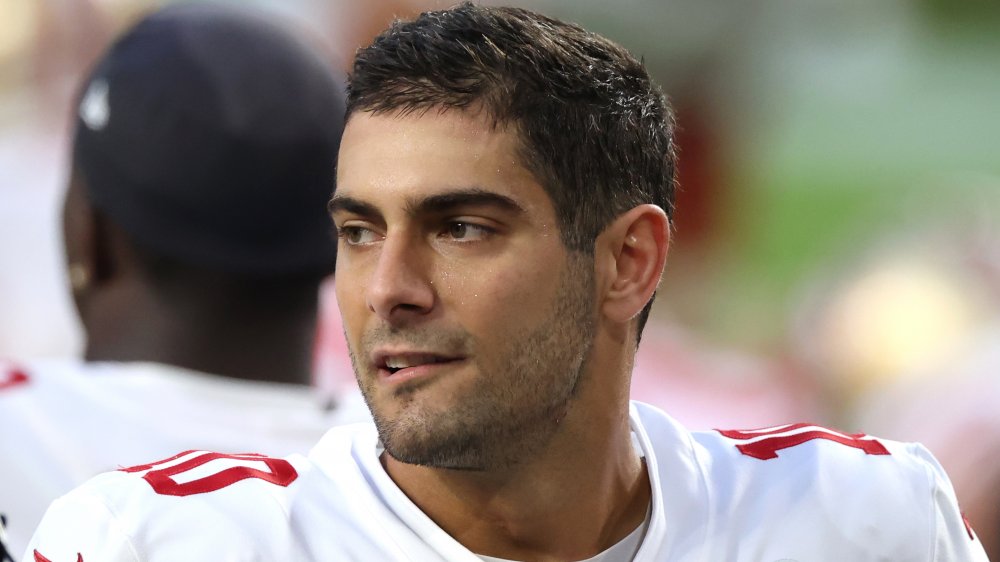 Al Bello/Getty Images
Considering Jimmy Garoppolo's 49ers contract bans him from doing so many activities, it must be worth it, right? Truth be told, it is. The quarterback's net worth certainly increased after inking the deal in 2018, and as NFL Network's Mike Garafolo announced on Twitter after the signing, the five-year, $137.5 million contract is "the biggest deal in NFL history on an average-per-year basis." What's more is that, as revealed by CNBC, the commitment made Garoppolo the "highest-paid player" at the 2020 Super Bowl LIV — not too shabby, Jimmy G.
Adorably enough, one of the first things Garoppolo did with his contract earnings was help out his family. According to ABC7, within a couple of days, the Illinois native bought his mom a car. It looks like family comes first for the 49ers QB who regularly posts photos of his entire clan on Instagram. "We're really close," Garoppolo's grandmother, Jane Garoppolo, told Sauk Valley in 2014. "We really care about one another. It's a small family."
If Garoppolo has a net worth of $25 million, where else is he making his money? Read on and find out.
Don't forget Jimmy Garoppolo's endorsement deals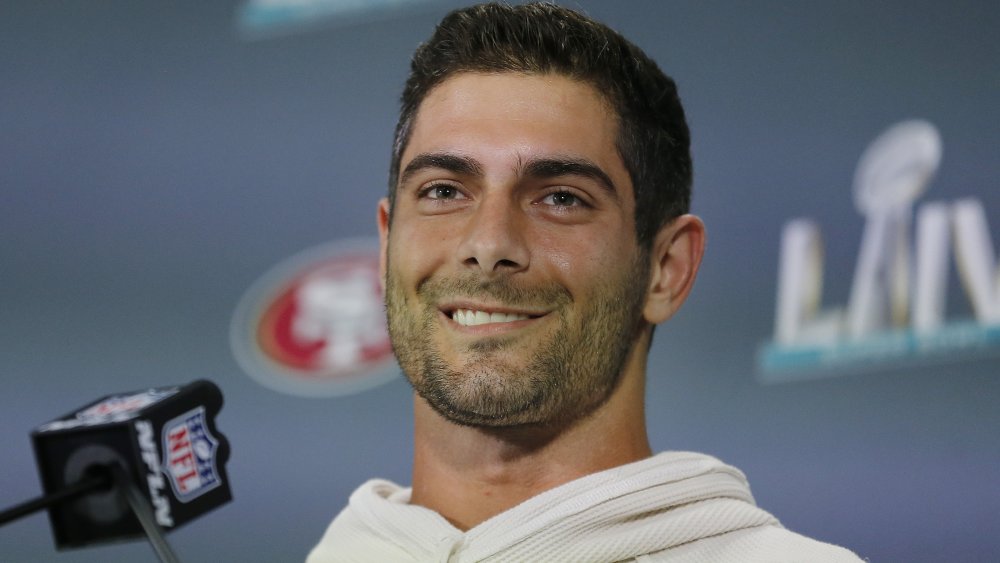 Michael Reaves/Getty Images
Now that Jimmy Garoppolo is a high-profile quarterback in the NFL, he doesn't only make money from his San Francisco 49ers contract — he has a bunch of endorsement deals lined up, as well.
According to the International Business Times, the football player "gets additional income, in the league of $200,000, from partnerships with New Era, Bose, and Nike," to name a few. While those are probably his most high-profile endorsements, the athlete inevitably gets more offbeat offers, too. Per Sports Pro, after Garoppolo's date with adult film star, Kiara Mia in 2018, the QB was offered a deal with XBlaze.com — a marijuana-themed adult website.
While there's no word whether or not Garoppolo accepted the bizarre offer, there is one deal he's most proud of: his contract with the Nike-owned Jordan Brand. "Since I got in the league, it was one of my dreams to be with Jordan and it came true," Garoppolo gushed to ESPN in 2018. It turns out, coming from the Chicago suburbs, the Garoppolo household is a huge fan of Michael Jordan. With "his basement full of tributes," the 49ers starter revealed to the outlet, "I can remember staying up with my three brothers, mom, and dad — we'd all be in the living room watching it. It was so exciting. Ever since I was a little kid, he's been my favorite athlete, so it's pretty cool to be part of his brand now."