Where Does Jimmy Garoppolo Live And How Big Is His House?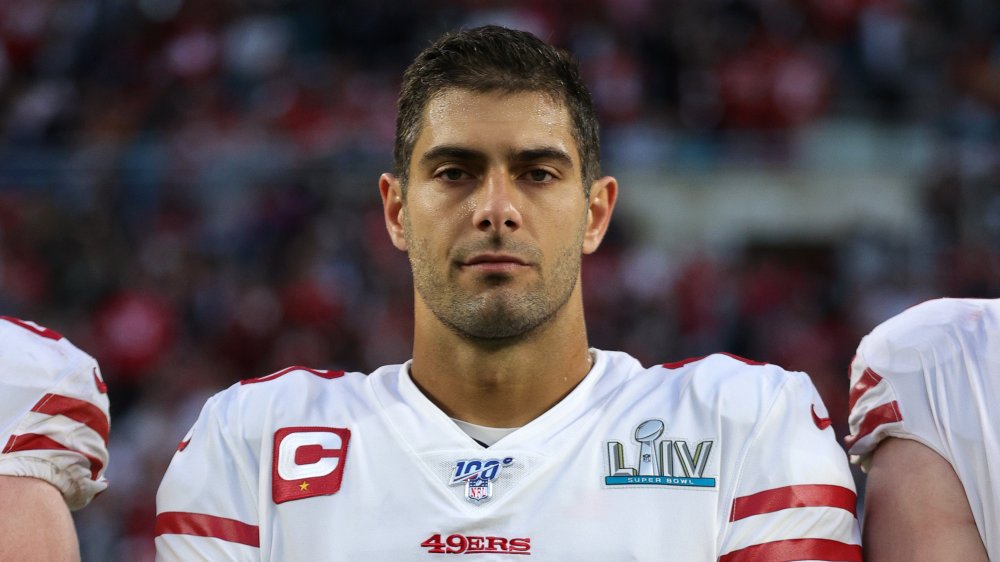 Tom Pennington/Getty Images
San Francisco 49ers quarterback Jimmy Garoppolo may not have won the 2020 Super Bowl, but things are still going well for the football player. Thanks to a sizable fortune that will only keep growing due to the fact that he signed "the biggest deal in NFL history on an average-per-year basis," this athlete can afford to enjoy all the spoils of life, and that includes living in a spectacularly luxurious home. But does he?
NBC Sports caught up with Garoppolo after the professional athlete had signed a five-year extension with the 49ers, which meant that it was time for him to find somewhere permanent to stay in the San Francisco Bay Area. However, while opening up about getting settled in his new hometown, he made it clear that he hadn't found an ideal abode to purchase (or rent?) quite yet. "Yeah, [I'm] currently looking for a place and everything," he admitted.
While it's unclear if he'll be living with anyone (like a girlfriend) when he moves into a new home, he may not want to have any other roommates, considering the fact that he's spent a fair share of his life living with other guys.
Jimmy Garoppolo will be able to upgrade from his college living situation
Stacy Revere/Getty Images
Hopefully, when Jimmy Garappolo does choose a new home to live in (if he hasn't already by now), it will be a little better than the place that he called home during his college days while playing for the Eastern Illinois Panthers between 2010 to 2013. According to The Atheltic (via SF Gate), during his senior year, the athlete lived in a house with five of his defensive teammates. Garappolo bunked down the in "decaying basement" with John Wurm, who later described their living conditions by saying, "Our house got so trashed."
"There were four or five steps to get down there, and those damn steps kept breaking," Wurm told The Athletic while describing the basement. "It was almost like you were going down to a crawl space. There were times when you had to jump downstairs. We had the smallest little bathroom ever. It just felt like you weren't going to where someone would live. It was like, 'Are people supposed to go down there?'" Yikes!
While that certainly sounds wild, Garoppolo was surely prepared to rough it in some ways, thanks to his upbringing.
Life at Jimmy Garoppolo's childhood home was just as wild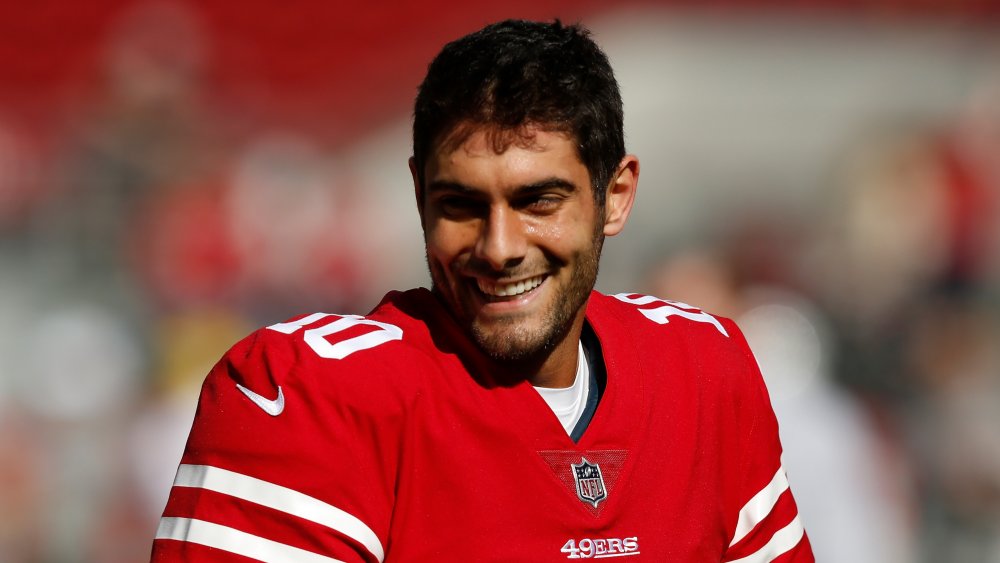 Lachlan Cunningham/Getty Images
While Jimmy Garoppolo's college house sounds like it involved a somewhat jam-packed situation, it turns out that the NFL player is used to a home full of guys. Growing up in Arlington Heights, Illinois, he was one of four brothers. Needless to say, things could get pretty intense during his formative years.
During an interview with Garoppolo's former NFL team, the New England Patriots, his parents sat down for a chat outside of the home that the football star grew up in. His mom explained that life was somewhat unpredictable and unruly with a group of active boys, saying, "[Garoppolo and his brothers] were little kids breaking walls down in this house ... Climbing on the roof to the second story when they were like, I think Jimmy was three, four, something like that." She added with a laugh, "It was heavy duty."
It sounds like Garappolo should invest in a sturdy home of his own if he ever intends to have kids, because chances are they'll turn his adobe into the same kind of nerve-wracking, wall-destroying, roof-climbing jungle that he and his brothers made for their parents.