The Truth About Kirk Douglas And Michael Douglas' Relationship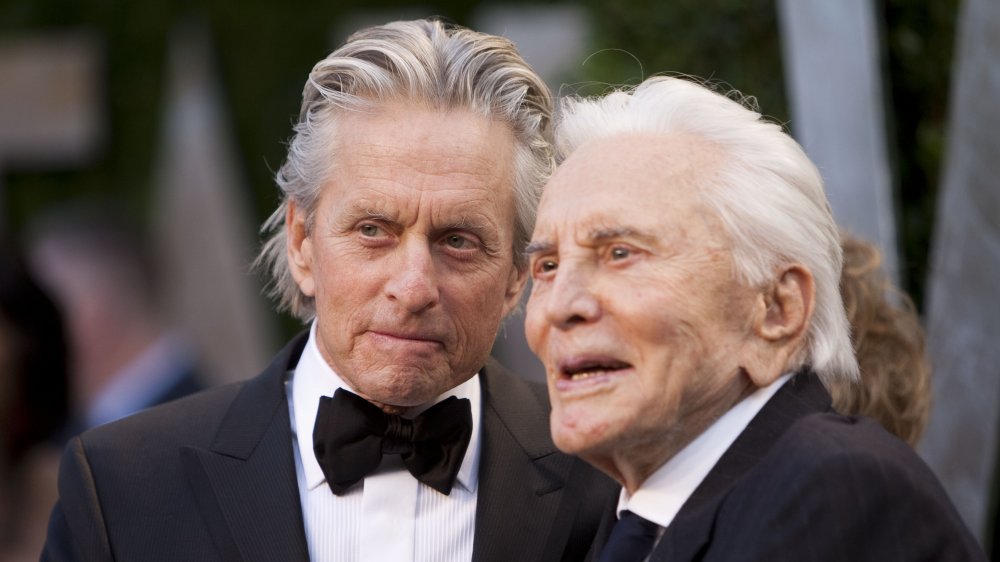 Adrian Sanchez-gonzalez/Getty Images
Kirk Douglas passed away at 103-years-old on Feb. 5, 2020. Douglas lived a long, rich life having been a legendary force in Hollywood ever since he got his start in the 1940s. The famous actor was also a family man who raised four sons: Michael, Joel, Peter, and Eric Douglas.
Actor Michael Douglas is Kirk's oldest son who he welcomed into the world with his first wife, Diana Dill. Michael was the one to break the news about his father's death on social media.
"It is with tremendous sadness that my brothers and I announce that Kirk Douglas left us today at the age of 103," Michael wrote on Instagram. "To the world he was a legend, an actor from the golden age of movies who lived well into his golden years, a humanitarian whose commitment to justice and the causes he believed in set a standard for all of us to aspire to. But to me and my brothers Joel and Peter he was simply Dad."
As we reflect on Douglas' life, let's take a look at what Michael and Kirk's special father-son relationship was really like.
Kirk Douglas was always there for Michael Douglas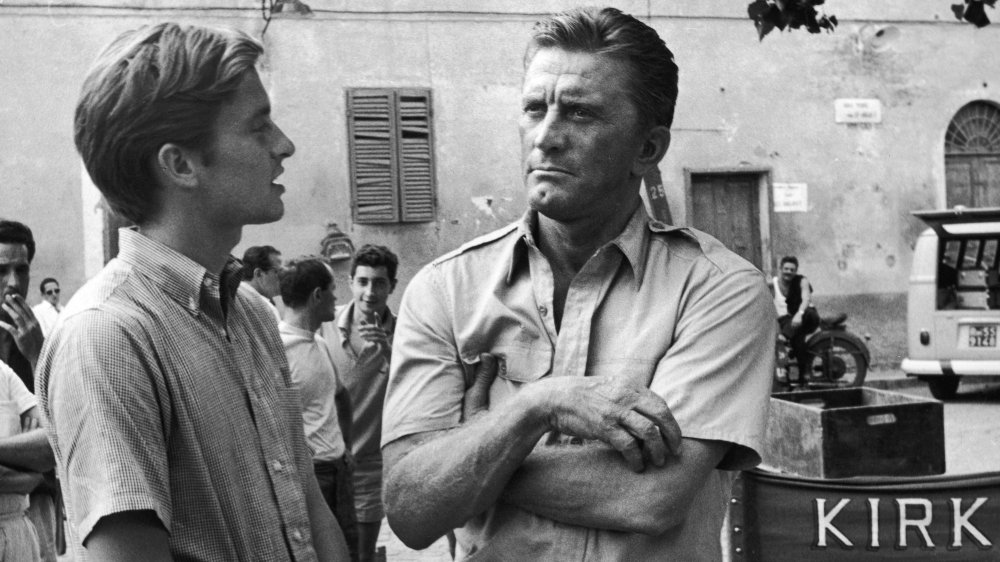 Hulton Archive/Getty Images
Kirk Douglas had a tough relationship with his own father and he was determined to have a better relationship with his own boys, Entertainment Tonight reports.
Back in 1988, Michael Douglas explained what Kirk was like as a father to People, saying, "We always knew he was there, and that he really cared." He added, "To this day, Dad is the biggest advice giver in the world. I tell him, 'I'm in my 40s. It's too late! Enjoy us or don't see us. Relax! I'm not doing too bad!"
Even into his 70s, Michael still considered Kirk one of his all-time biggest supporters. However, Kirk initially didn't want his son to follow in his footsteps. "I wanted him to be a lawyer or a doctor, like many fathers," the dad told People in 2018. Spoiler alert (not) he eventually changed his mind, and Michael went on to become his dad's "favorite actor." When Michael finally received a Hollywood Walk of Fame star in 2016, Kirk — who got his own star in 1960 — was right there cheering him on.
The two also shared a special moment in December 2019. On Kirk's 103rd birthday, Michael received a nomination for a Golden Globe for his role in The Kominsky Method. He ended up winning the award, and People reports that in the press room, he shared the best piece of advice his dad ever gave him: "Stamina and tenacity."
Michael Douglas shared an emotional tribute to Kirk Douglas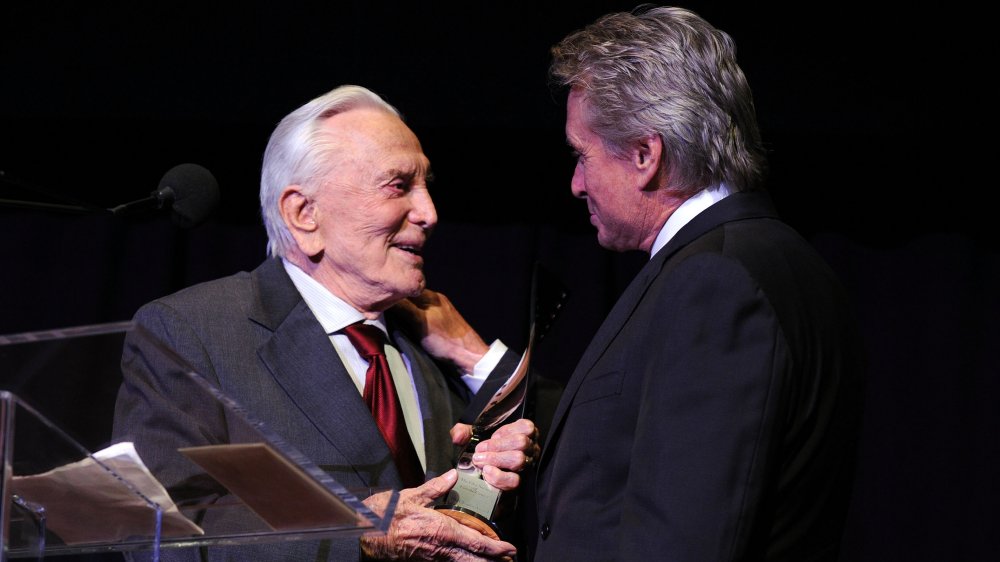 Bryan Bedder/Getty Images
Kirk Douglas leaves behind his wife of 65 years, Anne Buydens, his sons, and many grandchildren and great-grandchildren. He was also father to Eric Douglas, who passed away at 46 of a drug overdose.
Michael's announcement about his father's death was heartfelt and emotional, mentioning his wife Catherine Zeta-Jones and all the other family members who were close to Kirk.
"To me and my brothers Joel and Peter he was simply Dad, to Catherine, a wonderful father-in-law, to his grandchildren and great grandchild their loving grandfather, and to his wife Anne, a wonderful husband," Michael wrote. "Kirk's life was well lived, and he leaves a legacy in film that will endure for generations to come, and a history as a renowned philanthropist who worked to aid the public and bring peace to the planet."
He continued, "Let me end with the words I told him on his last birthday and which will always remain true. Dad- I love you so much and I am so proud to be your son."